Olivier Giroud has his doubters but can he fire Arsenal to the title?
Last Updated: 16/12/15 3:17pm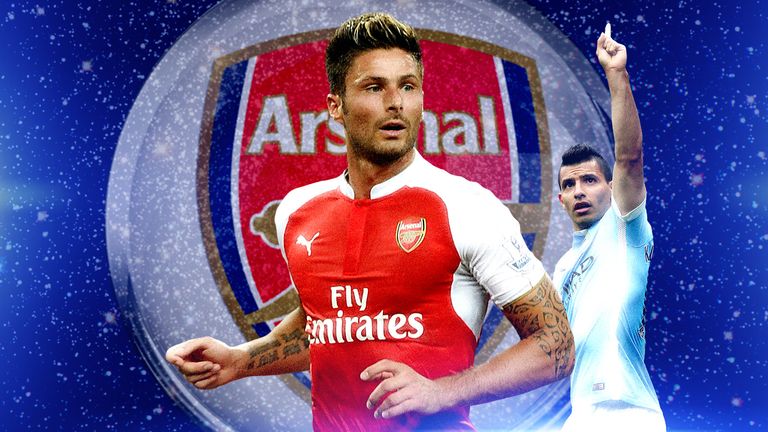 Arsene Wenger's claim that Olivier Giroud is one of the best strikers in Europe has reignited the debate about his ability. But even if Giroud isn't the best striker in the Premier League, that doesn't mean he can't be the most important one in this season's title race, writes Adam Bate…
Can Arsenal win the Premier League with Olivier Giroud as their main striker? The argument against him is familiar and the case is compelling. In each of the last six seasons, the champions have had a player who scored 20 goals for the team. Giroud failed to come close to that total in his first three seasons in England and turns 30 in September. The necessary improvement did not look like coming.
And yet, that's precisely what Arsene Wenger insists has happened since a miserable night in Zagreb saw Giroud lose his place in the side. "He has come back with an improved game in his finishing and link play," said the Arsenal boss after Giroud's hat-trick against Olympiakos. Wenger added: "If you look at the number of goals he has scored, you have to give him credit… He is among the best strikers in Europe."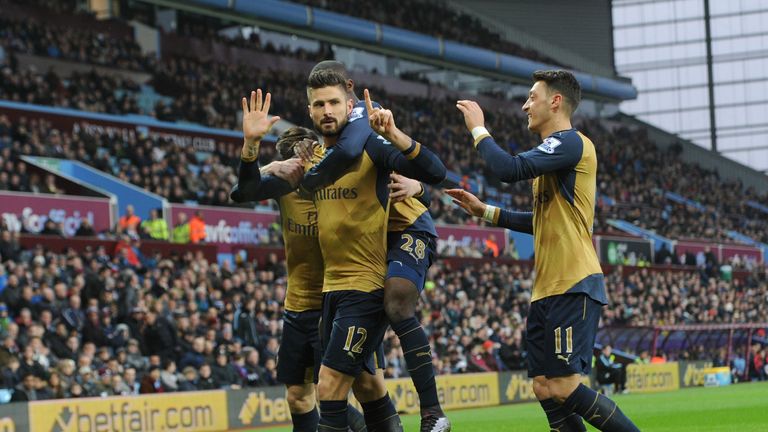 For a much-maligned forward, that's a line to raise eyebrows among Arsenal supporters let alone the wider public. As recently as September he was being booed by France fans after missing a host of chances against Serbia. Even last month against Tottenham, Giroud spurned the opportunity to be a derby hero - wasting three good chances to level the scores.
The ones he does slot home tend to be "less spectacular" in the words of Wenger. There are the characteristic clipped near-post finishes and the headers such as the opener in Greece last week. It was typically unfussy and soon forgotten as people purred instead about the 'pass before the pass' that Mesut Ozil had provided to fashion the opening in the first place.
Champions League 2015/16 - Minutes per goal (3 goal min.)
| Player | Team | Mins per goal |
| --- | --- | --- |
| Cristiano Ronaldo | Real Madrid | 49 |
| Olivier Giroud | Arsenal | 59 |
| Robert Lewandowski | Bayern Munich | 65 |
But there are more of these goals than some might suspect. Not only is Giroud in the form of his career, scoring 13 times in 15 games for club and country, but his finishing has improved too. Giroud has successfully converted 40 per cent of his clear-cut chances this season. That compares favourably with the 30 per cent that Manchester City's Sergio Aguero has managed to convert.
Last season's top scorer, Aguero is one of only two players, along with Leicester's Jamie Vardy, to score half a dozen Premier League goals at a better rate than Giroud this season. However, the issue of strike rates raises a key question. Should goals per 90 minutes really be the ultimate measure of quality in a goalscorer? Availability matters too. Just ask Liverpool fans about Daniel Sturridge.
Premier League 2015/16 - Minutes per goal (3 goal min.)
| Player | Team | Mins per goal |
| --- | --- | --- |
| Jamie Vardy | Leicester | 94 |
| Sergio Aguero | Man City | 97 |
| Olivier Giroud | Arsenal | 108 |
| Callum Wilson | Bournemouth | 109 |
| Riyad Mahrez | Leicester | 110 |
| Romelu Lukaku | Everton | 117 |
In other words, it's quantity of games that's important as well as the quality. Nobody would argue that 38 Premier League games by Giroud would be preferable to 38 games by Aguero this season, but over the 92 games since the summer of 2013, the Frenchman has been in the Arsenal squad for 80 of them; the Argentine has been available to Manuel Pellegrini only 56 times.
With Arsenal so often beset by injuries, Giroud's fitness is particularly vital and Wenger is likely to be more appreciative than most. The variety of options provided by the Arsenal forwards, Theo Walcott, Alexis Sanchez and Giroud, gives the manager flexibility. "They all have different styles, which is very important as well," says Wenger.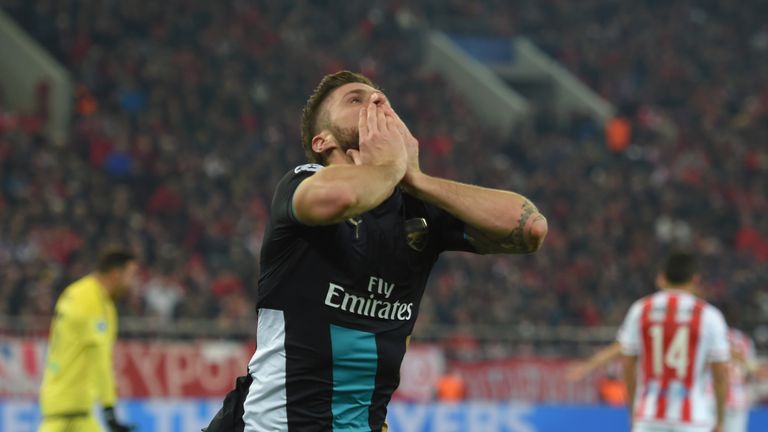 Of Giroud, he added: "If you go on the counter-attack, of course, he isn't the kind of player you want. That's why when we played against Bayern (at home) I chose Walcott because you know you will be more in your half and have to go out quickly. When you dominate games and need a presence in the box, there is no better player than Olivier."
That raises doubt about whether Giroud can be the man for Arsenal in the big games when the team cannot expect to dominate territory and possession. But he has managed to make a contribution nevertheless, coming off the bench to score the opening goal in the aforementioned Bayern game before going on to net in the away fixture in Munich too.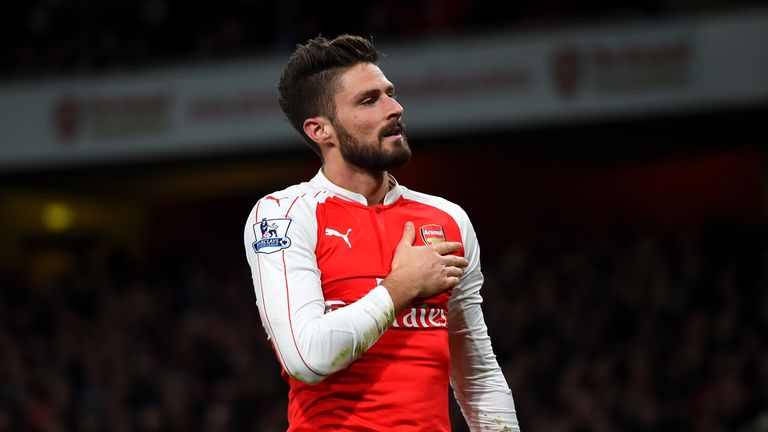 "When you have the option to go for long balls he is always an interesting option," says Wenger and it was the decision to go "more direct" towards Giroud against Bayern that led to Pep Guardiola bemoaning the "long balls" that Arsenal hit whenever the centre-backs were pressed. It might not have been meant as a compliment but this adaptability in approach is surely to be welcomed.
Giroud will hope to have a similar influence against Manchester City on Monday and there's history here too. He netted twice against City last season, in the Community Shield victory with a brilliant strike from distance and with a header from a free-kick in the 2-0 away win that broke the mould for the Gunners in terms of their record against the top teams.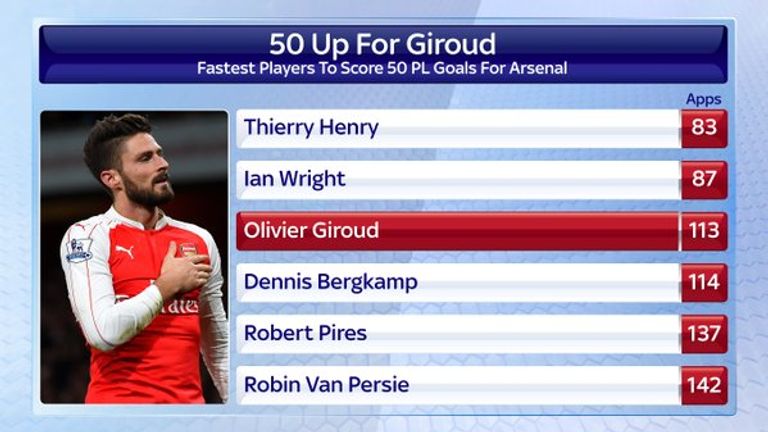 Even if he doesn't score, Giroud's presence is likely to be significant. "He has special qualities that are difficult to find," says Wenger. "When it's not working for him, he puts effort in. He is not spectacular individually but he is a very efficient player for the team." Even Walcott, Giroud's chief rival for the central striking role at Arsenal, recognises the accuracy of this statement.
"It's not just his goals, it's his general play and everything about him," says Walcott. "The way he holds the ball up, he blocks it and defends it, and he works hard for the team from defensive corners and everything. He makes our job a lot easier." These are the intangibles and they're tough to measure. But the overall picture puts Arsenal firmly in the title race.
Indeed, the bookmakers appear to regard it as contest between Arsenal and City, which highlights the significance of the upcoming clash between the teams. Aguero is expected to return in time to feature and it'd be no surprise if he has a big influence. The speedy striker might well be the hare to Giroud's tortoise - but we all know who got over the finish line first at the end of that particular race.
Arsenal v Man City is live on Sky Sports 1 HD on Monday from 7pm, or watch without a contract on NOW TV