Arsenal blew their chances of winning the Premier League long before Sunday's 1-1 draw with Crystal Palace, according to former player Nigel Winterburn.
Live Ford Football Special


Any lingering hopes the Gunners had of joining Leicester and Tottenham in the race for the title all-but ended after the Emirates draw left them 13 points behind the Foxes with five games to play.
It means another season of frustration for boss Arsene Wenger, whose team topped the table in December.
Winterburn, a title winner with Arsenal in 1997-98, says their form in the New Year cost them any chance of winning the league.
"It went wrong when Arsenal got to the top just after Christmas. January and February, the league results were not good enough.
"They went three games without a victory in January and failed to win three in February.
"When you get to the top of the league, that's not good enough form and momentum to take you forward to lift the title. That's where Arsene Wenger will have to look at the team.
"On Sunday, they controlled large parts of the game. Palace played them really well, they frustrated Arsenal.
"I think the crowd, when Arsenal were winning 1-0, were thinking that although Palace hadn't shown a lot, Arsenal are not going to see this out."
Winterburn says Sunday's game was not the first time this season that Arsenal have failed to take three points from a game in which they dominated possession.
"I think Wenger at the end of the season will look back and pick out some games where they were in control a lot but they haven't gone on to win the game," he said.
"Against West Brom, Arsenal were leading and lost, Norwich away, they were leading and drew, Swansea at home, leading and lost. If you're going to win the title, those are the games where you are in control and you have to go on and win the points.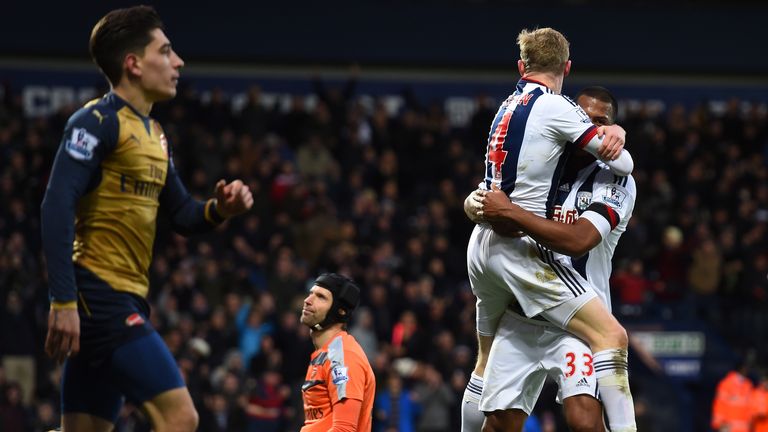 "That will be the frustration for Wenger. He's going to have to look at his squad and think 'I'm going to have to go into the transfer market in the summer again and re-strengthen.'
"There's going to be one or two players who will be leaving anyway, who have come to the end of their contracts.
"So you could look and say Arsenal need five or six players - but I can't imagine them bringing in five or six players."