Granit Xhaka unable to nail down Arsenal place under Arsene Wenger
Last Updated: 25/11/16 3:14pm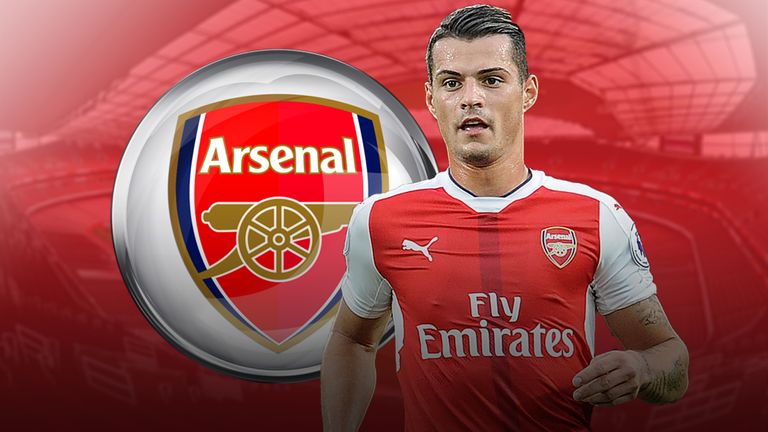 Arsenal went to great expense to sign Granit Xhaka in the summer, so why isn't he playing? Nick Wright takes a look ahead of their clash with Bournemouth on Nissan Super Sunday…
It has been a curious start to life at Arsenal for Granit Xhaka. The Swiss midfielder became Arsene Wenger's third most expensive signing when he arrived from Borussia Monchengladbach for £34m in the summer, but after three months of the campaign, his impact has been muted.
It comes after Arsenal scouted Xhaka extensively last season. They watched him closely as he helped Gladbach to a fourth-placed finish in the Bundesliga, and there was more cause for optimism when he shone for Switzerland at Euro 2016.
With his blend of steel, technical skill and experience, he seemed like a midfield upgrade who would slot straight into the team.
Instead, Xhaka has started only eight games out of 19. The 24-year-old was left on the bench for Wednesday's crucial Champions League clash with Paris Saint-Germain at the Emirates Stadium, and he has also been overlooked for big games against Chelsea and Manchester United.
When the stakes are high, Wenger tends to opt for someone else.
Xhaka has plenty of time to change his manager's thinking, but the slow start is not what anyone expected. Xhaka was a marquee signing who arrived with a burgeoning reputation, and yet he finds himself at the bottom of Arsenal's midfield pecking order. What's particularly strange is that it's not easy to see why.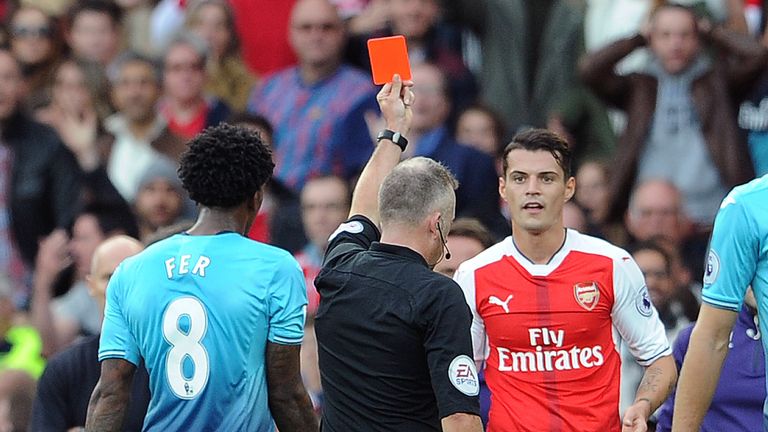 Perhaps Wenger is still wary after his red card against Swansea last month. Xhaka was hit with a three-game suspension for deliberately tripping Modou Barrow in Arsenal's 3-2 win. It was his eighth red card in under three years, and it made for a nervous finale at the Emirates.
Wenger addressed Xhaka's chequered disciplinary record when he returned from suspension ahead of Arsenal's clash with Tottenham. "Am I bit concerned? Yes, of course," he said.
"Normally he is a very composed and calm guy, but sometimes on the field he has a reaction that is a bit impulsive. He has to work on that and keep control of his reactions."
A north London derby is the kind of fixture that can test a player's temperament, but Xhaka could hardly have done more to ease his manager's concerns. The midfielder was Arsenal's best player, passing incisively and striking the right balance between aggression and discipline as he broke up Tottenham's attacks without conceding a single foul.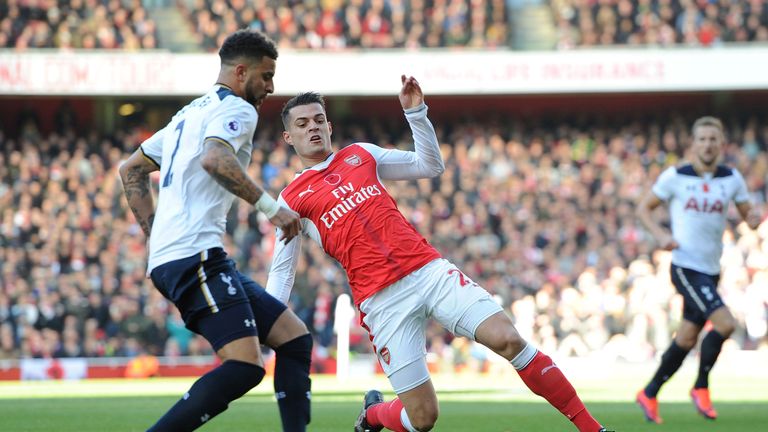 With Santi Cazorla sidelined by injury, it seemed Xhaka would finally be trusted to assume a key role in Wenger's team, but the Frenchman responded by dropping him to for the trip Old Trafford. Mohamed Elneny was picked alongside Francis Coquelin instead, and Arsenal were inhibited by such a conservative pairing in central midfield.
Granit Xhaka made more tackles (five) and gained possession more times (10) than any other player in Arsenal's 1-1 draw against Tottenham.
Wenger's explanation was a strange one. "I knew it would be a bit more of a physical battle so I chose players who have experience and fight," he said.
Surely Xhaka, a player who was brought to Arsenal for precisely those attributes, would have been the logical selection? After all, he had already gone toe-to-toe with Mousa Dembele and Victor Wanyama - arguably the most powerful midfield pairing in the division.
Something convinced Wenger otherwise, however, and for Wednesday's 2-2 draw with PSG, he opted to pair Ramsey with Coquelin.
It was another unconvincing solution, with the visitors able to dominate the midfield as Arsenal struggled to exert any kind of control despite their home advantage. Xhaka, so effective against Spurs, was conspicuous by his absence.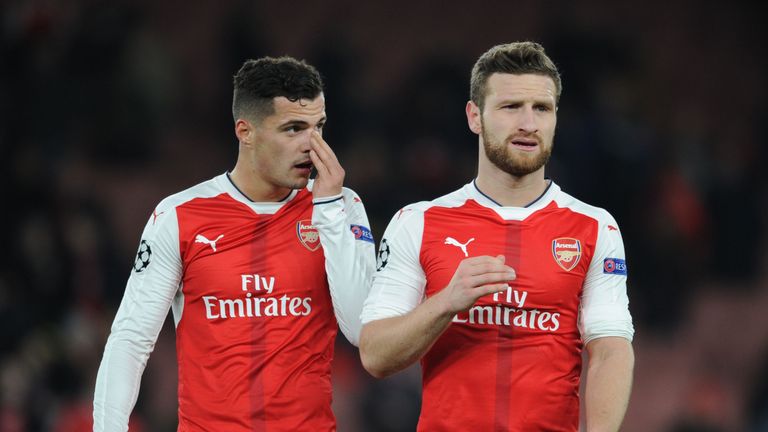 His plight is all the more puzzling when you consider how rapidly Wenger usually integrates his most expensive signings. Mesut Ozil and Alexis Sanchez became untouchable starters from the moment they were thrown into the team in 2013 and 2014 respectively, and it's been a similar story for Shkodran Mustafi this year.
The £35m centre-back has played every minute of the Gunners' Premier League and Champions League games since making his debut in a 2-1 win over Southampton in September, leaving Gabriel Paulista and Rob Holding to settle for EFL Cup appearances. Club captain Per Mertesacker is likely to find himself in a similar position when he returns from injury.
For Xhaka, that kind of status still seems a long way off. He will hope for another chance on Sunday afternoon against Bournemouth, but even a meeting with modest opposition offers no guarantees. At a time when Wenger's options are depleted by Cazorla's injury, it is strange that a £34m midfielder is in this situation at all.
Upgrade to Sky Sports now and get 12 months half price. Hurry, offer ends December 4!