Arsene Wenger has hailed Alexandre Lacazette's finishing ability - but how does he compare to Arsenal's strike force last season?
The 26-year-old - who has joined the Gunners in a £52m move - scored 28 league goals for Lyon in 2016/17. That's more than the combined tally of Arsenal forwards Olivier Giroud, Theo Walcott, Danny Welbeck and Lucas Perez in the Premier League.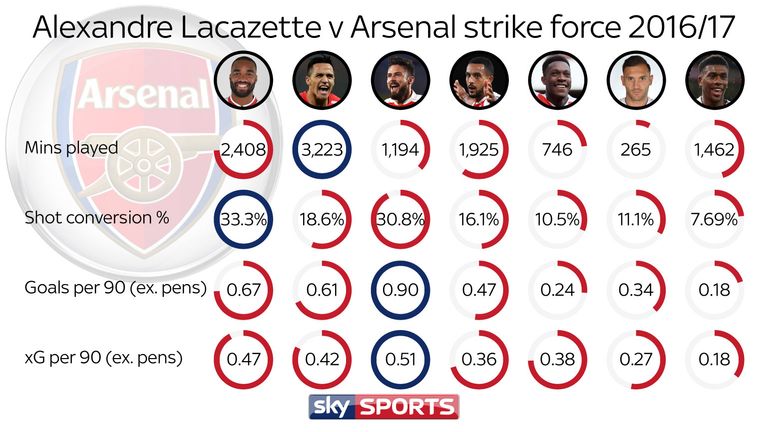 Wenger has called him a "very efficient finisher". But with 10 of his Ligue 1 strikes coming from the penalty spot, we've taken a closer look at his goal-scoring ability, using Opta's Expected Goals (xG) data to compare Lacazette with Alexis Sanchez, Giroud, Walcott, Welbeck, Lucas and Alex Iwobi.
The model factors in the distance from which a shot was taken, the angle of that shot, the type of shot, the type of pass that led to the shot and the phase of play from which the shot took place, to rate the likelihood of the player scoring from the shot.
When compared to the player's actual goal return, it gives us a good idea of their finishing ability.
Expected Goals (xG) summarised
A shot from 8 yards has a higher xG value than a shot from 18 yards
A shot directly in front of goal has a higher xG value than a shot from a tight angle
A shot taken by the foot has a higher xG value than a header
Lacazette played 2,408 minutes in Ligue 1 last season and scored with one third of his shots - just ahead of Giroud's 30.8 per cent conversion rate, and nearly twice the success rate of Sanchez (18.6 per cent).
His xG data - when penalties are excluded - says Lacazette should have scored 0.47 goals per 90 minutes last season. He actually scored 0.67 - an impressive return.
However, the stats reveal fellow countryman Giroud scored considerably more goals per 90 league minutes than any of the seven forwards examined here, with a standout 0.90 goals per 90 minutes.
According to Opta's xG data, Giroud was only expected to score 0.51 goals per 90 minutes from his chances, meaning he also outperformed all the forwards for converting lesser chances.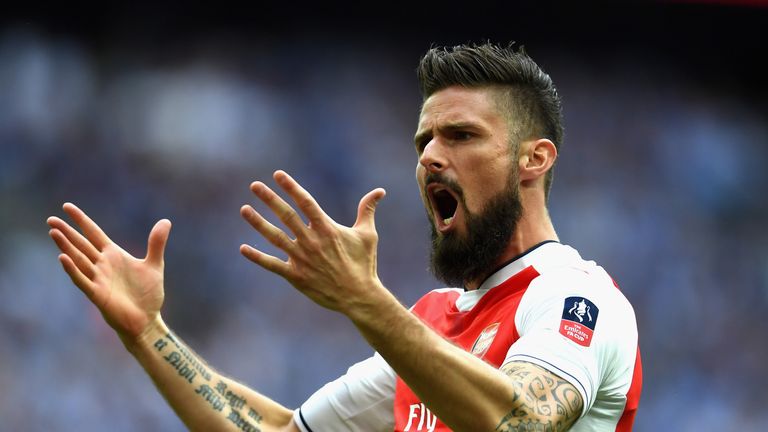 In fact, all of Arsenal's forwards last season surpassed their expected goal ratios, with the exception of Welbeck and Iwobi.
However, Giroud played most of his minutes as a substitute, and was often thrown into the action with Arsenal in search of late goals against tired defenders, which both inflate his numbers artificially.
So, Lacazette has a higher goal-scoring rate and xG ratio than any other regular starter at Arsenal and brings an additional dimension of pace as a primary centre-forward.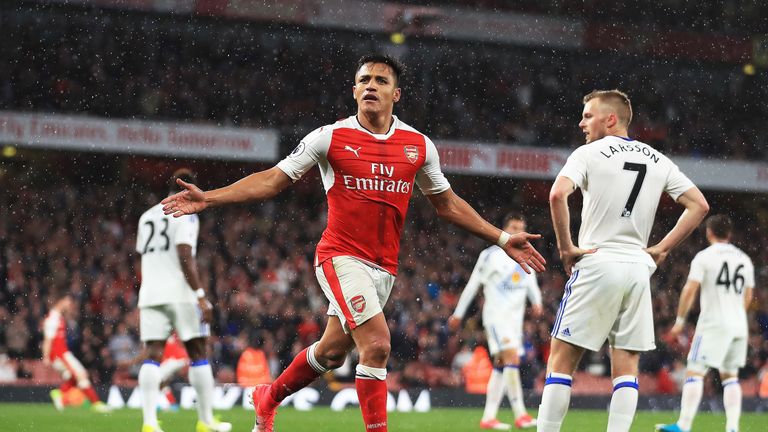 It remains uncertain whether Giroud and Sanchez will play alongside Wenger's club-record acquisition next season, with both players linked with moves away from the Emirates. But the Arsenal boss was correct to praise Lacazette's finishing, according to the detailed stats.