Arsenal boss Arsene Wenger says stakes higher against 'top six'
By Mark Crellin
Last Updated: 22/12/17 8:40am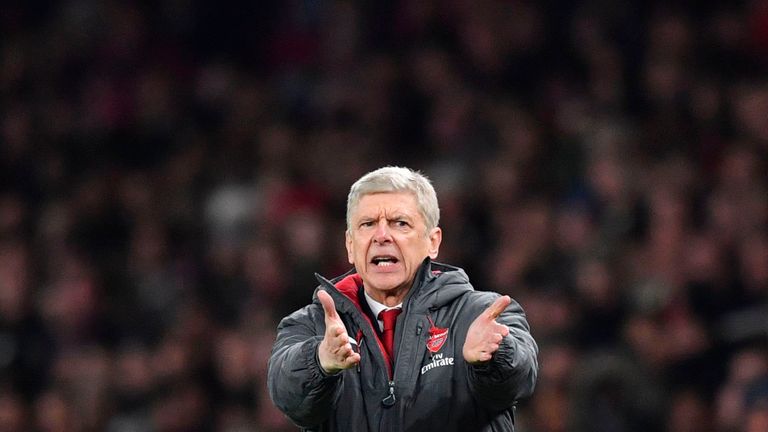 Arsene Wenger says the stakes are higher this season when two of the 'top six' meet in the Premier League, ahead of Arsenal's match against Liverpool.
Wenger says his team are determined to erase the memory of the first meeting between the sides this season - a humiliating 4-0 defeat for Arsenal - when they clash at the Emirates on Friday, live on Sky Sports Premier League.
Despite that setback, Arsenal remain in the thick of the battle for Champions League qualification and a win on Friday will take them above Jurgen Klopp's side and up to fourth in the table.
Wenger agrees that the stakes are higher than usual when the 'big six' clash this season: "Yes, because at the moment everybody takes points from the other teams.
"These games become absolutely more important. I believe Liverpool is very good going forward, so you need an overall good defensive performance.
"You have to guess a little bit who will play [for Liverpool], it is not always the same.
"They have plenty of offensive players and looking at them recently they have changed their teams a lot, so it is difficult to guess.
"For me, the most important thing is that we turn up with a positive performance - we have been strong at home and it is important we continue to dictate our game at home."
Shkodran Mustafi is expected to be fit for Friday's match, but Wenger is not sure whether he will use a three-man defence to combat Liverpool's attack.
"I have not decided yet," he said. "The fact we are adaptable now to both systems means it will be down to me to make the decision, whether we play in a four, in a three, in a five."
Arsenal goalkeeper Petr Cech described the 4-0 loss to Liverpool earlier this season as one of his worst experiences as a player, and Wenger says this week's match is a chance for his team to respond.
"When you have such a long career, you have some defeats unfortunately that will hurt you for the rest of your life," he said.
"But, in football, there is always a time to make up for it and, when you can put things right - do it.
"So let's focus on what is in front of us and turn up on Friday night with a completely different performance."