Arsene Wenger has dismissed talk of a rift between Alexis Sanchez and the Arsenal squad, insisting that there has never been any issues in the team.
The Arsenal manager was in a frosty mood as he addressed the media after his side were denied victory at West Brom by a controversial penalty decision.
Sanchez's deflected free-kick had given Arsenal the lead late on, but Jay Rodriguez converted from the spot on 89 minutes to steal a 1-1 draw for the Baggies.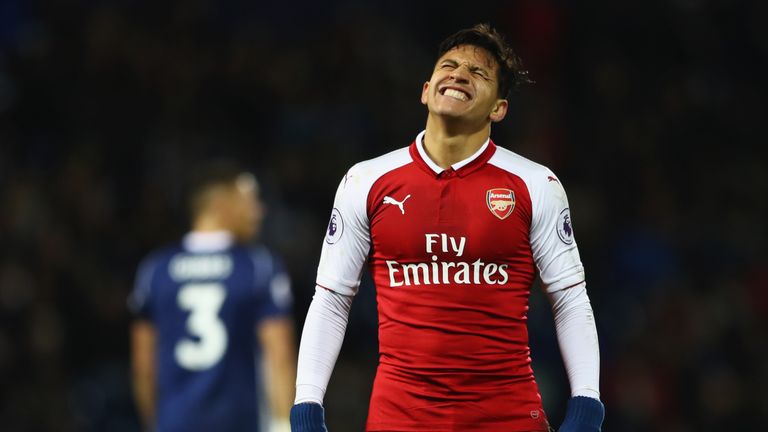 Arsenal's goal sparked jubilant celebrations from Sanchez and his team-mates, just days after the Chile international was only joined by four team-mates following his goal at Crystal Palace.
That led Thierry Henry and Graeme Souness to query the squad's togetherness as the remaining outfield players opted to congratulate one another closer to the halfway line instead, leading Sanchez to give Lacazette a puzzled look.
Asked about the reaction to the opening goal at The Hawthorns, Wenger said: "There was never a problem inside.


"There are some people who want to always create problems. We focus on our own problems and that is the only important thing."
Sanchez remains a target for Manchester City ahead of the start of the January transfer window on Monday and many believe that the Premier League leaders' interest may have been heightened by their loss of Gabriel Jesus to injury on Sunday.
However, City boss Pep Guardiola believes Sanchez will remain at Arsenal until at least the end of the season.
Wenger refused to comment on Sanchez's future and when asked if the forward had played his last match for the Gunners, the Arsenal manager said: "We play on Wednesday night.
"I have spoken many times about that and I am not ready to talk about that anymore.
"I have given my answer many times in the press conference and I don't see why I should come back on a subject we have talked about 155 times."