Arsenal's Alexis Sanchez dilemma laid bare against Crystal Palace
By Nick Wright
Last Updated: 31/12/17 3:22pm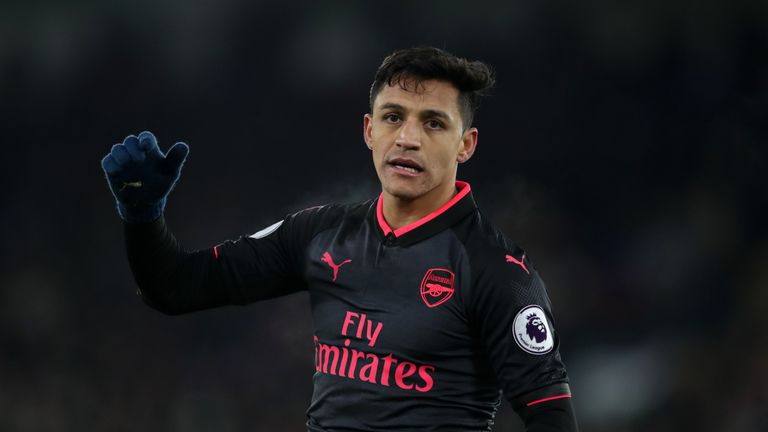 Alexis Sanchez was Arsenal's match-winner against Crystal Palace, scoring twice as they claimed a 3-2 victory, but what happens next? With the January transfer window fast approaching, we take a look at the dilemma facing Arsene Wenger.
Sanchez has frustrated Arsenal fans with some below-par displays this season, contributing just five goals and three assists in his first 16 Premier League appearances compared to 12 goals and five assists at the same stage of the last campaign, but he did not disappoint at Selhurst Park on Thursday, adding two more goals to his tally to clinch a valuable victory.
Sanchez shone from the start, twice playing in Mesut Ozil with through balls in the first half, but it was after Andros Townsend had cancelled out Shkodran Mustafi's opener that he truly came to life. He put Arsenal back in front with a clinical snap-shot from Alexandre Lacazette's lay-off, and got the decisive third with a brilliant touch and finish from Jack Wilshere's pass.
The man-of-the-match performance was a fitting response to recent criticism, but it also served to underline the dilemma facing Arsene Wenger. As Sanchez enters the final six months of his contract and amid continued interest from Manchester City, do Arsenal attempt to cash in now? Or do they risk losing him - like team-mate Mesut Ozil - on a free at the end of the season?
"Arsenal have brought it on themselves," said Sky Sports pundit Graeme Souness. "It's their problem and they have to deal with it. If someone comes in in the January window, I think they would take a cheque because, although he gets a couple of goals tonight, I don't think he has been bang at it this year compared to what he has given Arsenal in the past. He has not been anywhere near that."
"I agree with Graeme on a certain level," added Thierry Henry. "We are talking about something they created themselves. You are going to miss Alexis Sanchez if he leaves and you are going to miss Mesut Ozil, because they are quality players. Now, are you not going to get any money for them either?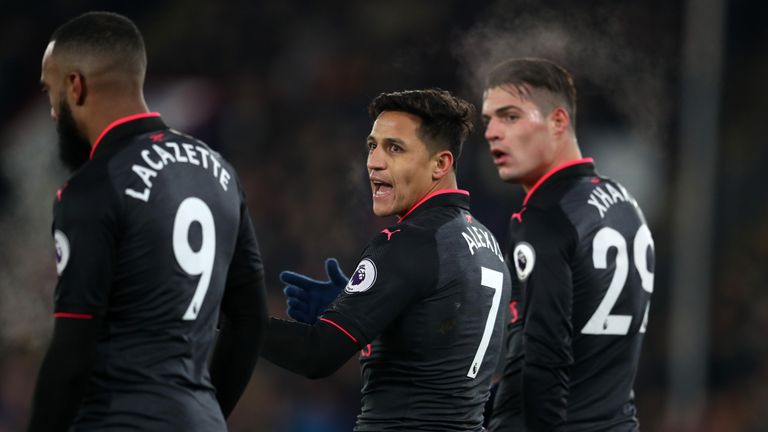 "If something is coming now, you have to at least get some money, because you are going to lose them anyway at the end. They haven't signed new contracts yet, that is something we are sure about, so you are not going to get money for them if they leave at the end of the season. So it's a double punishment.
"It's astonishing to me. How? [Robin] van Persie went, I went. A lot of players went, but you got money for them. These guys might go on a free. So are you going to keep them and hope you can make them stay or are you going to sell them?"
According to Souness, Arsenal must also consider whether the potential transfer fees would be worth it.
"How much are you going to get for them now?" he said. "You've got to value that against what kind of input they are going to have on the team going forward. By selling them, does it lessen Arsenal's chances of finishing in the top four? I would say yes.
"The money they get now is going to be small beer compared to the money they get if they get into the Champions League again and get into the latter stages of that," he added. "So they have to keep them for the kind of money they might get in the transfer market."
The situation is complicated by suspicions of dressing room disharmony. Wenger shrugged off suggestions that some of his players declined to celebrate with Sanchez at Selhurst Park, but Souness can understand how relations might have become strained by big players refusing to sign new contracts.
"When things are not going well, other players in the dressing room will go: 'He's not giving us anything, that's why we're not winning games and why we're only drawing games.'
"We can only second guess it from a distance - how the rest of the players view Ozil and Sanchez wanting to leave the football club. Whether one stays or both go, who knows. But it will be uncomfortable when they're not winning games or they are drawing games they should win. That's the obvious thing that the other players in the dressing room will point to."
It's yet another factor for Wenger to consider when the transfer window re-opens in the new year. Sanchez's impact was invaluable at Selhurst Park, but what happens next is far from certain.
Watch West Brom v Arsenal live on Sky Sports Premier League HD from 4pm on Sunday