Arsenal's lack of progress: Summer words have counted for nothing
Last Updated: 03/01/18 7:06pm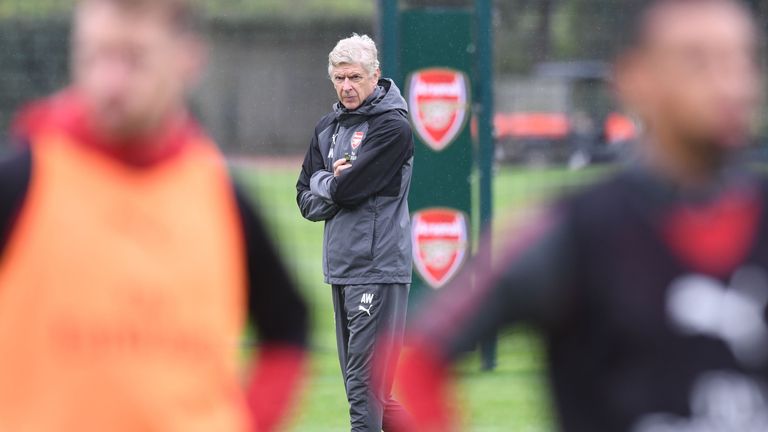 It is only eight months since the announcement but it makes for curious reading now. "I will start by stating what the ambition is," said Arsenal chief executive Ivan Gazidis upon revealing that Arsene Wenger had agreed a new two-year contract as the club's manager. "The ambition is to put this club in a position where we are winning the Premier League."
Gazidis was not a lone voice. The sentiment was echoed by Arsenal chairman Stan Kroenke. "Our ambition is to win the Premier League and other major trophies in Europe," said Kroenke. "It is what the fans, players, staff, manager and board expect and we will not rest until that is achieved. Arsene is the best person to help us make that happen."
Wenger himself outlined the plans for a title push too. "This is a strong group of players and with some additions we can be even more successful," he claimed. "We are committed to mounting a sustained league challenge and that will be our focus this summer and next season." Perhaps that's why he still refuses to concede that the title has long gone.
Arsenal sit sixth in the Premier League table going into Wednesday's game against Chelsea at the Emirates Stadium. They are 24 points behind leaders Manchester City. Six adrift of Liverpool in fourth. But while Jurgen Klopp has just agreed to pay £75m for a defender, Wenger is not expected to spend big despite bringing in only two players last summer.
The major acquisition was Alexandre Lacazette, the £46.5m striker from Lyon. He has scored consolation goals against both Manchester clubs but his tally of eight goals in 1447 minutes must be considered modest. It is easy to imagine compatriot Olivier Giroud - four goals in 360 minutes of action - could have outscored him given the same time on the pitch.
Sead Kolasinac was the other new signing and he represents good value as a free transfer arrival from Schalke. But it is difficult to see how a left-back seemingly no longer trusted to produce his best performances in a back-four could be expected to have a transformative effect on this Arsenal team. Not when more money was brought in by sales than was spent.
Alex Oxlade-Chamberlain departed and is already winning positive reviews at Anfield. Wojciech Szczesny and Gabriel agreed permanent exits, while Kieran Gibbs left too. None were crucial figures at the club but to see them not replaced makes the ambitious talk of the summer even more incongruous. Could they really have believed success was possible?
It feels a long time ago now but this time last year Wenger's delivery of a top-four finish was still seen by some as inevitable. Arsenal stutter but they find a way in the end. But that guarantee is gone and the record this season is even worse. Arsenal had 44 points at this stage of last season but are now six points worse off with the visit of Chelsea to come.
Arsenal after 21 games
| Season | Played | Won | Drawn | Lost | Points |
| --- | --- | --- | --- | --- | --- |
| 2015/16 | 21 | 13 | 4 | 4 | 43 |
| 2016/17 | 21 | 13 | 5 | 3 | 44 |
| 2017/18 | 21 | 11 | 5 | 5 | 38 |
It is a fixture that will once again put Wenger's record against top-six rivals under the spotlight. Arsenal might have beaten Chelsea twice at Wembley in 2017 but results against stronger opposition in the Premier League remain an issue. They have won only one of those six games this season. If these matches are not won then neither are titles.
The contrast with Chelsea extends beyond the pitch. Wednesday's opponents are Arsenal's polar opposite. Seemingly in a constant state of flux, it is agitation not stability that is their model for success and it is telling that Antonio Conte is the manager whose future is in greater doubt despite being in charge of the champions and only one win off second spot.
Are Arsenal becoming desensitised to disappointment? For some time, the hope for tomorrow sustained supporters. The pride in the team's style. But even that is no longer obvious. Ainsley Maitland-Niles has emerged. Eddie Nketiah enjoyed his big moment. But these are small mercies compared to the big issue of the contracts of their key players.
There has been some revisionism regarding Alexis Sanchez. Talk of a poor attitude and a team better off without him. But there is no masking his influence and with Mesut Ozil's contract also due to expire, Arsenal risk losing not only their two most creative players but statistically the two most creative players from open play in the whole of the Premier League.
Arsenal legend Ian Wright recently called it "disgusting business" that the pair could walk away for nothing and it certainly seems to undermine the argument that all is serene at the club as long as the money rolls in. A second season shorn of Champions League revenue looms and the players best placed to get them there are inching towards the exit door.
There has long been a disconnect between sections of support and those in charge. But the empty vows uttered upon Wenger's contract renewal in May highlight the fact that there is also a disconnect between words and deed at Arsenal. Defeat to Chelsea will underline that still further. And the fear now is that, whatever is said, this is Arsenal's new normal.