Arsene Wenger disappointed by Mauricio Pochettino comments
By James Dale
Last Updated: 26/01/18 11:12am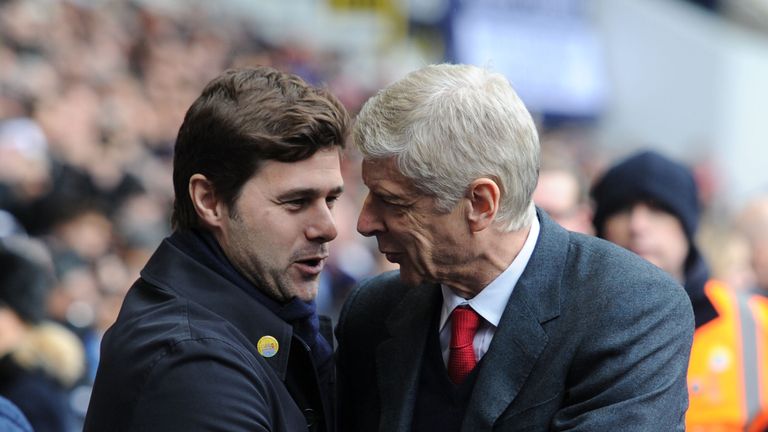 Arsene Wenger has defended himself after Mauricio Pochettino took offence over the Arsenal manager's comments about a lack of trophies.
Pochettino said Wenger "needs to talk for himself and for Arsenal" after taking the Frenchman's remarks about a lack of recognition for the Gunners' silverware as a dig at Spurs.
But Wenger has insisted he did not intend the comments as a jibe towards Arsenal's rivals.
"Of course he has been misled," said Wenger, when asked about Pochettino's reply.
"He said I have to focus on Arsenal and he's right, that's what I do. I have no problem with him or with anybody else.
"I just want to be responsible for what I say but not what I was supposed to have said - that's really disappointing for me."
The comments which upset Pochettino came after Arsenal reached the Carabao Cup final by beating Chelsea 2-1 on aggregate on Wednesday.
Wenger said the media "celebrate some teams who have not been in a final for 25 years" but ignore Arsenal's record of three FA Cup trophies in four years.
"I just complained that we are always in the hot spot," Wenger added. "I didn't speak about anybody - that's why I'm not happy with that because I didn't speak about Tottenham at all and I didn't even think about them.
"It was just a general example and I didn't speak about anybody. I work for 20 years here, and I respect the press and I stand up for what I say, but I don't accept being questioned about things I have not said."
Wenger also responded to Jose Mourinho's comment that Alexis Sanchez had moved from a "fantastic club to a giant club" by joining Manchester United, while saying Henrikh Mkhitaryan had signed for a "fantastic club".
Wenger said: "Can you be fantastic without being giants? Yes. Can you be giants without being fantastic? Yes.
"I don't know, you should ask him what he means by that. I think they're two great clubs and the two clubs have made a great deal."