Arsene Wenger an absolute genius at Arsenal, says Charlie Nicholas
Last Updated: 20/04/18 11:38am
Arsene Wenger has been "an absolute genius" as Arsenal manager, says Sky Sports football expert Charlie Nicholas.
Wenger announced on Friday morning he will depart from his role at the end of the season, stating "after careful consideration, he felt it was the right time to step down".
Nicholas admits Wenger was showing increasing signs of strain in recent seasons as the team's struggles increased, but he urged Arsenal fans to remember the 68-year-old's contributions to the club since taking over in 1996.
Speaking to Sky Sports News, Nicholas said: "Arsene is the greatest achiever at Arsenal and I include the players in there. He is an absolute genius.
"Obviously over the last few years the team as a whole has generally gone backwards. But for the amount of consistency and style this man has brought, he has been absolutely unbelievable.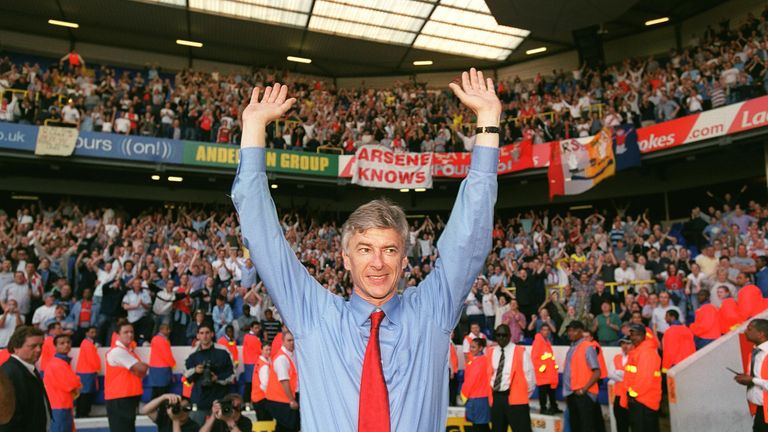 "It is a sad day but I am happy because I think Arsene was taking on too much strain, it was getting to him.
"But that man there, he is the main achiever of it all and because of that, when you see the stands not quite full, I think the pain was starting to seep through to him.
"I think he was starting to realise he had a lot of quality players but he couldn't knit them together properly with the defensive frailties.
"With the money he started to spend, that was starting to really frustrate and agitate him [team not knitting together] but he has been an absolute genius.
"He has been an absolute treat for the football club, I don't know where we go to replace him, that is the hardest part.
"But it has been an absolute pleasure. All Arsenal fans get behind the man, show the respect and appreciation he deserves for what he has done for this football club. He has been absolutely outstanding."
Thomas Tuchel, Diego Simeone, Brendan Rodgers, Patrick Vieira, Carlo Ancelotti, Massimiliano Allegri and Joachim Low are among the names linked with replacing Wenger, but Nicholas would like to see Wenger's style remain.
"There has been a few in the past I have always liked but some of them have had a little down turn in their career. One was Ronald Koeman until he went to Everton," he added.
Arsene Wenger built the best teams that I played against in English Football .The 98 team was Amazing.The biggest compliment is that he played football that made us change the way we played against them. He now deserves the most incredible send off from all in the coming weeks.

— Gary Neville (@GNev2) April 20, 2018
"The style of Brendan Rodgers with Celtic in Scotland has been breathtaking, he probably should have won the league with Liverpool so he has the credentials.
"I was looking at Wenger's comments on Patrick Vieira on being in the frame because he has had a nice educational work and is now out in America.
"Each of these guys could be in contention. People have mentioned to me Diego Simeone, I am not a fan of that; it is not a style I like.
"If that is who the club goes with I understand it but it is not the style I want. Koeman's style, Michael Laudrup when he was at Swansea and Brendan Rodgers at Celtic, I like that sort of style of football which would follow on from Arsene.
"I think that could be achieved by some of the names put forward."