Arsene Wenger unsure whether to walk away from the 'Russian roulette'
By PA Sport
Last Updated: 25/04/18 11:04pm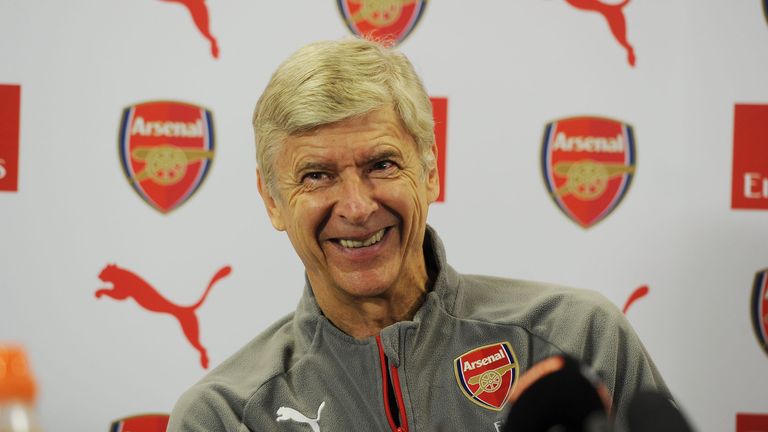 Arsene Wenger has likened the last 35 years of his career to Russian roulette and admits he does not know how much he will "miss the gun" pointed at his head when he leaves Arsenal this summer.
The Gunners boss will step down at the end of the season after a reign spanning more than 21 years, the surprise announcement coming last week with Wenger conceding the timing was not his decision.
Wenger, 68, has been in charge at Arsenal since 1996 and has won three Premier League titles and a record seven FA Cups during that time.
He has faced some criticism in recent seasons following disappointing results in the Premier League and Champions League.
But Thursday's Europa League semi-final first-leg clash with Atletico Madrid now offers Wenger the chance to leave on a high and with a trophy that would secure a return to Champions League football for his replacement.
With the Frenchman's long association with Arsenal coming to a close in a matter of weeks, he revealed he does not know how long he will spend away from the game before being ready for a fresh challenge.
Asked if he would have a period of reflection, Wenger replied: "Yes, a little bit. I had no break for 35 years. In our job, you can look around, that doesn't exist. I don't know now how addicted I am.
"I am a bit like a guy who plays Russian roulette every week and suddenly has no gun anymore. So, I will see how much I miss the gun."
Pushed on the subject, Wenger suggested missing an entire season may be too long away from the game, adding: "It's long, a year. 365 days.
"I don't know. I leave myself a little bit open and [with the] freedom to decide what I want to do with my life."
There have already been plenty of names linked with the task of filling the void left by Wenger's exit.
His appointment in 1996 was a shock to English football with many people unaware of who he was when he arrived from managing in Japan.
But he has called on the club to make a similarly bold decision if it is the right figure to replace him, especially if it is someone previously associated with Arsenal.
Former midfielders Patrick Vieira and Mikel Arteta are reportedly among the front-runners.
"You will not be short of candidates. That shows you as well that the place is a good place," Wenger added.
"The need to make the right decision, even if you have to be bold... that's what I wish, personally. Is it former people that worked here? That is even better. But there are many players who had qualities.
"Some of them are in the job. I don't influence that choice but I will stand behind the decision."
Arsenal are back in Premier League action on Sunday when they take on Manchester United at Old Trafford.