Arsene Wenger: Jose Mourinho relationship is tense, but respectful
By Stephen Mills
Last Updated: 28/04/18 4:03pm
Arsene Wenger admits his relationship with Jose Mourinho has been "tense", but says they respect each other because they understand each other's suffering.
The Frenchman will travel to Old Trafford for the final time as Arsenal manager on Sunday to face Manchester United, live on Sky Sports Premier League, and has spoken of his respect for their manager.
Mourinho and Wenger have clashed over the years, with the former famously describing the latter as "a specialist in failure" in 2014, but the Arsenal boss says their relationship is more positive than people might expect.
"It has been, like with Ferguson, very tense like always when you fight together," Wenger told Soccer Saturday.
"But overall it is respectful. I must say as well it is very difficult when you play against fellow managers, they get reported things that you have not necessarily said.
"In press conferences, they say 'Wenger said that' even if it is taken out of context and you then get people who are upset or vice versa.
"It is very difficult to keep it calm and quiet, but over the distance the respect always takes over. Do you know why? We all suffer defeats, we all suffer disappointment and we all know that we suffer a lot.
"You always have respect for people who suffer, unless you are completely not human at all. You have to feel empathy for people who are in the same job as you."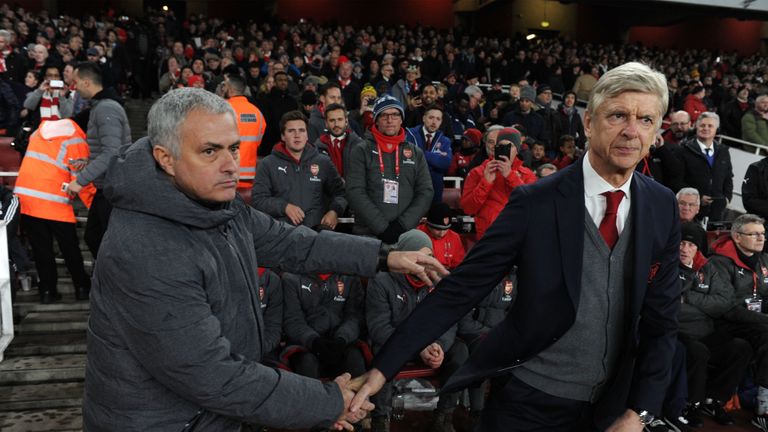 Wenger said his relationship with Mourinho is similar to the tense rivalry he enjoyed with Sir Alex Ferguson during the early years of his reign.
Either Manchester United or Arsenal won every Premier League title in Wenger's first eight seasons and he says that led to heightened emotions whenever they met.
"Between 1998 and 2005 it was an intense rivalry and the main rivalry was between the two clubs," he added.
"After you had Chelsea - and Liverpool was always there - but we were the dominant teams and I just think every game had intensity, tension, rivalry and the challenges were always on the borderline.
"In the build-up to a game and after a game everything was absolutely tense. This game many times on the pitch and in the corridors was on the borderline.
"The rivalry between Alex Ferguson and myself was at a very high point and it was always very tense."
Wenger was famously sent to the stands during Arsenal's 2-1 defeat at Old Trafford in 2009, leading to one of the Premier League's most iconic images when he could not find a spare seat.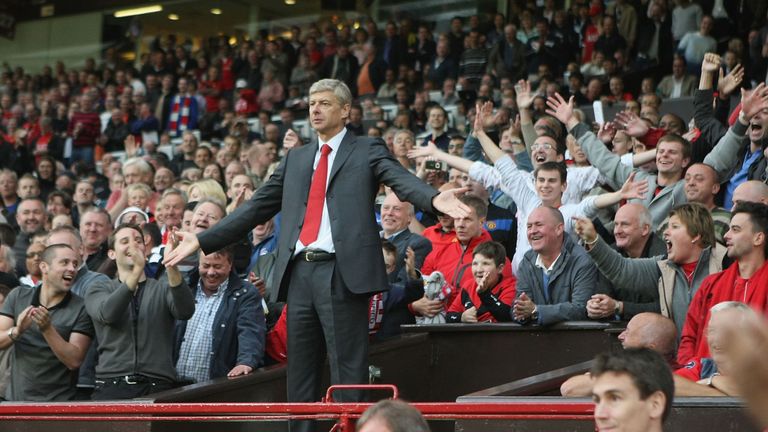 And while he was not happy with the situation at the time, he admits he can now find humour in the picture.
"If it wasn't me I would find that picture quite funny," he said.
"I was standing there and I didn't know where to go. First of all I didn't know why I was sent off, nobody knew why, even the referee didn't know and I didn't know where to go because the stand was full.
"I had to go in the stand and after that they changed, a little bit, the rules, because nobody could tell me where I could sit down.
"I saw the pictures after and it looks quite funny, I must say."
Tune in to Soccer Saturday from midday on Sky Sports News to see more from our interview with Arsene Wenger and tune in to Manchester United v Arsenal live on Sky Sports Premier League from 4.15pm on Sunday.