Arsene Wenger timeline: Arsenal's highs and lows since their last Premier League title win
By Andrew Dickson & Peter Smith
Last Updated: 20/04/18 11:05am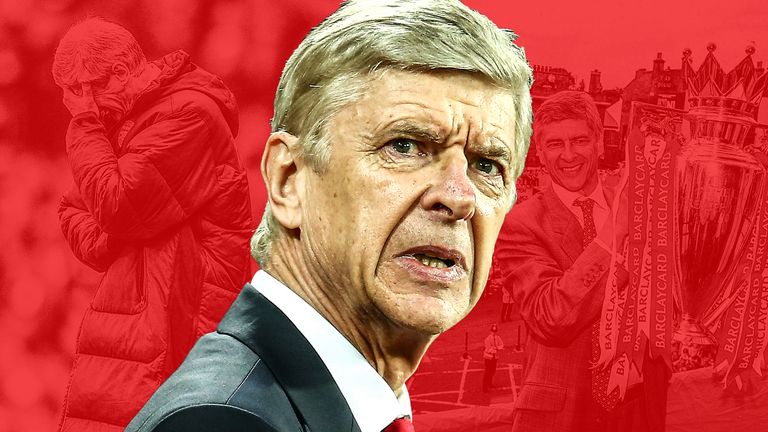 Arsene Wenger is leaving Arsenal - and it has been a mixed 14 years since his last Premier League title win.
The Frenchman agreed a new contract with the club last summer but despite having one more season left on his deal, has decided to part ways with the club at the end of the 2017/18 campaign.
Here, we look back at the highs and lows of his tenure since his last Premier League title triumph in 2004...
2004/05
Highs: Arsenal's defence of their title began well and they equalled Nottingham Forest's record of 42 league games unbeaten, before going another seven matches without losing before a 2-0 defeat at Manchester United. Although they could not retain the Premier League, Arsenal's 5-4 north London derby win at Tottenham was a classic and they defeated Everton 7-0 in their final home game, a result which still stands as their joint-biggest victory under Wenger. Arsenal then saw off United 5-4 on penalties after a 0-0 draw to win the FA Cup in Cardiff.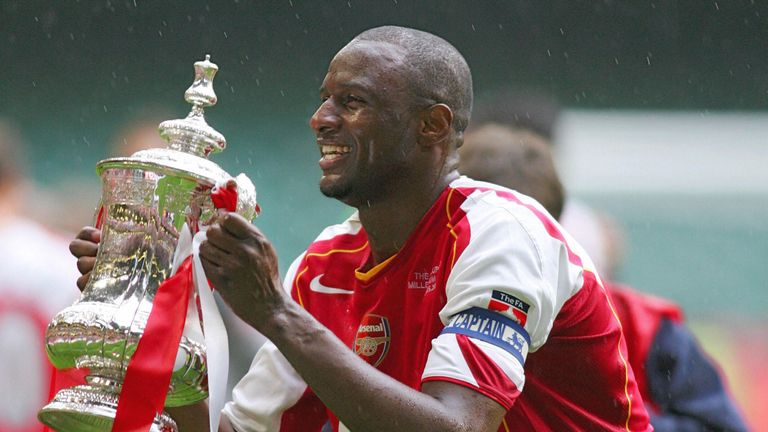 Lows: The inevitable break-up of the Invincibles squad began as Martin Keown (Leicester), Ray Parlour (Middlesbrough), Sylvain Wiltord (Lyon) and Nwankwo Kanu (West Brom) left for new clubs. After a good start, Arsenal's form dipped in November and draws with Crystal Palace and West Brom were followed by a 2-1 loss at Liverpool. It saw them drop briefly to third as Chelsea took the lead and stayed at the top of the table for the rest of the season. In February, Arsenal fielded a team without an Englishman for the first time in their history against Palace. While they won 5-1, not having a single home-grown player in their squad drew criticism.
2005/06
Highs: Arsenal's run to their first and so far only Champions League final was spectacular. A 1-0 win at Real Madrid saw Wenger's side become the first English team to win at the Bernabeu and a 0-0 second leg draw took them into the last eight, where a terrific display at home to Juventus saw them win 2-0. A 1-0 aggregate success against Villarreal set up a date with Barcelona in Paris for the trophy. In the Premier League, there was another 7-0 win - this time against Boro - and Tottenham were beaten to fourth and Champions League qualification on the final day. There was also an emotional send-off for Highbury, the club's home for 93 years, with a 4-2 win over Wigan in the final match there.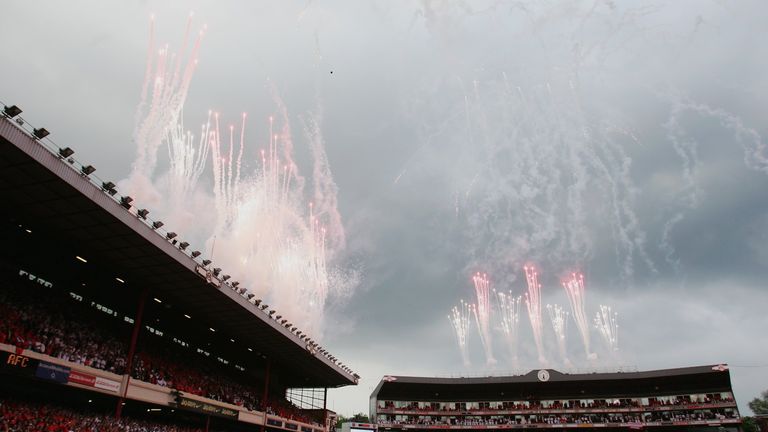 Lows: After months of speculation, Patrick Vieira was sold to Juventus before the season began. Arsenal also had an indifferent start to the Premier League, losing early games to Chelsea and Middlesbrough then drawing at West Ham. With a League Cup semi-final defeat to Wigan and elimination to Bolton in the fourth round of the FA Cup, it was a season to forget domestically. While their European campaign captured the imagination much more, Arsenal lost in the final to Barca after leading through Sol Campbell. Their eventual 2-1 defeat meant they finished a season without a trophy for the first time in five years.
2006/07
Highs: They were few and far between in 2006/07. A 6-3 win at Liverpool in the League Cup saw Julio Baptista score four and it was one of three victories against the Anfield side that term. Otherwise, two wins over Manchester United and another pair against Tottenham were the main highlights of another barren campaign.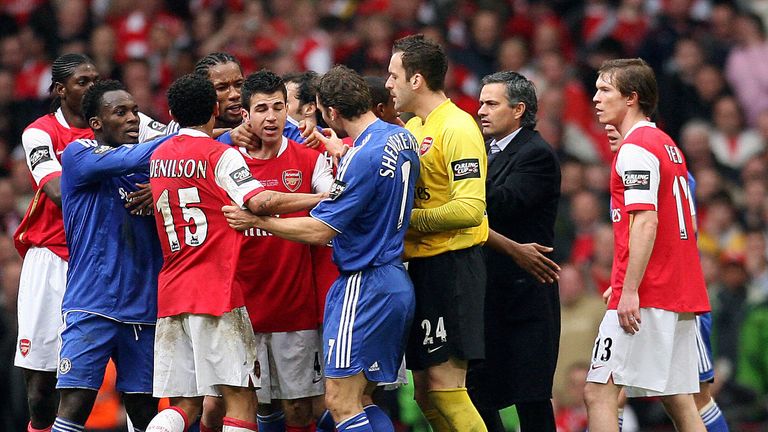 Lows: Having grown used to seeing their team rack up scores of handsome wins, seeing Robin van Persie finish as the club's leading scorer with just 13 goals took a bit of getting used to for Arsenal fans. Wenger's side lost the League Cup final to Chelsea, were beaten in the FA Cup by Blackburn and were knocked out of the Champions League in the last 16 by PSV, something Gunners supporters would soon get used to. Arsenal also missed out on third place in the Premier League to Liverpool on goal difference and won just eight of their last 23 games in all competitions. With club legend Dennis Bergkamp retiring, Robert Pires leaving for Villarreal and Ashley Cole sold to title rivals Chelsea, there were a few low points.
2007/08
Highs: Arsenal had actually ended 2006/07 without losing any of their last seven games and they took that form into the new campaign, setting a new club record of 28 games unbeaten in all competitions in a run which took them to a 3-1 Champions League defeat at Sevilla in late November. By that point, Arsenal had matched their record European win of 7-0 a month earlier against Slavia Prague and gone top of the Premier League. They later became the first English team to win at AC Milan with a 2-0 victory in Italy as they knocked the holders out.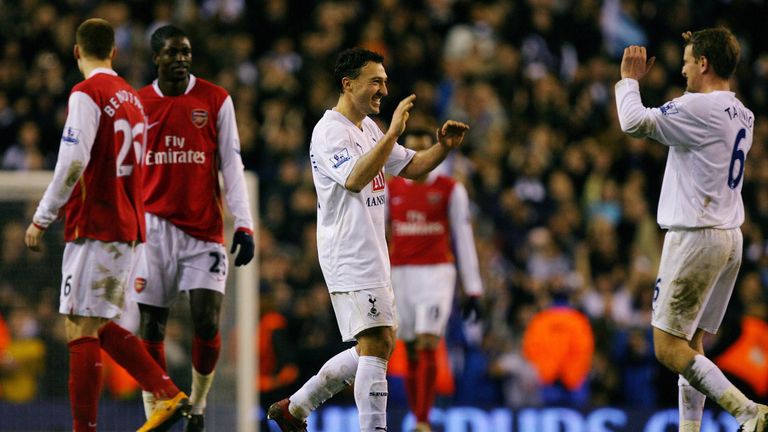 Lows: Thierry Henry left before the season began, signing for Barcelona, and although Arsenal got by without him at first, it didn't last as they endured another difficult second half of the season. A 5-1 second-leg thrashing at Tottenham in the League Cup - their worst north London derby result in 25 years - was humiliating as Nicklas Bendtner and Emmanuel Adebayor clashed on the pitch. Worse was to come: Eduardo's broken leg at Birmingham coincided with a run of four consecutive draws which began a sequence that ended the club's title challenge. Just one win in eight games rendered four victories in a row at the end of the campaign futile as Arsenal finished third.
2008/09
Highs: Many of Arsenal's best moments again came in Europe, with a run to the semi-finals of the Champions League including a sparkling 3-0 dismantling of Villarreal in London. Wenger's team briefly topped the Premier League in September and went 21 league games unbeaten. Despite spending much of the campaign in fifth place, they ultimately finished fourth to secure a place in the Champions League once more.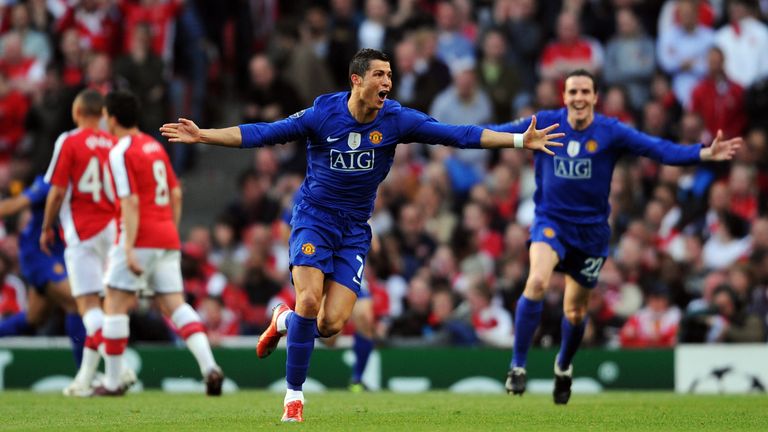 Lows: It's not that Arsenal were losing lots of games but rather they weren't winning enough. With 12 draws, only Newcastle had more in the Premier League and four 0-0 stalemates in a row with West Ham, Tottenham, Sunderland and Fulham summed up the campaign. The unbeaten run ended spectacularly with a 4-1 rout by Chelsea - who also knocked them out of the FA Cup in the last four - at the Emirates. The European campaign was ended by a familiar foe too - Manchester United - as Sir Alex Ferguson oversaw home and away wins over Arsenal to set up a final with Barcelona.
2009/10
Highs: Four years since they saw any silverware, Arsenal fans were having their patience tested yet were relatively accepting of the situation due to a need to be prudent following the costly move to their new home half a mile from Highbury. Nevertheless, some were getting restless as another campaign passed without much to write home about. A run to the last eight of the Champions League was good and Arsenal came from 2-0 down to draw 2-2 at home with holders Barcelona. They even led in the return game at the Nou Camp through Bendtner but four goals in reply from Lionel Messi killed them off.
Lows: Arsenal developed an unwelcome habit of losing games in twos. Of the nine matches in which they were defeated in the Premier League, four of them saw Wenger's side follow up with another loss immediately after. Having still been in contention for the title towards the end of March, a run of just five points from a possible 18 ended their hopes and they finished 11 behind champions Chelsea in third place. Arsenal also failed to make the last eight of either cup tournament, losing in the fifth round of the League Cup at Manchester City and the fourth round of the FA Cup to Stoke.
2010/11
Highs: Arsenal enjoyed a famous 2-1 win over Barcelona to give themselves hope of avenging their Champions League exit to the La Liga side a season earlier as two goals in the last five minutes from Van Persie and Andrey Arshavin gave them a slender lead but they lost 3-1 in the return game and were knocked out. Otherwise, a familiar pattern was emerging and what looked for a while like a season of promise turned into one of unfulfilment…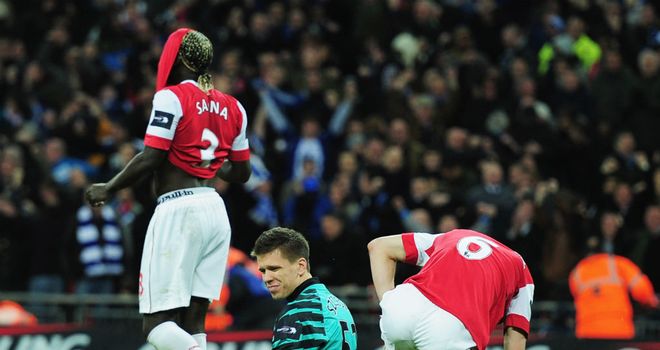 Lows: Throwing away a 2-0 lead to lose 3-2 at home to Tottenham - their first home loss in the derby for 17 years - was a setback but Arsenal still went into February in second, five points off the summit. From there, their season unravelled. Giving up the 4-0 lead they built inside 26 minutes to draw 4-4 at Newcastle was a warning sign and being taken to an FA Cup replay by Leyton Orient wasn't exactly impressive either. Losing the League Cup final to Obafemi Martins' late winner for Birmingham saw Wenger drop to his knees in despair and from there, Arsenal capitulated. They won only once in the Premier League in March and April - taking eight points from a possible 21 - and limped home in fourth.
2011/12
Highs: In the club's 125th anniversary season, there was a need to show improvement and that came to an extent. Van Persie scored 37 goals in his best campaign at the club as he won a string of awards, including the PFA Footballer of the Year prize. His talismanic contribution still wasn't enough, however, as Arsenal could only finish third - 19 points behind champions Manchester City - and went into the summer with that now-familiar feeling of emptiness. The fact a quirky club record of four games in a row in which Arsenal came back from a losing position to win was set between February and March barely hit the radar.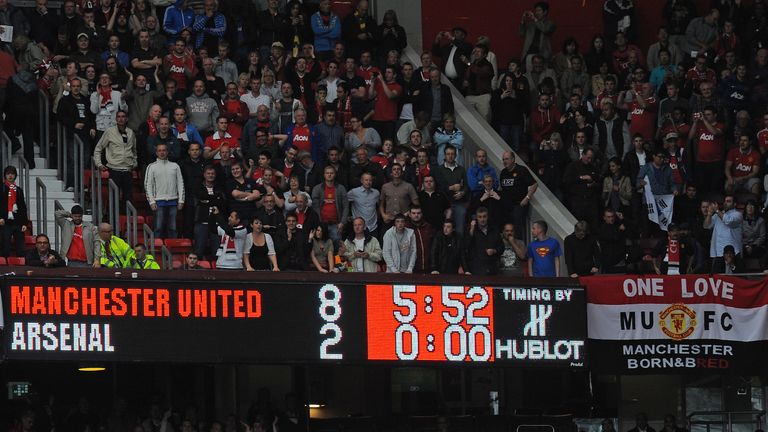 Lows: Where do you start? An 8-2 demolition at Manchester United - the club's worst defeat since 1896 - is probably as good a place as any given it came early in the season and it was the cue for the rest of English football to say they would '8-2 be an Arsenal fan right now'. Little wonder, really, when you consider that result contributed to an awful start which saw the Londoners win two of their first seven games, a run which also included a 2-1 defeat at Tottenham and had them sitting a lowly 17th at one stage. Although Arsenal did rise up the table, successive defeats to Fulham, Swansea and United in January did much to end their title push. A 4-0 loss at AC Milan was also too much to overcome in the second leg of their Champions League tie, although they had a good go at it as they won the return game 3-0.
2012/13
Highs: Arsenal made the top four at Tottenham's expense once more despite an unconvincing start which saw them draw three of their first five Premier League games, with their recovery from that - 28 points from the final 30 available taken - impressive. In the League Cup, they also showed character to come from 4-0 down in the first half to score twice in the last two minutes, draw 4-4 in normal time and then defeat Reading 7-5 in extra-time. There were also plenty of goals when Arsenal met Newcastle. Having shared eight of them at St James' Park two seasons earlier in a 4-4 draw, Wenger's team came out on top in a 10-goal epic at the Emirates, with Theo Walcott getting a hat-trick in a 7-3 success.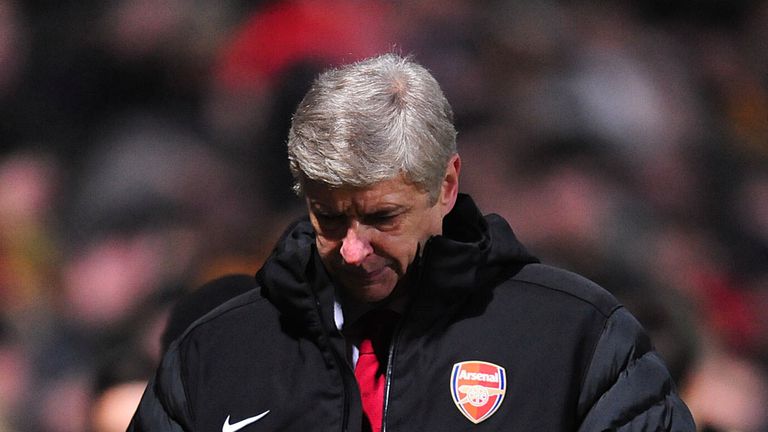 Lows: After some of the lows in previous campaigns, the disappointments this time were less frequent. Arsenal once again went out of the Champions League in the last 16 but were unlucky to do so. After losing 3-1 at home to Bayern Munich, they won the away tie 2-0 and exited on away goals. There was little excusing their elimination from the League Cup, however, as they lost on penalties to Bradford City, a team 65 places below them in the league pyramid, after a 1-1 draw. Lower-league opposition also prevailed in the FA Cup, Championship side Blackburn winning 1-0 at the Emirates.
2013/14
Highs: By now, Arsenal's supporters were getting restless at a lack of big-name signings and understanding of the tight finances at the club was wearing thin. A 3-1 defeat at home to Aston Villa only exacerbated the situation and the response was emphatic, as Mesut Ozil was signed for a club-record fee of £42.4m from Real Madrid. Wenger's team responded well to the Villa loss, winning their next seven games and spending more time on top of the Premier League than any other side, even if they failed to win it. Away form was particularly good, with Arsenal winning 1-0 at Borussia Dortmund in November to record a 14th and final victory in 15 games unbeaten on the road. Arsenal also ended their season with a trophy at last, ending a nine-year wait, with a 3-2 FA Cup final win over Hull. They made hard work of it, with Hull 2-0 up after eight minutes before Aaron Ramsey's extra-time winner.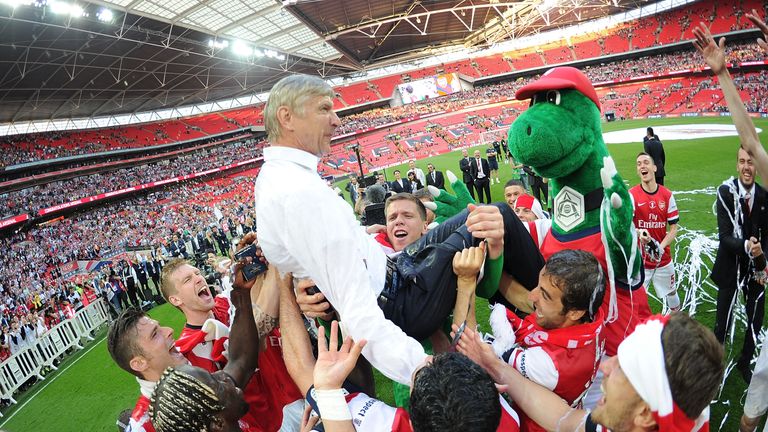 Lows: Injuries to key players and a string of heavy defeats away from home to fellow challengers ended Arsenal's title aspirations early. A 6-3 defeat at Manchester City was closer than the final score suggests but Liverpool were ruthless as they led 4-0 after 19 minutes and defeated Wenger's team 5-1 at Anfield. Worst of all was the Frenchman's 1,000th game in charge of the club, which saw Chelsea win 6-0 at Stamford Bridge. Against his biggest rival Jose Mourinho, Wenger was embarrassed as the big occasion saw Chelsea record their most comprehensive win over Arsenal. For the first time in 17 and a half years in charge, Wenger's response was to not show up for his post-match news conference. While it secured more Champions League football, finishing fourth in the Premier League for the sixth time in nine years wasn't seen as a good thing by everyone.
2014/15
Highs: After Ozil's arrival a year earlier, another big name joined Arsenal as Alexis Sanchez signed from Barcelona. He made a good start to his time in England, scoring 25 goals in his first season. The last of those came at Wembley, when an excellent team performance saw Arsenal retain the FA Cup with a 4-0 final win over Aston Villa as they set a shared competition record of 12 wins.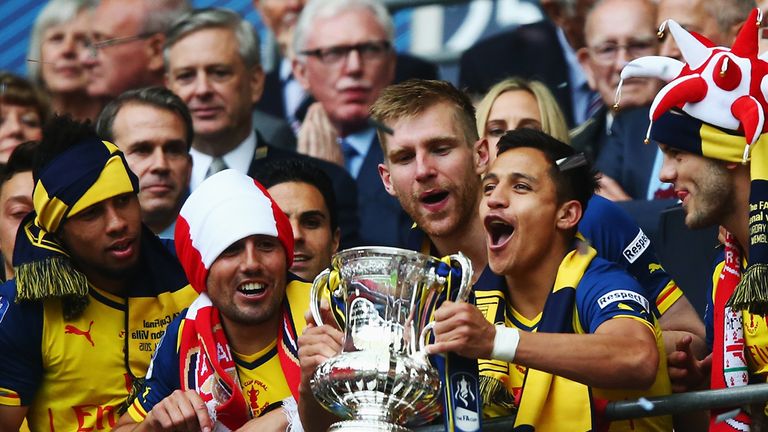 Lows: Of all their last-16 departures from the Champions League, the away goals defeat to Monaco in 2014/15 was the hardest for Arsenal supporters to stomach because it arguably gave Wenger's team their best chance of making a long-awaited return to the quarter-finals. A 3-1 home loss gave at least Arsenal a glimmer of hope by virtue of Alex Oxlade-Chamberlain's goal but while they recorded a 2-0 win in France, their salvage mission was unsuccessful as they fell short once more. In the Premier League, two wins in their opening eight games left Arsenal with too much to do there as well and while they went on a good run in the second half of the campaign - winning eight games in a row - they still finished 12 points behind champions Chelsea.
2015/16
Highs: Needing to win 1-0 or 2-1 to reach the last 16, Arsenal travelled to Olympiakos with seven first-team players out and their hosts boasting a fine home record in Europe which included wins against Juventus and Atletico Madrid. Undeterred, Wenger's side were 3-0 winners thanks to Olivier Giroud's first hat-trick for the club and they claimed a place in the knockout stages for the 13th year in a row. At home, Arsenal also secured their highest league position since their last title win in 2004 as they finished second behind surprise champions Leicester, albeit partly because of a collapse from neighbours Tottenham.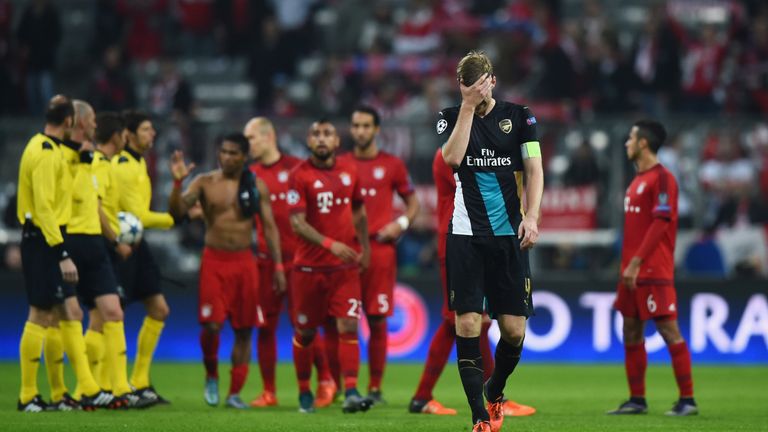 Lows: The runners-up status was somewhat underwhelming and only came after pressure on Wenger had intensified with a 2-1 home loss to Swansea in March, their third successive defeat in all competitions. Once more, Arsenal were choking at a crucial moment and with just one win in eight games overall, they crashed out of the Champions League to Barcelona and gave up their defence of the FA Cup to Watford. While their win at Olympiakos in December had been a triumph of sorts, it only came after an embarrassing 3-2 home defeat to the Greek side and a 2-1 loss at Dinamo Zagreb. Also included in their group results was a 5-1 defeat to Bayern Munich in Germany. There would be more of that to follow…
2016/17
Highs: An opening-day defeat to Liverpool aside, the first half of the Premier League campaign was a success for Arsenal. After 15 matches - the other 14 unbeaten - they were top of the table ahead of an improving Chelsea team on goal difference, albeit having played once more than the Stamford Bridge outfit. A 3-0 victory against Antonio Conte's team in September was a clear highlight at the time, although it ultimately brought about the change in system at Stamford Bridge which saw the Blues dominate proceedings thereafter. A third FA Cup win in four years went some way to making up for league disappointment.
Lows: If one thing stands out about Arsenal's seasons since they last won the Premier League, it is that they repeatedly lack durability. Six defeats in nine games over a period of less than seven weeks represented the slump the club's fans have now come to expect and with it came increased calls for Wenger to leave. There's little questioning which losses in that run were most damaging, with home and away 5-1 defeats to Bayern putting them out of the Champions League 10-2 on aggregate. Contract extension negotiations with both Sanchez and Ozil stalled to the extent they were put on hold until the summer and attendances at the Emirates noticeably dropped, such was the ill-feeling towards Wenger from some as he stayed beyond the 20th anniversary of his appointment. Missing out on Champions League football for the first time in his reign was a telling blow.
2017/18
Highs: Despite all the recent frustrations with Wenger's reign, he could still sign off his final season with a first-ever European trophy with the Gunners, who face Atletico Madrid in the semi-finals of the Europa League next week. That would be a fine farewell, especially with Champions League qualification also awarded to the winner. Despite league form slipping, Wenger has continued to deliver silverware and lifted the Community Shield at the start of this campaign, after beating Chelsea on penalties. A 2-0 win over Tottenham at the Emirates gave Arsenal some bragging rights in November, while a Carabao Cup triumph over Chelsea in the semi-finals of that competition was another satisfying derby win.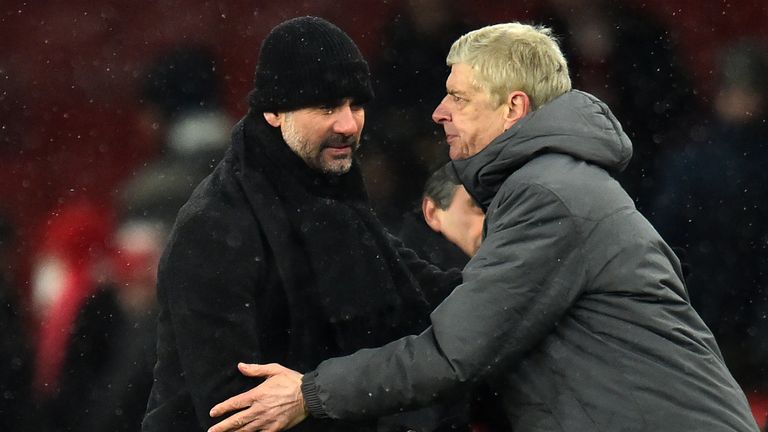 Lows: When Wenger renewed his deal last summer, there was lofty talk of title challenges and restoring the club to the upper echelons of the Premier League - but back-to-back defeats to Stoke and Liverpool in August quelled the optimism which followed the Community Shield win and Arsenal slipped once more away from the leading teams. A 4-2 defeat at Nottingham Forest ended their FA Cup defence, a 2-1 defeat at Bournemouth further damaged top-four hopes in the league, while a 3-0 loss in the Carabao Cup final to Manchester City highlighted the gulf between Arsenal and England's top side. That League Cup loss came amid a four-game run of defeats, which included a shock 2-1 reverse at Brighton. In 2018 Arsenal have failed to win a single point on the road, while at home many Arsenal fans have shown their dissatisfaction by staying away from the Emirates, regardless of an upturn in results in spring, before last weekend's loss at Newcastle.