Unai Emery to Arsenal: Will the players respond to a new approach?
Last Updated: 23/05/18 9:17pm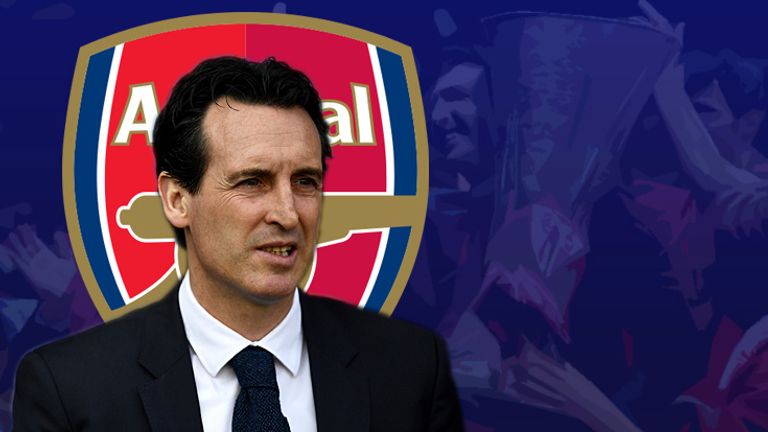 Unai Emery's emphasis on the details will represent a key change of approach for Arsenal. But will it work? Adam Bate takes a look...
Emery is the more prosaic appointment. He is the known quantity. Although Mikel Arteta's past experience at Arsenal was a factor in his favour, it was his inexperience that appealed to many because it offered the tantalising prospect of the unquantifiable. Could Pep Guardiola's assistant be football's next super coach? Arsenal supporters could dream.
Instead, it is Emery and there are similarities between him and his predecessor. Like Arsene Wenger, the new man will be 46 when taking up the post. He has even had the moniker of 'professor' just as the Frenchman once did. The two men share a pathological obsession with football. Emery's old Valencia winger Joaquin once suggested that it was an illness.
But this is no continuity candidate. Indeed, what is most intriguing about this appointment are the differences between the pair and, as a result, the possible shift in emphasis that could now be seen at Arsenal. Wenger's obsession never did translate into an obsession with details. He offered freedom and encouraged players to solve their own problems.
The familiar accusation that Wenger did not adapt his approach to the opposition dogged the latter years of his reign. It was offered up as an explanation for the team's inability to pick up results in the biggest games, particularly away from home. Wenger's Arsenal sought to impose their own game on the opposition. If they could not, problems usually followed.
All the evidence suggests that Emery is likely to approach the task rather differently. He arrives having spent two seasons at Paris Saint-Germain - the wealthiest club in France - but by common consensus this did not play to his greatest strengths. Emery has been at his best when devising ploys to thwart opponents. Working out ways to win against the odds.
That was evident even before he made a name for himself with a trio of top-three finishes at Valencia and those three Europa League triumphs with Sevilla. It was at Almeria where he won promotion to La Liga and the praise of iconic coach Arrigo Sacchi. Once there, he enjoyed wins over his future employers Sevilla and Valencia, and, most notably, Real Madrid.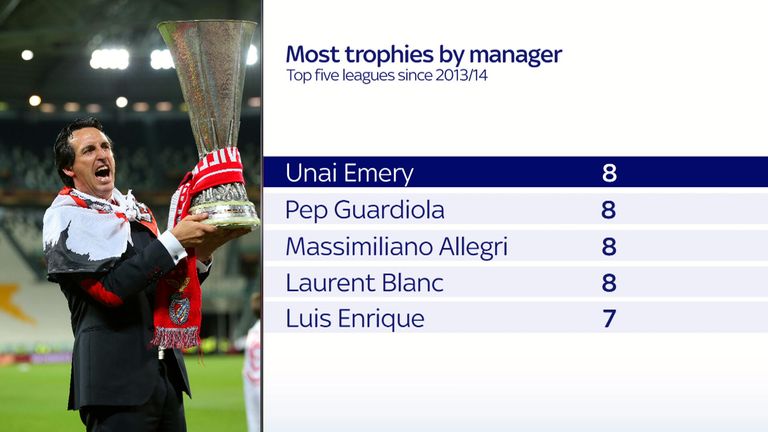 Brighton captain Bruno played in all of those matches, working under Emery for both of those two seasons at Almeria before later spending a further three years with him at Valencia. He still recalls that focus on the detail. "He loves working," Bruno tells Sky Sports. "He spends so many hours working on and off the pitch.
He adds: "I think his best strength is how he prepares the sessions and how he analyses the opposition. We have seen in the Premier League with Manchester City how they have been performing and that is not just because of their talent, it is because of how they prepare. In modern football, that is so important."
The tales of Emery's preparations are well told. A stats aficionado who took his lead from basketball, he was one of the first to embrace GPS data. In his early years, he would even cut video himself - going through 12 hours of footage for each game. The aforementioned Joaquin recalled watching so much of it that he joked that he was running out of popcorn.
There is another famous story of him giving a USB stick packed with information to one unnamed player before quizzing him about the content. When the player began to blag it, Emery revealed that the USB had been blank - it had been a test. It appears to have been an isolated incident. "We had to watch it if we wanted to be successful," says Bruno.
How well Arsenal adapt to this approach remains to be seen. Some will struggle. Others will have been crying out for this greater level of instruction. "He adds more detail to what teams and players do in training and in games," says Sky Sports' Guillem Balague. "Not everyone will accept that. There are those who are perhaps in the comfort zone.
"Some players just want to go to training and then play the games. Others are winners. The winners at Arsenal will want what Emery is bringing. That intensity in training and in the message. He will sharpen everybody up. He will demand more of everybody and everybody will have to come out of that comfort zone."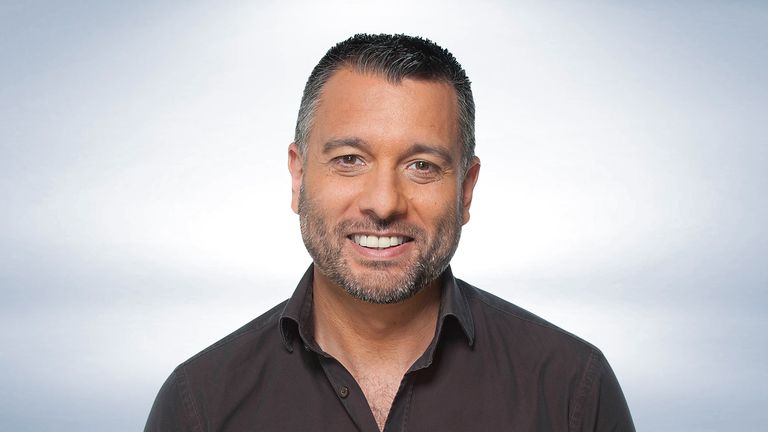 He will sharpen everybody up. He will demand more of everybody and everybody will have to come out of that comfort zone.
Guillem Balague
One of the key questions that will be concerning Arsenal supporters is how many of their players will fall into each of the two categories. How eager this group is to kick on will be crucial. Wenger's Arsenal had appeared under-coached in comparison to their top-six rivals but we will soon have the answers about their true potential.
Ultimately, that is what Emery's appointment brings. Arsenal will have their answers. Those wondering whether Wenger's training-ground work was an issue now have a details-man in charge. Those wondering whether the club was suffering due to an archaic structure have seen it replaced by a comprehensive management team with the new man as head coach.
Emery is the more prosaic appointment. He is the known quantity. But Arsenal are entering unknown territory nevertheless and that is what makes it so fascinating to find out what will happen next. Emery is ready for this job. But the success of this appointment could well be dictated by whether or not these Arsenal players are ready for Emery.