Unai Emery believes Aaron Ramsey will stay at Arsenal
Plus Emery says he is working with Ivan Gazidis 'every day'
By Gerard Brand
Last Updated: 26/07/18 5:30pm
Unai Emery believes Aaron Ramsey is going to stay at Arsenal despite speculation surrounding his future.
Ramsey admitted earlier this week he is uncertain about his Arsenal contract, with his agent locked in negotiations over a new deal.
The Welsh international has entered the final 12 months of his contract at the Emirates, but new boss Emery has made it clear he wants Ramsey to remain at the club.
"Football changes every day. It's not easy. For that, I am thinking the match today first, then training tomorrow, then the match Saturday, with an important player here.
"Aaron is an important player for us, and the contract is one thing for the club and the player. For me, I want him to stay with us, to work with us, to give the team the big performance.
"I think he is going to stay here with us."
Ramsey, who is reportedly a target for Lazio, remains tight-lipped on his future and is happy to leave his representatives to resolve the situation.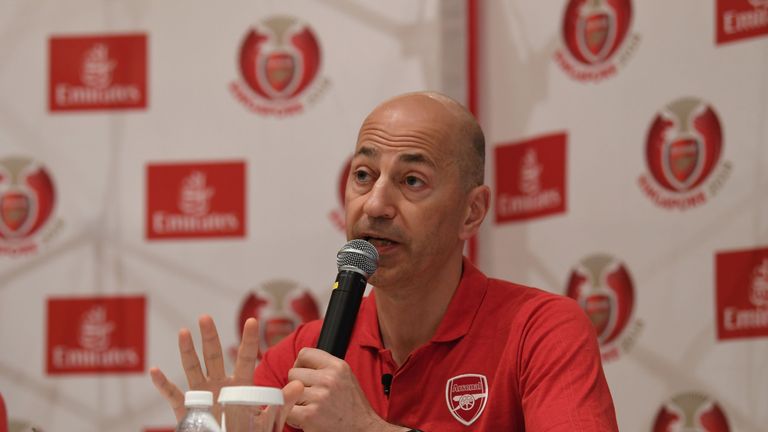 Meanwhile, Emery insisted he is still working with chief executive Ivan Gazidis every day, despite Sky in Italy reporting he is set to join AC Milan as executive director.
"For me, every day we are having meetings together, speaking about Arsenal projects. We speak about how we can improve, work together, and give the club the quality we need so we can do for the club.
"With Ivan, when arrived here, the first meeting was with him. For me he is a very, very good person and professional, and has very big experience in the football world.
"I don't know what he is going to do, because I only speak to him about the Arsenal project."