Alexandre Lacazette does not view Arsenal team-mate Pierre-Emerick Aubameyang as a rival
Last Updated: 29/07/18 12:10am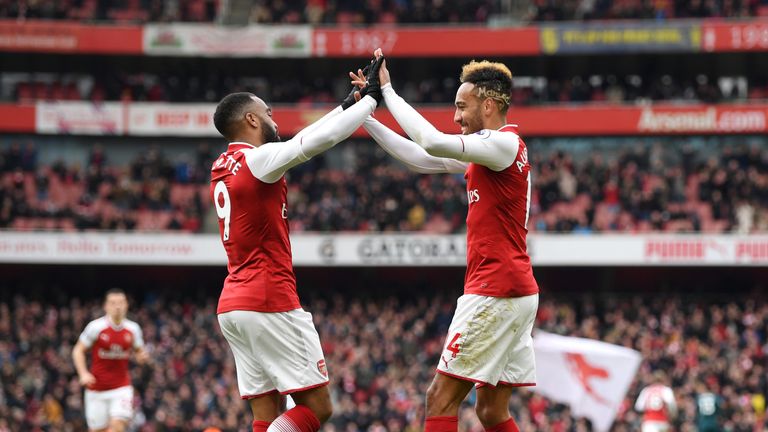 Alexandre Lacazette is confident he can form a potent partnership with Pierre-Emerick Aubameyang at Arsenal this season.
Both players are going into their second season with the Gunners, with Lacazette having joined from Lyon for £52.7m last summer, while Aubameyang was signed last January for £60m from Borussia Dortmund.
The signing of Aubameyang led to questions about whether the pair could play in the same side but Lacazette says he was never concerned about his role in the team.
"I never said Aubameyang's arrival was bad for me, only people in the press said it was bad," said Lacazette, who scored twice in Arsenal's win against Paris Saint-Germain on Saturday.
"I was happy because I knew I could play with him. I didn't see him as a rival more than a team-mate, so since the beginning I was happy about his signature.
"Of course, it's good that we have a good relationship off the pitch. If people are good off the pitch, on the pitch it will be easier to play."
Lacazette scored 17 goals in 39 appearances in all competitions in his first season at Arsenal.
That was down from 36 goals in 39 appearances in his final season at Lyon and Lacazette admits he was frustrated not to find the net more.
"Arsene [Wenger] talked to me a lot, I watched videos, and I trained more. Sometimes you can do everything but it's only about a little bit of luck," Lacazette said.
"I know it was my first season so I can't be too hard on myself, even if I wanted to score more."
Lacazette admits he took time to adapt to the Premier League but is confident his performances will improve in his second season in England.
"Now I know all of my team-mates, I know the club, I know how English football is, it's totally different, but now I'm more ready," Lacazette added.
"Power is the main difference, it's more powerful in England.
"Referees are less strict than in France, teams like to play low and in counter-attack and defenders in general are stronger than in France."