Pierre-Emerick Aubameyang can lead Arsenal's title hopes, says Kanu
By Tom Simmonds
Last Updated: 02/08/18 5:50pm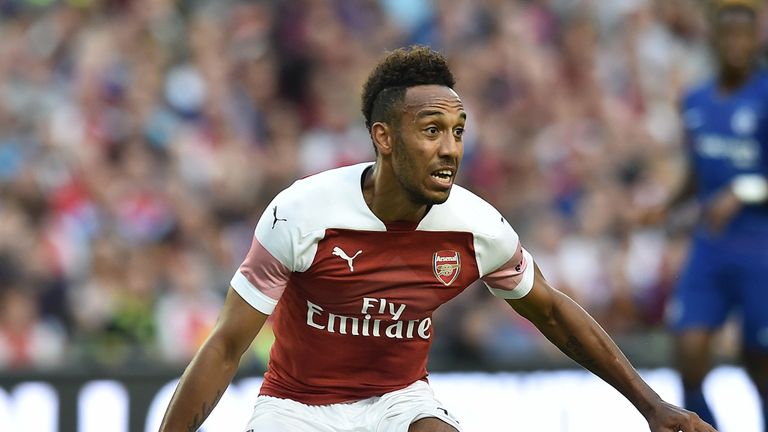 Pierre-Emerick Aubameyang can help Arsenal to mount a title challenge this season, according to Nwankwo Kanu.
The 29-year-old scored 10 goals in 13 appearances last season for Arsenal and Kanu believes the Gabon striker is destined for further success with Arsenal.
Kanu is hoping Aubameyang, who joined the club in January, can show his true potential and be the spearhead for the club.
"If he can perform, if it's a good season for him they have a chance to win the league," said Kanu.
"Aubameyang's very, very good. Last season was his first season; now he has adjusted to the Premier League. He's been playing well with the new coach and his team-mates; this season is going to be his season, if he works for it".
Arsenal last won the league in 2004 and Kanu believes a top-three finish and silverware would be enough to constitute a successful season.
Unai Emery will take charge of his first competitive game when their season gets underway on August 12 against Manchester City, live on Sky Sports, and the former Arsenal striker has already been impressed with the new manager.
The 42-year-old said: "We have to give him time to bring his own style and the way he wants to play.
"It takes time for the newcomers, the new signings, to adapt but if it happens and they win the league it's a miracle - I wish that would happen.
"For the new manager it's going to be a very big challenge; the fans want them to perform in the league in his first year, which is always difficult for a new coach.
"Coming into a big club you need a trophy, so if you don't win the league you have to win the others. It's hard but it's what you expect of a coach of that stature and a big club".
Despite playing under Arsene Wenger during his Arsenal career, Kanu now believes a change in approach could be key.
"For Emery it's very important he knows the club in and out, what the club wants" he said.
"He's been signing new, good players. They're more defensive, and not allowing goals which is good. They have to know how to win games even if it's 1-0, all they need is three points" added Kanu.
Kanu was speaking at the launch of Petrolex Kanu Cup 2018, the legends match raising funds for the Kanu Heart Foundation. Taking place at The Hive Stadium on Sunday, September 30, the game will feature stars like Sol Campbell, Robert Pires and Kanu. To buy tickets from Barnet FC click here