New Arsenal executives discuss Stan Kroenke, Unai Emery and Aaron Ramsey
By Kaveh Solhekol, SSN reporter
Last Updated: 20/10/18 10:59am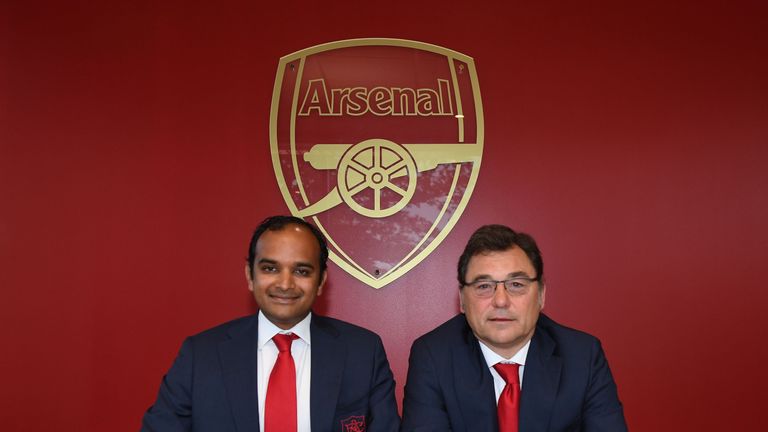 Arsenal fans have been told to expect evolution, not revolution by the club's two most powerful executives.
The club has undergone significant changes in 2018, with Arsene Wenger leaving after 22 years, Stan Kroenke becoming sole owner and chief executive Ivan Gazidis preparing to move to AC Milan.
In a rare joint interview, managing director Vinai Venkatesham and head of football Raul Sanllehi have set out their vision for the future of the club.
Who is going to run Arsenal?
Vinai Venkatesham: Raul and I are not strangers. We have a personal relationship going back five or six years. The structure is a modern football structure. I am going to be responsible for everything off the pitch and Raul will be responsible for everything on the pitch. This is one organisation with two leaders. It's a partnership and we are a team leading the club going forward.
Raul Sanllehi: I am responsible for the on-field business of the club. My number one priority is the first team. The academy is also a huge priority. We need to have players who understand what the badge means.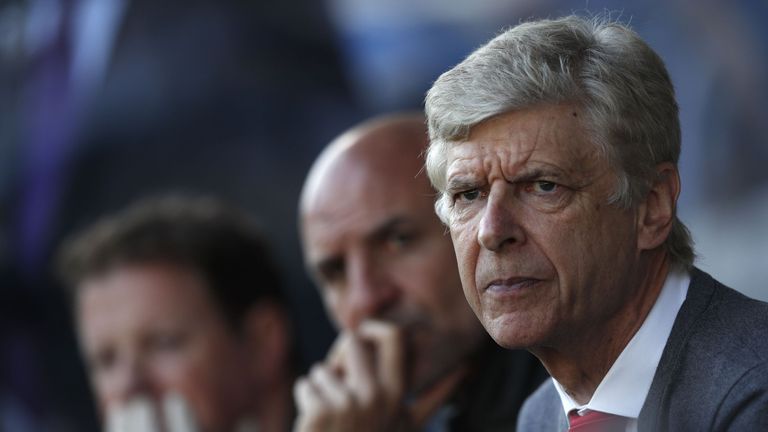 There have been a lot of changes at Arsenal. You were known as the Bank of England club, then we had Arsene Wenger being in control, then we had a chief executive as well and now we have a new structure. Has there been too much change?
VV: You are right that there has been a lot of change. When Raul and I talk we talk about evolution. This is not a revolution. This is not turning the club on its head. It's about moving forward and getting the club back to where we want it to be, competing for the Premier League title and competing for the Champions League. There isn't anything for fans to be concerned about.
What kind of state is Ivan Gazidis leaving the club in? How would you asses the job he has done as chief executive?
RS: I'm at this club because of Ivan Gazidis. He's the one who explained to me what the project was about. He has put us on the right track. This is not a revolution. We are going to continue down the right track. I'm completely sure good times are ahead of us.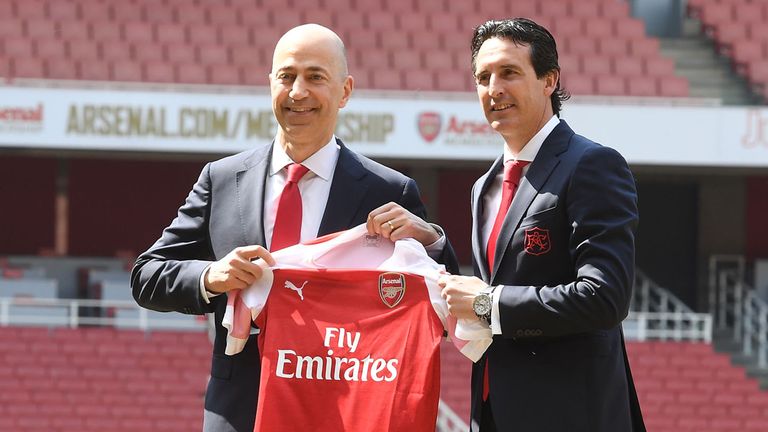 On the pitch the team have won nine in a row and the fans were singing "We've got our Arsenal back" at Fulham two weeks ago. Do you sense that something has really clicked between the players and the new manager?
RS: In the words of our head coach, it is step by step. There will be ups and downs. Let's enjoy the journey. We'll all be helping to get us where we want to be.
You were at Barcelona for a long time. How long will it take for Arsenal to get to that level?
RS: I don't want to compare one club with another. When I joined Arsenal I quickly saw the real values of the club. It has nothing to envy. It's one of the top clubs in the world. I received congratulations from all over the world when I joined Arsenal. I am very happy because I know I am in the right place.
One difference between Barcelona and Arsenal is the ownership model. Barcelona is owned by fans, Arsenal is now owned by one man. Should supporters be worried that the club is now owned by an American businessman?
VV: I know Stan and Josh Kroenke very well. The last time we saw them face to face was when Raul and I were in Los Angeles a couple of weeks ago. They are 100 per cent committed and 100 per cent energised about getting the club back competing for the Premier League and the Champions League. That is their absolute goal and they are hugely enthused and excited about the opportunities ahead. They are both absolute sports nuts, they love sport and they love this club. I don't think there's anything for the fans to be concerned about. Fans are the lifeblood of this club, without them we have nothing. Engaging and listening to them is one of our key priorities going forward.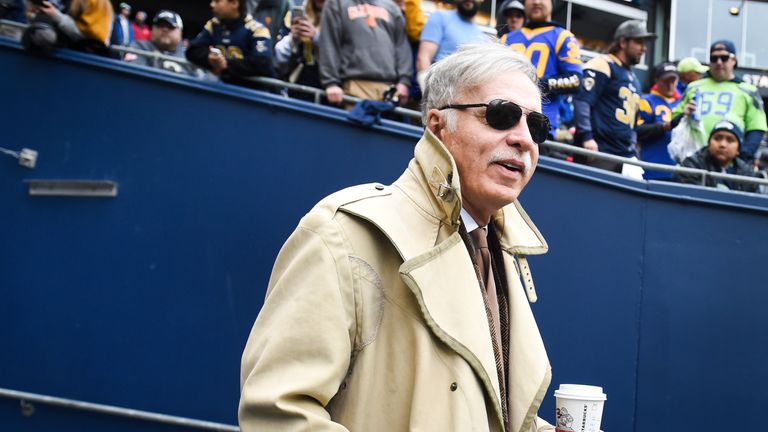 One thing fans talk about is transfers. You've made some big signings in the past few windows. Is the money there to go again in January? Can you compete for the top players? If the manager wants to spend £50m on a central defender, can you find the money for him to do that?
RS: We have a self-sustaining business model that is very robust and we are convinced we can be successful under that business model. Today is not the day when we are going to go into lots of detail about transfer planning. Every decision we make involves all the experts at the club and we will always make the right decisions for the long-term benefit of the club.
Are you looking at signing players in January? Are you ready for the window?
RS: We are always alert. We are always looking at the market and opportunities that could appear. Normally I am not a strong fan of the winter window. I think the winter window is for unexpected problems. That's not a rule, it is a principle. We have a full team of professionals looking into the market, analysing the possibilities and the players. The head coach embraces the philosophy we have and the way we want to play. If we see an opportunity, there is a healthy debate.
If the coach wants something in January, can you get it for him?
RS: We are going to have that debate if that is the situation. Right now, we have not even started looking into that. Unless something special comes up, in principle, the winter window is not one that we are really interested in.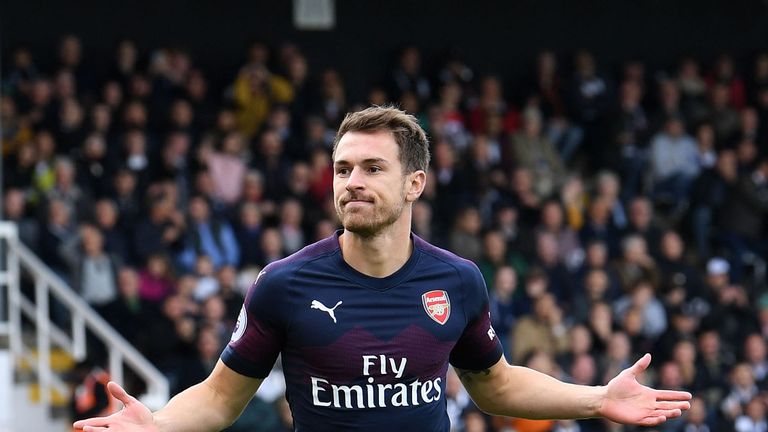 On the question of Aaron Ramsey, why is he leaving the club? Is it to do with money? Does the manager not want him?
RS: I would like to avoid talking about individual cases. The one thing I can assure you is that any decision we take with any player is after a thorough debate, talking with all the professionals that we have put in place to make the best decisions. Nothing is decided overnight. All the decision try to follow sporting and business rationale. In the end, our responsibility is the club. We are here to tale Arsenal to the next level and all the decisions are taken for that goal.
When it comes to footballing matters, does the manager always have the final word?
RS: I believe very much in the model that we have here. I believe that several eyes have a better view than just one eye. If we all share the same philosophy, it's very easy to find a consensus. I don't like to talk about the final word or the casting vote. I would rather have a healthy debate and consensus and a final decision.
What is Unai Emery like? His English is not perfect yet, but he seems like a very focused man, someone who is obsessed with football, somebody who has a lot of respect from his players. What is he like to deal with?
VV: We were just having lunch with him so sorry we were a few minutes late. I've never met anyone who works as hard as Unai. He is always in his office. He is committed, he is driven , he works hard, he's focused on making sure we are squeezing every last bit of quality we can out of the squad. He also has great sense of humour. He understands this club and the responsibility of leading a great club like this.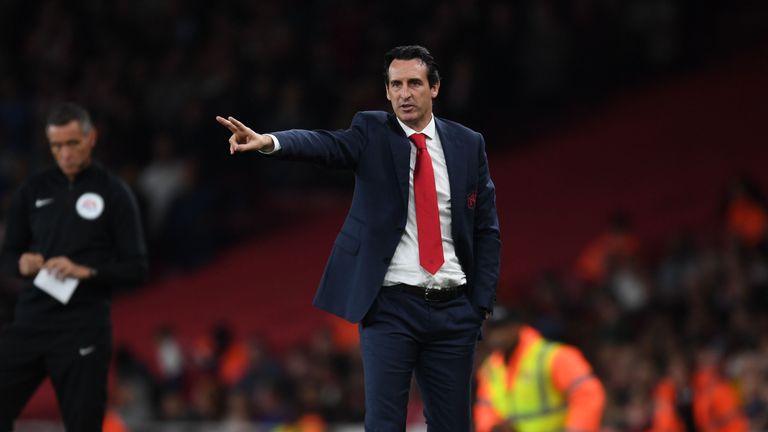 RS: I am so proud of the way we conducted the appointment of a new manager. We followed a disciplined process. We identified several candidates. We conducted an internal exercise to identify what we were looking for - tactics, people skills, youth development. I am very proud that we got to talk with very high-level coaches of different nationalities. Unai covered all the dimensions that we wanted at the highest level. Because of the process being so disciplined, I have strong feeling that we made the right decision and we are very pleased with him.