Unai Emery's priority must be to improve Arsenal's defence and he cannot be judged until he has been given time to bring in the players he wants, according to Jamie Carragher, Alex Scott and Graeme Souness.
All three of Manchester City's goals in Sunday's 3-1 win over the Gunners came down Arsenal's right-hand side and right-back Stephan Lichtsteiner came in for heavy criticism following the game.
"Lichtsteiner is not good enough," said Carragher. "You could argue because of his age, and Mustafi next to him has never been good enough since the day he walked through the door and that's the reason why all the goals come down there.
"To see Arsenal defend like that, there is a big job there for Unai Emery to do. When he first came in, we debated how he wanted to play and he wants to go about it.
"He's done a few different things since he's come in at Arsenal, he's tried different formations at times… But you never feel secure with anything Arsenal do. Any set up the manager does - they went three at the back for a time this season - and everything he tries defensively doesn't seem to work for them.
"We're criticising Lichtsteiner, he's 35 years old but when you play on that pitch, it is massive. We were talking before the game about how Arsenal might set up and possibly using a back five because sometimes you can feel so exposed and alone, you never feel tight as a unit because the pitch is so wide.
"City played with real wide players and that's why I go back to if Litch is playing as a full-back and tucking in and he's then got to go out wide, he's not going to have the legs to get there. That's again why I can't believe he didn't go with the extra body."
Scott, who played at right-back for Arsenal Women, was critical of Lichtsteiner's tactical awareness, adding: "It was the reading of the game defensively, with Monreal the other side as well. Lichtsteiner looked off the pace.
"He doesn't know whether to go and close the ball down, he doesn't know whether to drop. In that first half, Laporte had time to chest the ball, bring the ball down and Lichtsteiner is backing away rather than going to close balls down in his own penalty area.
"At the start of the afternoon, we said you can't judge Unai Emery yet because he's working with a group of players that he has inherited and he's doing his best."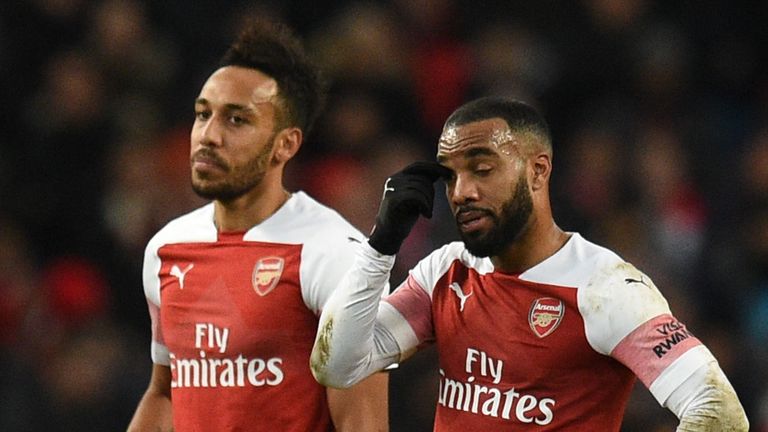 Souness said Emery is being let down by individual mistakes.
"He should ask his players to do their job properly," he said. "If someone goes to do a 1-2 on you, go with the runner. It's not rocket science football, just people not doing their job at the right time. To be fair to Arsenal, City do that to everyone.
"You can talk about whatever systems you want, but if people don't do their job properly… it certainly wasn't a five that caused them to concede the first goal. This is about people not doing their jobs. If people don't mark runners and aren't aware to the dangers around them, you'll concede goals against a City team who are always looking for someone who is dozy and will go to sleep at a vital time."