Dermot Gallagher
Former Premier League referee
Ref Watch: Dermot Gallagher says late Arsenal penalty should have been retaken
Former Premier League referee Dermot Gallagher gives his opinion on the weekend's incidents
Last Updated: 04/03/19 4:12pm
Did Davinson Sanchez foul Pierre-Emerick Aubameyang inside the box? Did Jan Vertonghen encroach? And was Ryan Sessegnon's goal offside? Dermot Gallagher returns with Ref Watch.
There were plenty of games for the former Premier League referee to get his teeth into on Monday, including Tottenham's draw with Arsenal, Southampton's penalty appeals in their 3-2 defeat to Manchester United and a dramatic end to Fulham's defeat at home to Chelsea.
Read on to see what Dermot had to say about the weekend's biggest incidents...
INCIDENT: Kane is fouled by Shkodran Mustafi inside the penalty box and referee Anthony Taylor awards Tottenham a spot-kick but the England striker was in an offside position when Christian Eriksen played the free-kick.
DERMOT'S VERDICT: Incorrect decision.
DERMOT SAYS: What I would say first of all is that's a great spot from the referee for the penalty. It was definitely a foul. I think the problem occurs at the outset because the assistant isn't in the right start position, and he's always playing catch-up then.He doesn't see that Kane challenges for the ball, and because he doesn't see that, he doesn't flag offside. But the minute Kane challenges for the ball, he becomes active and involved in play, and therefore offside should've been given.
Read Dermot's full explanation here.
INCIDENT: Arsenal are awarded a late penalty when Davinson Sanchez is adjudged to have brought down Pierre-Emerick Aubameyang inside the box.
DERMOT'S VERDICT: Incorrect decision.
DERMOT SAYS: I think no.He's definitely not tripped. I think Anthony Taylor sees the arm on the shoulder and he goes down. He thinks he's pulled him, but for me it's not enough to give him a penalty. I think it's normal physical contact, what we'd term in a football match, and for me it's not a penalty.
INCIDENT: Jan Vertonghen encroaches on Aubameyang's penalty. The Gabon international subsequently sees his spot-kick saved by Hugo Lloris. Should referee Taylor have forced a retake?
DERMOT'S VERDICT: Yes.
DERMOT SAYS: The penalty should have been retaken. That's the easy answer. If the referee picks that up, which you would expect him to do, it would have been retaken.
The assistant is next to the goal-line to check if the ball goes into the net or not but you don't have to do that now because of goal-line technology, but he also has to check if the goalkeeper comes off the line to save the penalty.
Amongst that, it got washed away, but it won't happen next season with the law change on rebounds. The minute that happens, it will just be retaken as it should've been."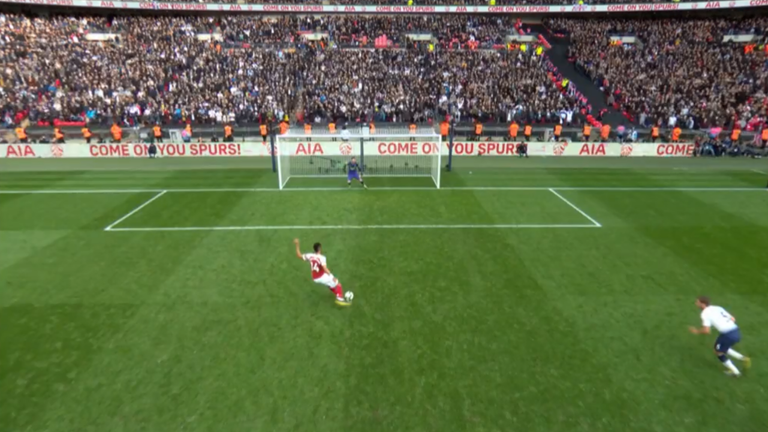 INCIDENT: Arsenal midfielder Lucas Torreira was shown a straight red card in injury-time for a foul on Danny Rose.
DERMOT'S VERDICT: Correct decision.
DERMOT SAYS: I think I might get this one right, Rob. I think it's a red card. I feel sorry for him because he's got nowhere to go, and as a defender every instinct tell you that you've got to go for that ball. But he lifts his boot and he catches him above the knee. The referee's got no choice. He has to red card him.
INCIDENT: Ashley Young pulls back Ryan Bertrand inside the penalty box with Southampton already leading Manchester United 1-0 at Old Trafford. Referee Stuart Attwell waved away the protests.
DERMOT SAYS: Incorrect decision.
DERMOT'S VERDICT: I think this is a penalty because Ashley Young grabs hold of him. Once you grab hold of someone like that inside the penalty area, you run a massive risk. I think he's got hold of him long enough to bring him down.
INCIDENT: Joe Bryan goes does under a challenge from Jorginho in the build up to Chelsea's second goal, scored by the Italy international. The referee waves play on having not awarded Fulham the free-kick.
DERMOT'S VERDICT: Correct decision.
DERMOT SAYS: I think the referee Graham Scott is absolutely right here. I think Bryan pushes the ball too far, and it's not a foul for me. The game goes on and I think he's quite right to play on. The Fulham player initiates it and it's the right decision.
INCIDENT: Ryan Sessegnon has a stoppage-time goal ruled out for offside after latching onto Luciano Vietto's flick-on, with referee Scott denying Fulham a late equaliser against Chelsea at Craven Cottage.
DERMOT'S VERDICT: Correct call.
DERMOT SAYS: It's a very good spot because he looks well offside in real-time from the TV angle, but it's actually very tight.