Aaron Ramsey has played his last competitive game for Arsenal
Head coach Unai Emery: "I had a good experience with Ramsey - his heart is red with Arsenal".
Last Updated: 01/05/19 3:17pm
Arsenal midfielder Aaron Ramsey has been ruled out for the rest of the season.
The Wales international will therefore be denied a send-off appearance for the Gunners, having agreed to join Juventus when he becomes a free agent in the summer.
Ramsey went off with a hamstring injury during the second leg of Arsenal's Europa League quarter-final win over Napoli but it was hoped he may recover before the end of the season.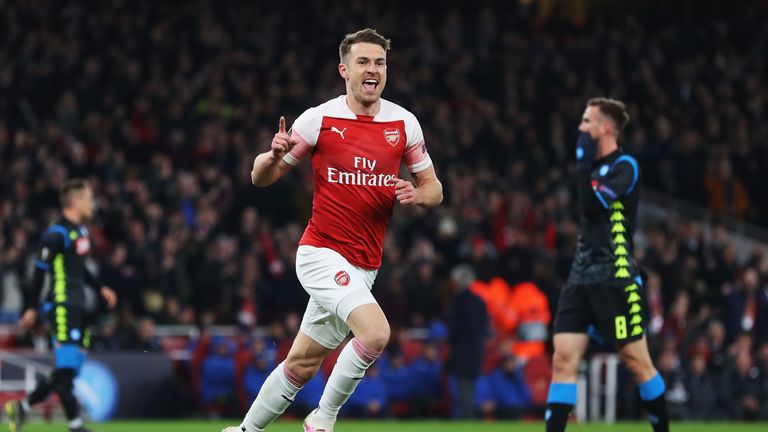 However, he did not train on Wednesday ahead of Thursday's semi-final first leg against Valencia and head coach Unai Emery said that, even if Arsenal reach the final in Baku on May 29, Ramsey will not be involved.
"At the moment we are only in the semi-final, and secondly the prognosis is not okay for this date," said Emery.
"He is important for us. We cannot use him and the danger is always there for a forward player like that.
"We have players who can play (in that position), but he was in a good moment when he had this injury.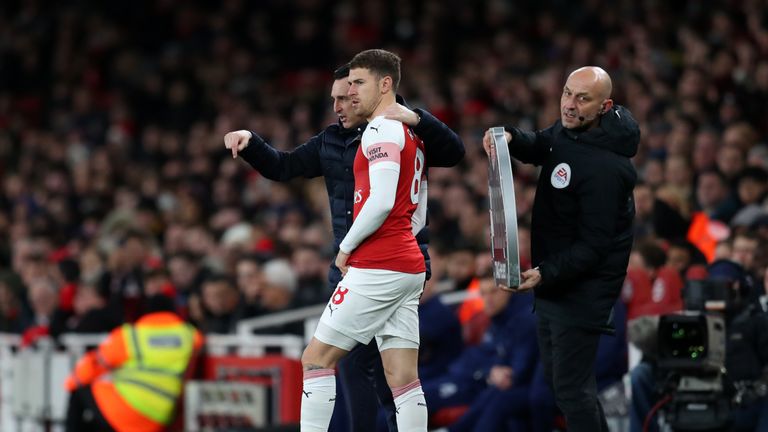 "For me it was a good experience to work with every player and with him especially, because he can transmit his energy and he showed me his heart is red with Arsenal.
"I wanted to enjoy with him.
"I said to him one month ago that I wanted to do something important in his last matches with us, for the moment - maybe he can come back in the future.
"It will not be with him on the pitch but he is still with us."
Arsenal captain Laurent Koscielny has played with Ramsey since joining the club in 2010 and also paid tribute to the midfielder.
And the defender hailed Ramsey's attitude since his move to Juventus was announced.
"Of course, he played so many years here," said Koscielny.
"So important for the club and the players, because every season we start the season and we have new players, and I think he gives a lot for the adaptation of the new players.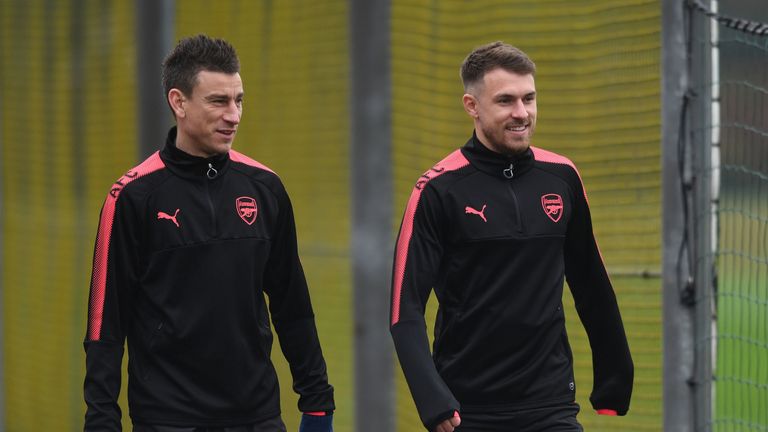 "What I like about Aaron is that, we know he signed for Juventus, but he is still a professional and always fights for the club and for the team.
"Sometimes, you have players who have stopped fighting for this team, but I think he has loved this club and that is why he stayed at 100 per cent for us.
"It shows a great mentality and character."
Ramsey is Arsenal's longest-serving player, having joined from Cardiff back in 2008.
He has made over 350 appearances for the club, twice scoring winners in FA Cup finals.