Lyon goalkeeper Anthony Lopes has said he was hit by a supporter during their 2-1 Europa League victory over Everton at Goodison Park on Thursday after a melee involving players and fans.
One supporter, who looked to be carrying a young child, appeared to lash out at Lopes, with other Lyon players quick to point him out in the crowd.
Captain Ashley Williams had sparked the brawl after pushing Lopes, who slid down towards the barriers at the Howard Kendall Gwladys Street End
An incensed Lopes and team-mate Bertrand Traore confronted Williams and numerous players from both sides got involved in pushing and shoving right in front of the home support.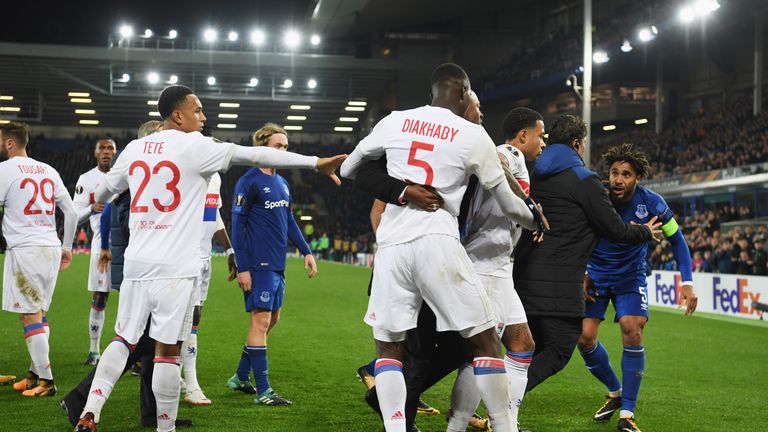 A further fan was pictured being guided away by a steward after getting over the barrier onto the track at pitchside, while both sides could now face sanctions from UEFA.
Lopes attempted to play down the incident following the full-time whistle, saying: "It was no big deal, it happened and that was it.
"For me it seemed to wake up the fans and they seemed to love it.
"I don't think it is part of the English atmosphere to hit an away player, but it was like this. But I am proud that we were strong at 1-1 we won the game despite everything. It was a very proud night for us."
Williams, who had to be led away by goalkeeping coach Patrick Lodewijks, and Traore were the only players punished after the flashpoint calmed down, referee Rob van de Ven showing both yellow cards.
"It's what happens, it's football. It is what it is," Williams said. "It's high emotions. We want to win the game, they want to win the game and stuff happens. That was just one of those times."