Carlo Ancelotti not 'too big' to manage Everton, says Stuart Pearce
By Andy Gray
Last Updated: 30/10/17 2:40pm
Everton have got a big enough profile to attract a manager like Carlo Ancelotti, according to former England captain Stuart Pearce.
Ancelotti has been linked with the vacant manager's job at Goodison Park after Ronald Koeman was sacked just nine games into the season.
The Italian, who was sacked by Bayern Munich in September, is considered one of the biggest names in world football having won three Champions Leagues as well as league titles in England, Italy, France and Germany.
Despite his high profile, Pearce believes Ancelotti joining Everton would be no different to one of the Premier League's other successful European managers.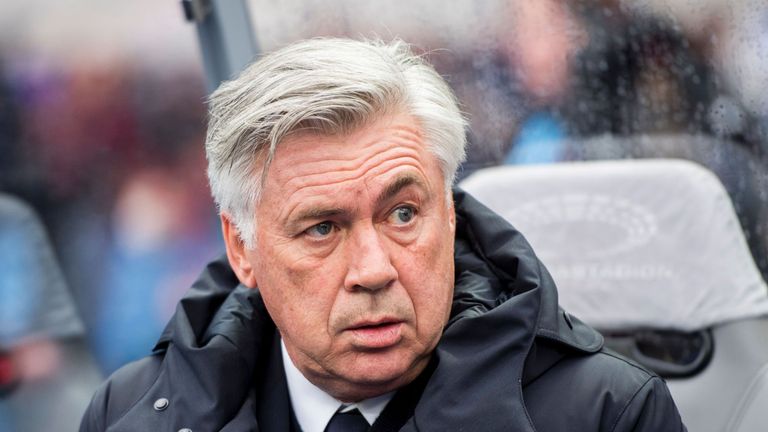 "Rafa Benitez is at Newcastle and there might be a similar scenario there," said Pearce. "You could say Rafa's won the Champions League, why Newcastle?
"I would say Everton football club have got a profile big enough and their playing in the Premier League with financial clout now," Pearce added. "No manager in world football would look at Everton and say they're beneath me."
In Ancelotti's previous stint in the Premier League, he led Chelsea to the title and lifted the FA Cup in his debut season in 2010. Despite the great start, he was sacked after failing to win a trophy the following year.
Aside from the interest in Ancelotti, Pearce, who was caretaker manager at Manchester City for nine games 2005 before taking the job permanently, believes current caretaker manager David Unsworth deserves more time to prove himself to the owners if he is being considered as a potential long-term appointment.
"He's had two tough games," said Pearce. "If you're going to be serious about David taking over the football club then you've probably got to give him a decent run of games to judge him."
He added: "Whether Everton are prepared to wait five or six games and have a good look at him then and see how he copes within the job. If they feel as though it's just a stopgap then he's the ideal man to takeover while they're spreading their net to look for a new manager.'
Unsworth's first chance to turn things around will be in Lyon in the Europa League on Thursday night, before they return to Goodison Park against Watford on Sunday.