He's been one of the most consistent performers in a Portsmouth side vying for a second successive promotion, but for Jamal Lowe, it could have all been so different.
Swept out on a raft of loan moves from parent club Barnet to non-league clubs, with infrequent success, it was at Hampton & Richmond where he first caught the eye of scouts in the professional game.
Barely into his 20s, the Harrow-born forward netted 29 goals in just 48 league games as the Beavers not only gained promotion to, but also established themselves in, the Conference South.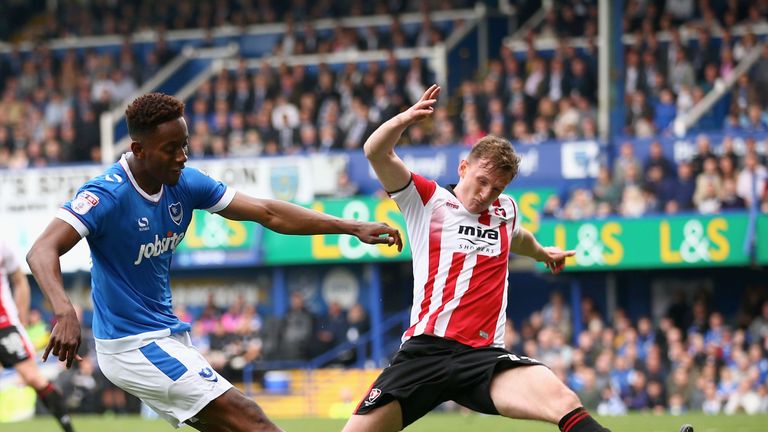 It was a just reward for an energetic youngster who had silently grafted for his chance, but one that, in different circumstances, might not have manifested.
"Before I eventually signed for Hampton, no one wanted me to," he tells Sky Sports. "My missus, my mum and dad, no one, because at that point, my career looked like it was going in a downward spiral.
"I had to take another step down and at the time everyone thought it was a bit too much. Hampton were in the Isthmian Premier but I could've gone to Welling in the Conference. They ended up getting relegated that season, but I went to Hampton in the end and it was probably one of the best decisions I ever made."
Lowe's is the rags-to-riches success story swathes of starry-eyed youngsters can only dream of, such is the nature of the football industry but, in fact, a humble beginning is where the wheels were set in motion.
'Love over Money' reads Lowe's Twitter biography, a motto proven true as his career gained headway; he was in the unusual situation whereby he was still paying for the luxury of turning out for the Barnet youth team until he made his first-team debut in August 2012, aged 18.
He continues: "When I was 17, I signed up for a college programme where you paid £200 a term and worked in the shadow of the youth team at Barnet. I was doing well there, scoring a hat-trick pretty much every other week and the youth-team manager said, 'Why don't you come and train with us?'
"I started playing for the youth team then I got offered a scholarship pretty early on, but I still had to finish off my year in the college scheme so I was playing in the first team when I was still on the course, which was a bit mad."
In 2012, aged 20, Lowe left the Bees to sign for Conference South side St Albans and after 14 games and one goal, left to join former loan employers Hemel Hempstead.
Something of a non-league journeyman by the ripe old age of 22, having turned out for no fewer than 10 clubs below the Football League, Lowe became a full-time PE teacher and admits he was 'better off financially' playing in non-league, with his football commitments on the periphery.
Thousands of promising careers have undoubtedly been cut short in this manner over the years, with the professional game seemingly an unreachable milestone and the 23-year-old admits that he felt there were times he could have abandoned his lifelong ambition.
"There were times when I was in a non-league side and not playing but I knew in my head that I was better than some of the players ahead of me," he added. "It depends on whether the manager wants to play you but there are so many factors to it such as whether the manager likes you, if you are showing the right attitude and things like that.
"There have absolutely been occasions when I thought 'maybe I'm not going to make it, maybe I'm not cut out for this' but that's when you've got to dig in and stay with it."
Then came the long-awaited upturn in fortunes. He departed Hemel with an identical record to that of his time at nearby St Albans, to link up with Hampton under the stewardship of Alan Dowson.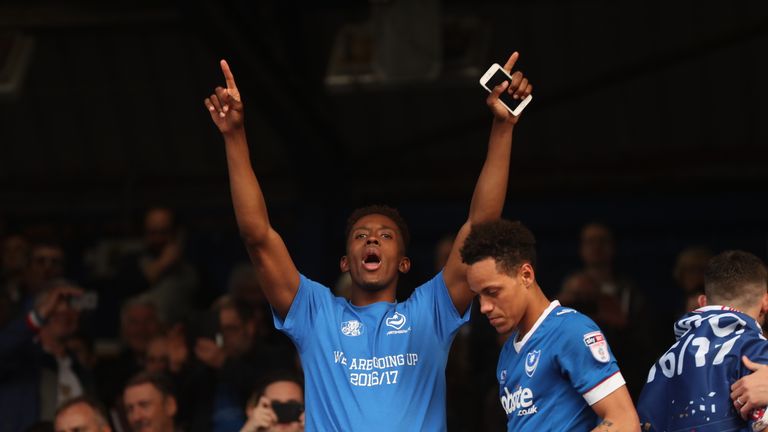 Playing behind close friend Nicke Kabamba at the Beveree Stadium, the goals flowed. In 2016/17 the pair netted 38 goals in all competitions, and the prolific nature of their attacking combination failed to go unnoticed.
"The first time I was aware of it [Portsmouth's interest] was when they [scouts] came down to a Hampton game and were right in the front row," Lowe recalls. "As you can imagine at a Hampton game, there's not that many people there so you can spot two people in big blue Portsmouth tracksuits!
"That was the first time I knew they were there and I was thinking to myself, 'I've been doing well recently, I hope they are here to watch me'. It turned out they were.
"There were a few clubs that were interested or offering contracts but Portsmouth was by far the biggest of them all. There was Conference Premier and other League Two clubs, but when you get the opportunity to play for a club like Portsmouth, regardless of any other situation you've got to take it."


In October 2016, Lowe agreed an 18-month deal with a January move to Fratton Park and four days after he made his debut in a 2-1 win over Leyton Orient, former team-mate Kabamba joined him on the south coast.
The embers of the fairy tale seem to be flickering out for the latter, given only six games in the first team before being farmed out to Colchester and Aldershot on loan by Pompey boss Kenny Jackett, but it's quite the contrast for Lowe, who hopes to retrace the steps of Jamie Vardy et al to the top.
"Of course you look at them as inspiration. Everyone wants to play in the Premier League, everyone wants to play as high as they can so you can't help but look at them and be inspired," he said.
"You can see that they've been able to do it at later stages in their careers than me and they were a lot older when they finally broke through. All Premier League players, really, is what you are looking up to, but when you see someone who has come from the same type of background, it's good to see."
The goals may have since decreased in frequency, allowing Lowe to focus on other aspects of his game - the majority of which is now spent on the flank - but his talent continues to blossom; he laid on two assists for Brett Pitman to net a double in last Sunday's 3-0 win over Oxford.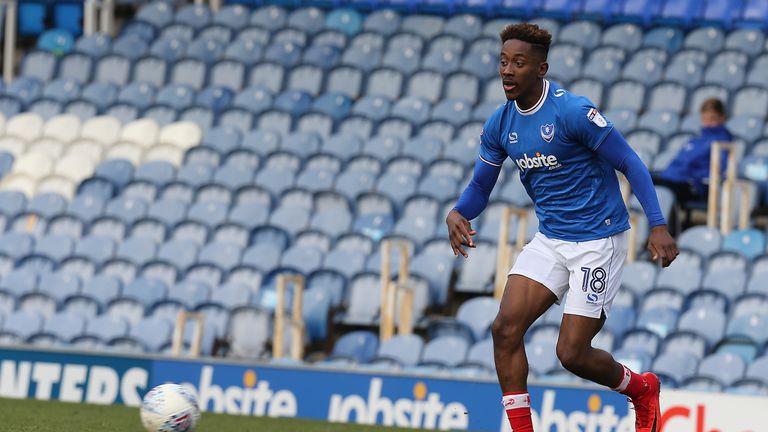 With a new deal signed in January - something he describes as 'the best feeling' - he has two further years secured in Hampshire. But after scoring in the 6-1 win over Cheltenham that netted Pompey the title last May, does he believe the prospect of a third promotion in three seasons is on the cards?
"I don't think we are far away," he adds. "I think we have the quality to do it, we know what to do and what is needed of us. We have got a young squad but that also means we've got a hungry, enthusiastic squad - we'll get at close as we can.
"But whatever happens, it's been probably the best season of my career to date. This is the highest level I've ever played at and the most consecutive games I've played in my career so it's a big achievement for me that I've managed to keep my place.
"I just wouldn't have thought I'd go from playing every week in the Conference South to playing every week in League One, so I'm just amazed and happy about how everything has worked out."
Don't miss the Sky Bet League One clash between Portsmouth and Wigan on Easter Monday, live on Sky Sports Football and Main Event from 5.15pm.