Diego Maradona watches former team-mate Mauricio Pochettino's Tottenham at Wembley
By Sky Sports News
Last Updated: 22/10/17 8:58pm
Mauricio Pochettino admitted his "idol" was at Wembley when Diego Maradona arrived to watch Tottenham play Liverpool.
The Argentine pair were, briefly, team-mates in their home country, but it was at English football's national stadium where they met for the Super Sunday clash.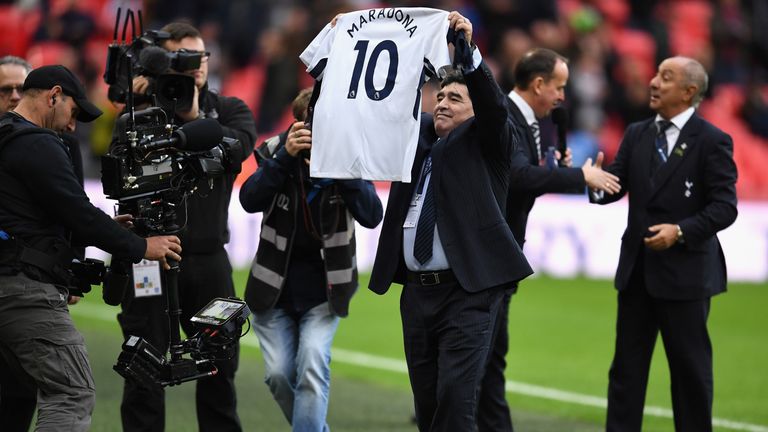 Maradona famously produced the 'hand of God' to help Argentina secure a 2-1 victory over England at the 1986 World Cup, but may have offered a helping hand to Pochettino's Spurs side by attending the game.
The Tottenham manager admitted he was even more determined to put on a show in front of Maradona, who was dressed in a blue and white scarf in the stands before being presented with a No 10 Spurs shirt at half-time.
"He was my idol, a great personality, for me the best player ever in football," Pochettino told Sky Sports ahead of kick off.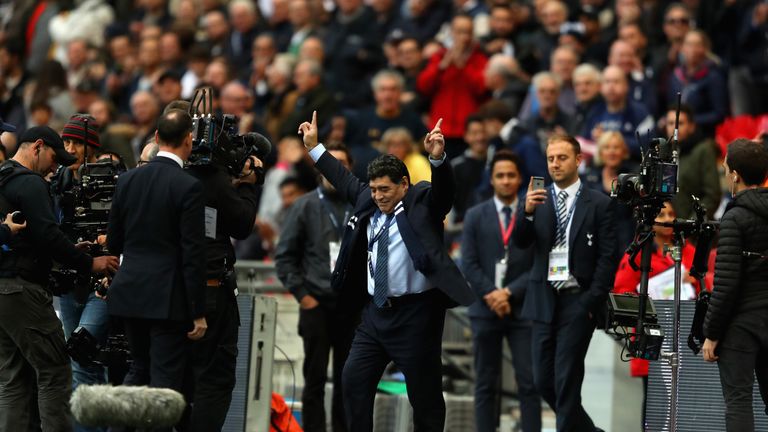 Former Argentina player and manager Maradona, who is in charge of in charge of UAE club side Fujairah SC.
Watch the above video to see Maradona at Wembley and what Pochettino had to say about it...