Harry Kane appreciates 'great energy' of Diego Maradona in meeting before Tottenham-Liverpool
By Lyall Thomas
Last Updated: 23/10/17 4:34pm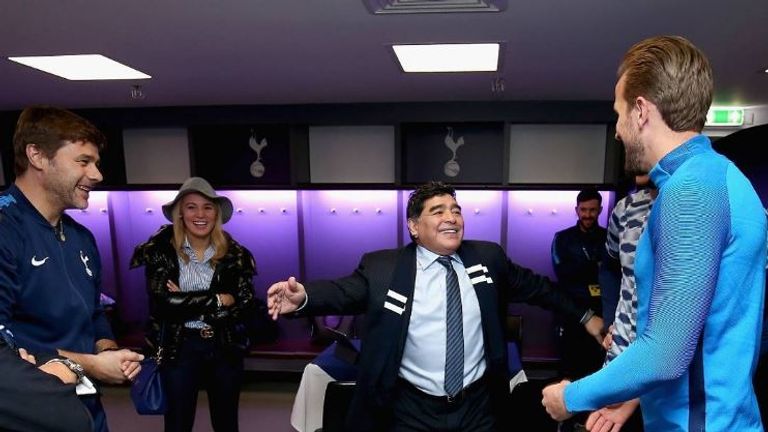 Harry Kane described Diego Maradona as a "fantastic guy" with "great energy" after meeting him before Tottenham's thrashing of Liverpool.
Maradona was invited to watch the game at Wembley by old team-mate and compatriot Mauricio Pochettino - the Spurs boss, who masterminded a 4-1 demolition of Jurgen Klopp's Reds on Super Sunday.
Maradona met Pochettino, his staff, captain Hugo Lloris and vice-captain Kane in the changing room ahead of the game and was paraded on the pitch at half-time with a Tottenham scarf draped over his neck.
After adding two more goals to his awesome tally so far this term, Kane said: "We met him before the game. He's a fantastic guy. Great energy. Great guy. He is one of the best No 10s ever. It was great for him to be here today.
"He didn't talk much English. He talked in Spanish. I didn't understand what he was saying. But he was very energetic. He said some nice compliments, not just to me, but to the team and the manager. I think they played together early in the gaffer's career.
"Just to be in the company of someone like that - what a player he was. He was chatting, laughing, joking - everyone would probably be in awe of him. He's still argued to be best of all time. To watch us play well was important."
Pochettino said: "I saw him before in the manager's room. It was so emotional. It was difficult to let him go because you are in front of Maradona, you want to speak with him, stay with him and share a moment with him.
"It was so emotional because more than 20 years I didn't see him. To meet again, that's fantastic. For me he's the best player in football and he's massive. He remembered every single moment that we shared."