Mauricio Pochettino says Tottenham are not on the level of Barcelona or Real Madrid
By Zinny Boswell
Last Updated: 03/12/17 11:39pm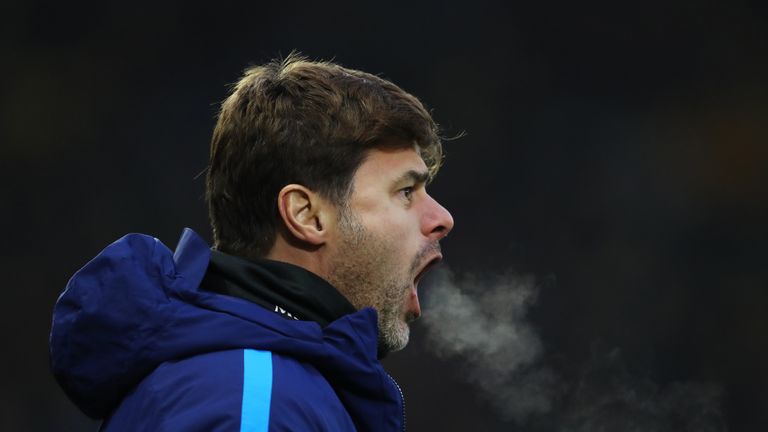 Mauricio Pochettino has responded to criticism of Tottenham by telling fans their side is not on a level with Barcelona or Real Madrid.
Tottenham's 1-1 draw with Watford on Saturday means they have failed to win any of their last four Premier League games and now trail leaders Manchester City by 18 points.
Despite frustrating league form, Pochettino's side have impressed in the Champions League, qualifying top of Group H ahead of Real Madrid and Borussia Dortmund with one game remaining.
"I don't know what people say [about us], but of course when you don't win and you play for or manage Spurs there's always going to be criticism," said Pochettino.
"But of course I accept that, I try to learn after every game, but I think in the last two or three seasons Spurs have been very competitive.
"Yes, of course we want to avoid bad moments and periods but we are not still this type of team like Barcelona, Real Madrid that can maybe keep winning and winning for long periods.
"When people criticise us, my staff and my team, that always makes you stronger, and sometimes that's good.
"We have maybe three points less than this time last season, and we've finished top of our Champions League group.
"Manchester City have created a gap, but I'm sure the team will improve and take many lessons from this run."
Spurs are facing an injury crisis in defence with Davinson Sanchez missing the next three games through suspension following his red card against Watford and Toby Alderweireld unlikely to return before the New Year.
As a result, Pochettino's only recognised centre-backs are Eric Dier, Jan Vertoghen and summer signing Juan Foyth, who is yet to make a Premier League appearance.
"I'm not going to complain, if Sanchez is out for a few games, that's football," said Pochettino.
"And it's always about the squad anyway. We'll just have to play someone else. Of course you always miss players who are unavailable, but I won't complain."