Tottenham manager Mauricio Pochettino says Harry Kane will be assessed ahead of their game against Chelsea.
Kane is recovering from an ankle ligament injury suffered against Bournemouth earlier this month, but Pochettino is not ruling out a return for the striker in Sunday's game, live on Sky Sports.


"We need to assess him," said Pochettino. "He is very positive and he is doing very well. Every day he is improving.
"We need to assess him, it is still a few days until the game. I think it is difficult now to say yes or no, to be involved or not in the game.
"I cannot say no but I cannot say yes. If not this weekend, maybe next weekend, but the most important thing is we are so positive about his recovery. He is doing fantastic
"We are so happy because, after Bournemouth, everyone believed that maybe it would be a long period out.
"But I think the resolution was fantastic."
Kane's England colleague Dele Alli was reportedly unable to train properly while he was away on international duty due to a slight groin issue, and he only played for 22 minutes of the friendlies against the Netherlands and Italy.
But Pochettino said there are no fitness concerns regarding the midfielder as far as he is concerned.
"I don't know, because I wasn't at the training session of the national team," said the Spurs boss.
"For us, the last two days, he was very good.
"He was fresh, he was fit, and I am happy in the way that he showed his fitness.
"A normal day's training with the rest of the group."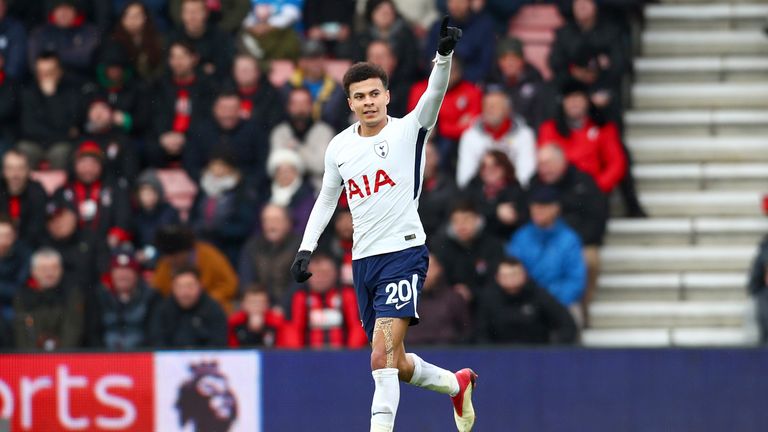 England manager Gareth Southgate says Dele cannot be considered a certain starter at the World Cup this summer but Pochettino would not be drawn on that issue.
"I cannot give opinion about a context when I was not there," he said.
"The national team have their context and Tottenham have a different context.
"I can only talk about what we are doing here, how he is at Tottenham, and try to help him achieve what he wants."