Harry Kane was adamant he should be awarded Tottenham's winning goal against Stoke, as he seeks to boost his chances of winning the Golden Boot.
The England striker, making his first start in the Premier League since he was injured against Bournemouth on March 11, is currently on 24 goals - five behind Liverpool's Mohamed Salah with six fixtures left to play.
He insisted Eriksen's free-kick glanced his shoulder on its way past Jack Butland as Spurs won 2-1 at the bet365 Stadium - but the Premier League has reviewed the goal and awarded it to the Dane.
A smiling Kane told Sky Sports at full-time: "It's my goal for sure. It flicked off my shoulder and went in. I swear that's mine.
"It was just off my shoulder. I don't care, it's my goal."
And Eriksen, who also scored the opener and is now on 10 Premier League goals for the season, insisted he was happy to let his team-mate take the credit.
"I don't know," he said. "He celebrated like it was his goal so I expect he touched it. I'll take the assist. That's fine.
"Of course [you have to take his word for it], but on the camera we will see if it's true or not. I think it is."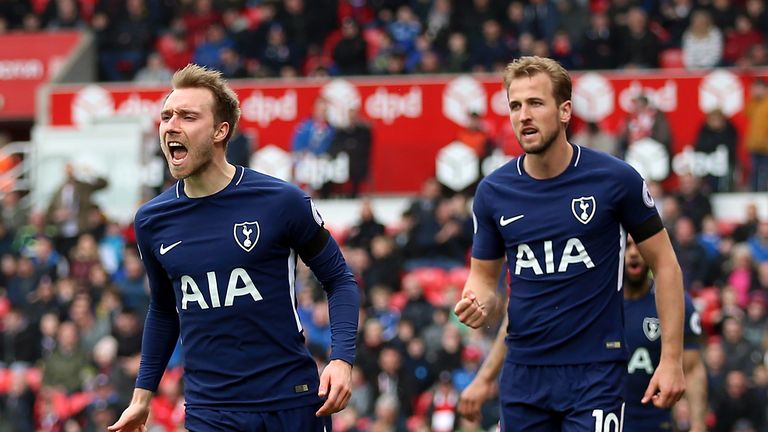 Kane came off the bench in the 3-1 win over Chelsea last weekend, but insisted he was thrilled with the performance against a stubborn Stoke side stuck in the relegation zone.
"It was good to be back out there and obviously great to win," he added.
"It was an important game for us to keep the momentum going and it's never easy. Especially when teams are fighting for points.


"I was delighted to win and delighted to be back. We went 1-0 up and to concede shortly after that was a bit sloppy from us, but then we had to go again and it's not easy.
"Teams are fighting for every point and we had to make sure that we didn't slip up."