Tottenham may need to find third home ground for Man City match
Tottenham have until August 30 to clarify their stadium situation with UEFA.
By Sky Sports News
Last Updated: 15/08/18 12:26pm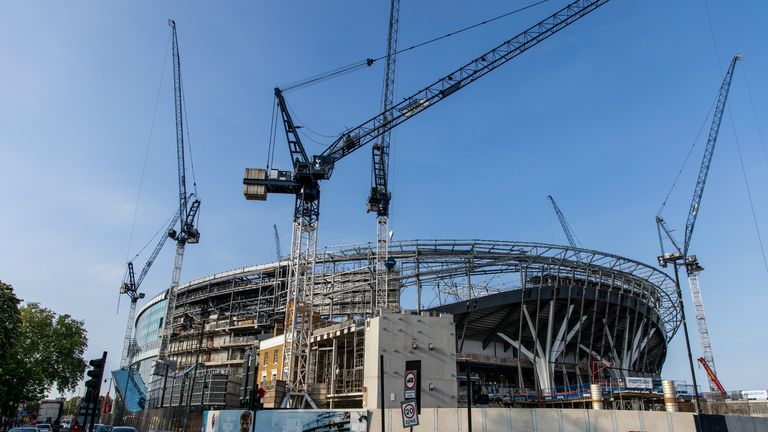 Tottenham could be forced to find a "third home ground" to host their match against Manchester City on October 28, Sky Sports News understands.
Spurs announced on Monday that the opening of their new 62,000-seater stadium had been delayed until at least October because of safety concerns.
The club also confirmed that the home matches against Liverpool on September 15 and Cardiff on October 6 had been switched to Wembley, along with the NFL game between Seattle Seahawks and Oakland Raiders.
Tottenham have until August 30 to clarify their stadium situation with UEFA. That is when the group stage draw for the Champions League and fixture list will be made in Monaco.
Spurs are yet to announce a venue for their match against City and Sky Sports News understands a solution could prove problematic if the stadium is not completed before October 28.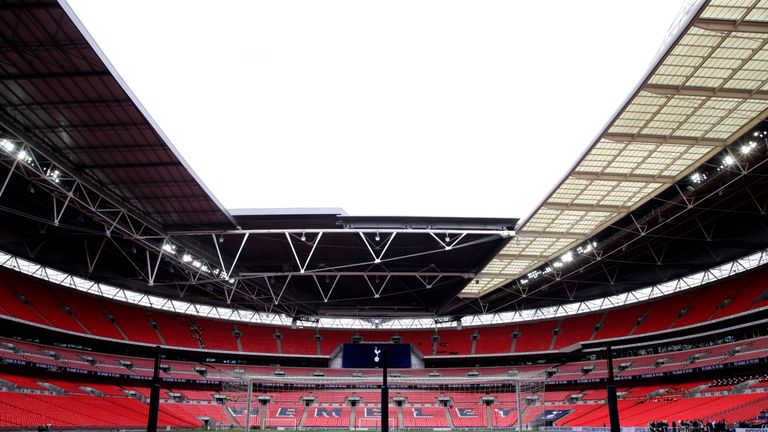 Wembley is due to host the NFL fixture between Jacksonville Jaguars and the Philadelphia Eagles and it is understood that there is no intention from the FA or NFL to relocate it away from the national stadium.
The options for Tottenham and the Premier League if the stadium is not completed before October 28 are:
Reschedule match
One consideration will be playing the game at Wembley 24 hours earlier on Saturday, October 27.
However, the preparations necessary on the pitch and in the stadium means this would prove very difficult to complete in time.
Reverse the fixture
Another consideration would be to play the match at the Etihad Stadium.
Last season, West Ham were given special dispensation from the Premier League to switch their scheduled home match with Southampton to St Mary's due to the World Athletics Championships at the London Stadium.
However, Sky Sports News understands the Premier League are highly unlikely to agree to this on this occasion.
It is understood the Premier League feel there would be too much of an impact on the fixture list and other clubs.
One result would be three away games in a row for City at the end of the season, something the Premier League is not willing to entertain.
Third home ground
Tottenham will have to find a third 'home' ground to host the match and will need permission from the Premier League to play a fixture there.

Spurs are already set to become the first club in Premier League history to play their home matches at two different venues in the same season.
The Rugby Football Union (RFU) confirmed on Wednesday that it is not aware of any approach from Tottenham to use Twickenham Stadium. However, even if the club do ask, it is understood it will not happen. As of yet, no football match has ever been played at Twickenham.
However, if Tottenham were to try and coax the RFU into a change of mind, they would also need to go through the usual local authority requests regarding safety, alcohol licence, road access, police and security, and transport as per the use of Twickenham for rugby, NFL or as a live music venue.
The other issue is the lack of segregation at Twickenham which would in itself mean any approach to the local authority would in all likelihood be rejected.
RFU chief executive Steve Brown told the Telegraph in April that football coming to Twickenham in any capacity was a non-starter.