Tottenham's new stadium delayed until at least October over safety concerns
Spurs' Premier League fixtures against Liverpool and Cardiff moved to Wembley along with NFL game scheduled for October 14
By Lyall Thomas
Last Updated: 14/08/18 2:52pm
Tottenham's new stadium opening has been delayed until at least October over safety concerns, with the team forced back to Wembley in the meantime.
The club confirmed on Monday that the home clash with Liverpool on September 15, which was due to be the Tottenham Hotspur Stadium's unveiling, and the next home game against Cardiff have been moved to the national stadium.
The Northumberland Park development's first NFL game between Seattle Seahawks and Oakland Raiders, scheduled for October 14, has also been moved to Wembley after recent testing revealed "critical safety system" issues - and it is not known if Spurs begin life at their new home when Manchester City are due to visit on October 28.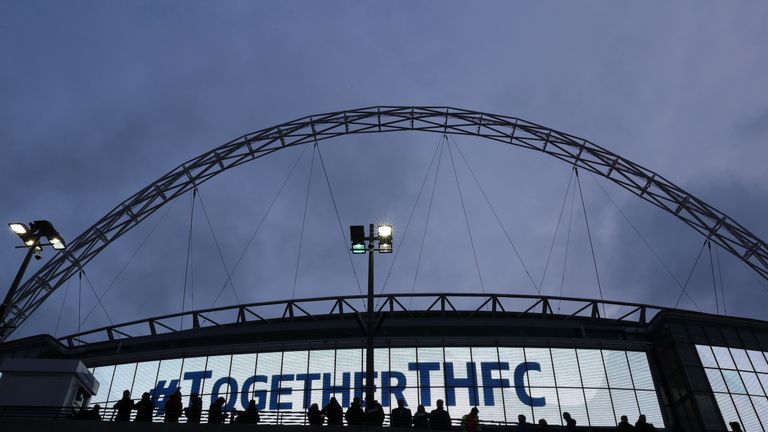 Tottenham say a revised timetable will be released after "urgent" follow-up meetings with contractors, but chairman Daniel Levy admitted disappointment at finding out the new 62,000-seater stadium's issues on Monday.
"We know this will be disappointing for all our season tickets holders, premium members and our fans worldwide," he said. "We appreciate the support our partner the NFL has shown since the extent of this issue became evident today.
"At the start of the project we asked for your support during what we knew would be a complex and challenging build and now we ask for your continued patience and forbearance."
Tottenham issued a new statement on Tuesday that once again apologised to supporters and offered them a refund on their tickets for the Liverpool and Cardiff matches, which will not be valid at Wembley.
Spurs say they exercised the option to continue playing at Wembley as a contingency last year, as several reports in the national newspapers on Tuesday claimed they have paid the FA to potentially stay there until the New Year.
Talks are also underway with UEFA over hosting their Champions League group games at Wembley and Sky Sports News has been told the governing body would have no major problems with switching the fixtures back to last year's venue.
While Mark Waller, the NFL executive vice-president of international, reassured that his company "totally understand the issues" surrounded the delays, Tottenham Hotspur Supporters Trust co-chair Kat Law told Sky Sports News that a perceived lack of communication had "irritated" a section of the club's fanbase.
The Tottenham Supporters Trust say they are speaking with the club's board in a conference call on Tuesday to "discuss practical implications and mitigation for the thousands of season-ticket holders and fans affected by this news".
The same supporters club recently called for a "full and believable explanation" of Spurs' summer transfer policy, after the club failed to sign a single player - something that was defended by midfielder Eric Dier over the weekend.