Ray Parlour remembers Sol Campbell's return to Tottenham as an Arsenal player in 2001.
In the latest Soccer AM Podcast, the former Arsenal midfielder remembers Campbell's first game at White Hart Lane after crossing north London in one of the naughties most controversial transfers.
Listen to the latest Soccer AM podcast HERE, watch Parlour's account in the video above, or read it below...
"We turned up, and you could see people had a real hatred of Sol Campbell. But Sol was brilliant, he got on with the game, and tackled someone first five minutes. He went straight through them, there was nearly a riot! I was going: 'Oh, this is going to all end in tears, this is.'
Live Renault Super Sunday


"We got all the police on our coach after the game, saying we've got a massive problem outside. They were saying there's lots of people with missiles, and there could be trouble here outside the game.
"So the policeman says: 'Right, whatever you do, don't stop at the T-Junction, you keep going, we'll stop the traffic. As quick as you can, get round that corner, and off you go down the Tottenham High Road. We're going to clear it all for you.
"So I've got a bit of an idea, and this is how funny Arsene Wenger was. I said: 'Boss, boss, I've got an idea.' It all went quiet on the coach, so he stands up and says: 'What is it? What is it?'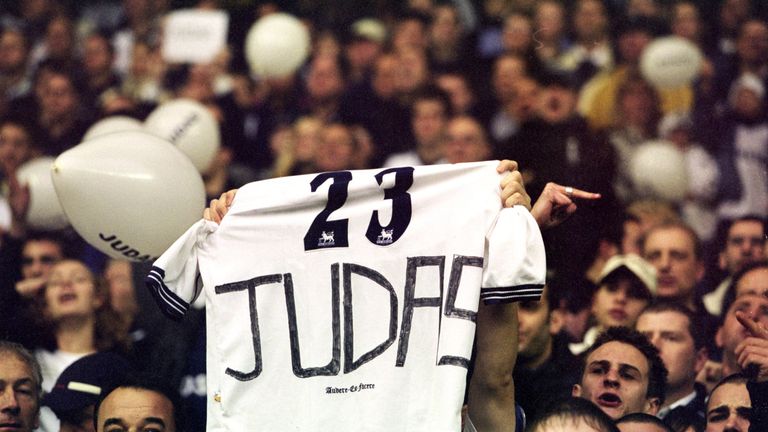 "I said: 'Boss, why don't you just get a big sign, and put it on the window: "Sol sits here!" At least they can get the right window!' And the boss said: 'Yes, Ray, that is a good idea!' And Sol is like: 'What?!'
"We came around the corner, we whacked it around, and all of a sudden we hear 'Crasssh!' A massive smash. Everyone has ducked on the floor and said: 'What's that?'
"Because we all have our dinner on the coach away games, all the plates had come out of the back of the coach because we'd gone around too quick, and smashed on the floor!
"We thought the windows had gone through! But that was a really scary moment."
Watch Arsenal vs Tottenham on Derby Day on Sky Sports Premier League at 2.05pm on Super Sunday