Will Tottenham striker Harry Kane bounce back from latest injury?
Harry Kane will be out until early March with ankle ligament damage
By Charlotte Marsh and Sky Sports News
Last Updated: 16/01/19 4:50pm
Will Harry Kane bounce back from his latest injury? We look at his previous setbacks and the potential impact for Tottenham and England.
Kane picked up another ankle ligament injury in Sunday's 1-0 loss to Manchester United, with Tottenham confirming on Monday that he is set to be out until March.
It is now the fourth time that the striker has damaged his ankle, but how long did it take him to recover from his previous injuries and did it take him long to rediscover his scoring touch? We take a look...
September 2016
Kane first damaged his ankle ligaments in September 2016 during a 1-0 victory over Sunderland, where he scored the winning goal. He missed 11 matches over seven weeks, with Tottenham winning four, drawing four and losing twice without the striker across all competitions.
He made a triumphant return in November, just in time for the north London derby, where he scored in a 1-1 draw at the Emirates. He also netted in the next two games against West Ham (2) and a Monaco in the Champions League.
March 2017
A few months later, and Kane suffered a repeat of the injury on the same ankle in March 2017. He missed three Premier League matches - all of which were wins for Tottenham.
Kane returned to action on April 9 in a 4-0 win against Watford, coming on for Vincent Janssen in the 61st minute, but did not score. However, it did not take him long to get back into the groove, netting on his first start after the injury against Bournemouth in the next game as well as picking up an assist in another 4-0 victory.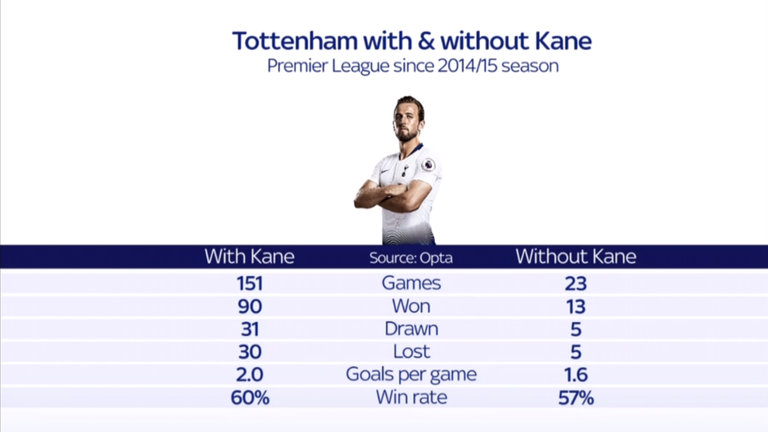 He went on to score in four of the remaining six fixtures of the Premier League season - assisting in another - including a four-goal haul against Leicester and a hat-trick at Hull in the final two fixtures of the 2016/17 campaign.
March 2018
Kane has previously returned from ankle injuries ahead of schedule. He suffered more ankle ligament damage against Bournemouth in March 2018, coming off in the 34th minute. His initial diagnosis was six weeks out of action, which sparked fears over his preparation for the upcoming World Cup.
Indeed, he missed the March internationals for England, but ended up missing just three weeks overall and was back in time for Tottenham's next Premier League fixture against Chelsea, where he made a 16-minute substitute appearance. He missed just one game for his club in the FA Cup.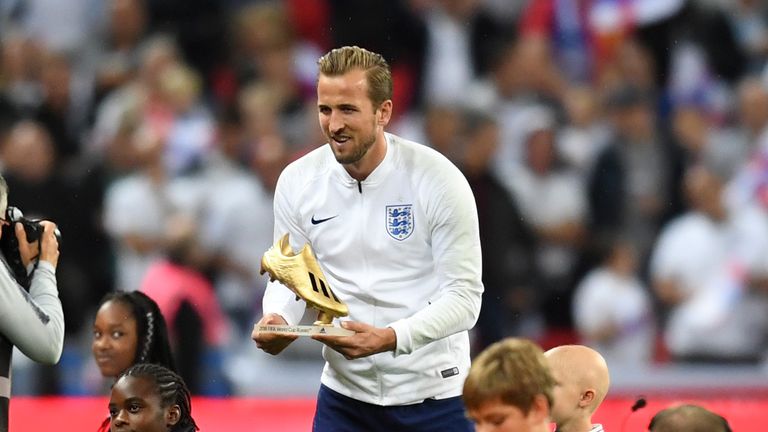 Similarly to his March 2017 hiatus, Kane hit the ground running upon his return. He netted in his first start after injury - a 2-1 win against Stoke - and scored or assisted in five of the remaining six league fixtures.
And of course, despite the concerns, there were no knock-on effects for the World Cup. Kane scored six goals in Russia and won the competition's Golden Boot award, captaining England to the semi-finals.
January 2019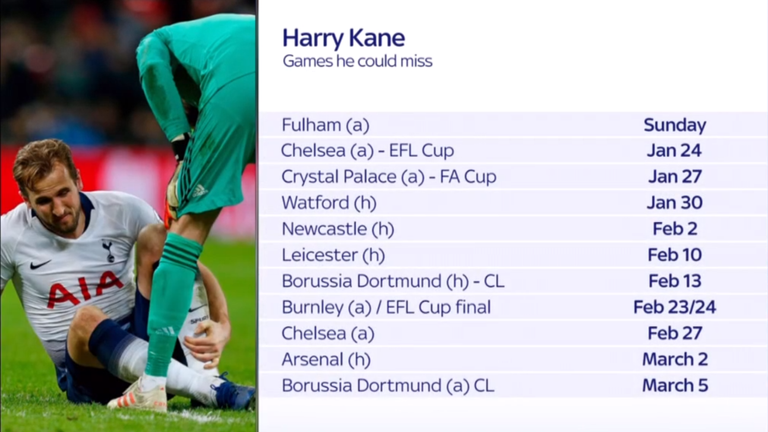 His most recent ankle ligament injury has seen him ruled out until early March, potentially missing 11 Tottenham fixtures, including both last-16 legs against Borussia Dortmund in the Champions League.
Kane has been averaging an injury to his ankle once a year. While he's still only 25, a niggling injury will continue to hamper his development if it goes unchecked.
But Stuart Pearce is certain the medical team will help to get it under control, telling The Debate: "The importance of him to the team and the fact he's picked up a few injuries to the same area, the medical team will be all over that. They'll be looking at characteristics of the injury, how have they occurred.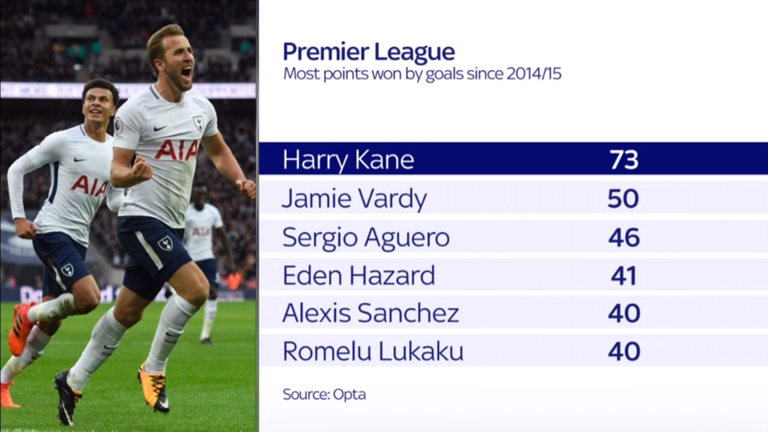 "I had it when I went to Newcastle, in the first pre-season, Alan Shearer went over on his ankle and missed seven months of that first season and without him, taking all these goals out, it is a big problem."
Ready for England?
England next meet up at the end of March - just after Kane's scheduled return - for their first Euro 2020 qualifiers against the Czech Republic and Montenegro.
The good news for both England and Tottenham is that Kane rarely misses a beat when coming back from injury. Indeed, despite spending time out with two ankle injuries in the 2016/17 season, he still won the Premier League Golden Boot.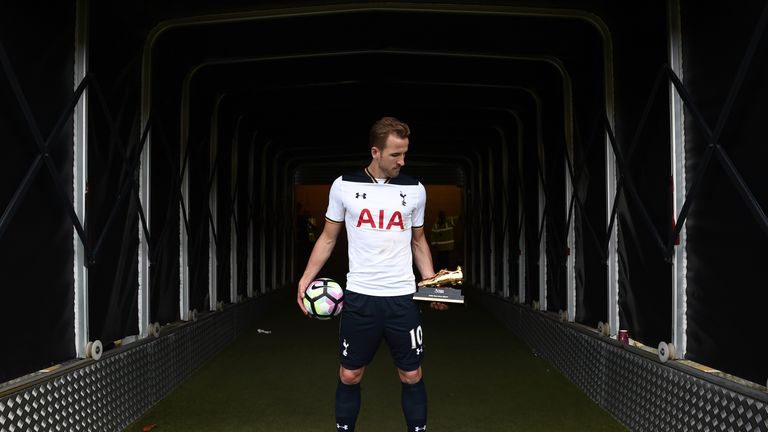 He can also recover sooner than expected as he proved last year, although Tottenham are unlikely to rush him back into action before he is ready, despite how much they may need him.
But what should be a concern is the same ankle continuing to suffer damage and both parties doing their best to manage it, rather than a lack of form. Kane has proven in the past that he will always be lethal in front of goal, no matter how long the break.