Will Tottenham seize their chance in battle for a top-four finish?
Watch Tottenham vs Brighton from 7.30pm on Tuesday live on Sky Sports Premier League; Kick-off at 7.45pm
By James Walker-Roberts
Last Updated: 23/04/19 7:26pm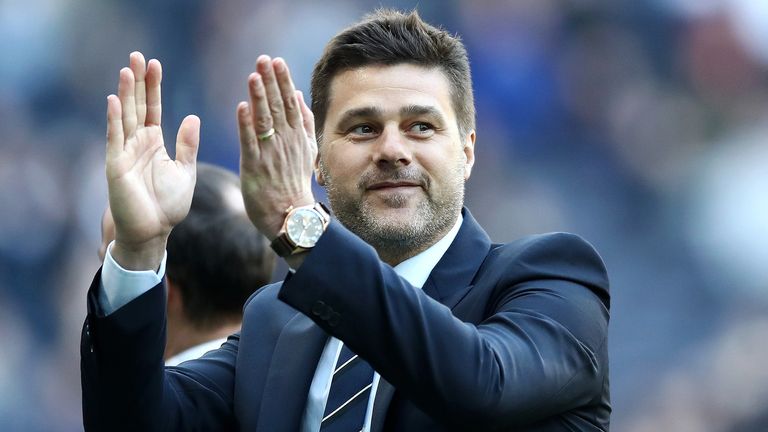 In one of the closest top-four battles in Premier League history, will Tottenham seize their chance?
Spurs, Arsenal, Manchester United and Chelsea all failed to win over the weekend, meaning just three points separate third place from sixth place.
Chelsea might lose ground in midweek as they are the only one of the four sides not to play, while Tottenham - currently in third place - look as though they could take the initiative.
Spurs play at home against relegation-threatened Brighton on Tuesday, live on Sky Sports, meaning they can strike first before Manchester United and Arsenal face tricky-looking tests on Wednesday against Manchester City and Wolves respectively.
But what factors could prove decisive in deciding who finishes third and fourth? And what game does Jamie Carragher think will prove significant?
Home advantage?
Spurs appear to be in the strongest position in the top-four battle.
Premier League table
| Position | Team | GP | GD | Pts |
| --- | --- | --- | --- | --- |
| 3 | Tottenham | 34 | +29 | 67 |
| 4 | Chelsea | 35 | +21 | 67 |
| 5 | Arsenal | 34 | +25 | 66 |
| 6 | Manchester United | 34 | +15 | 64 |
Not only are they already in third place, with a three-point lead over sixth-placed Manchester United, but they only face one top-half team in their remaining four matches - and that is on the final day against Everton.
Spurs also have three home matches. Manchester United have the same, but Chelsea are on the road for two of their three final matches while Arsenal are away three times out of four.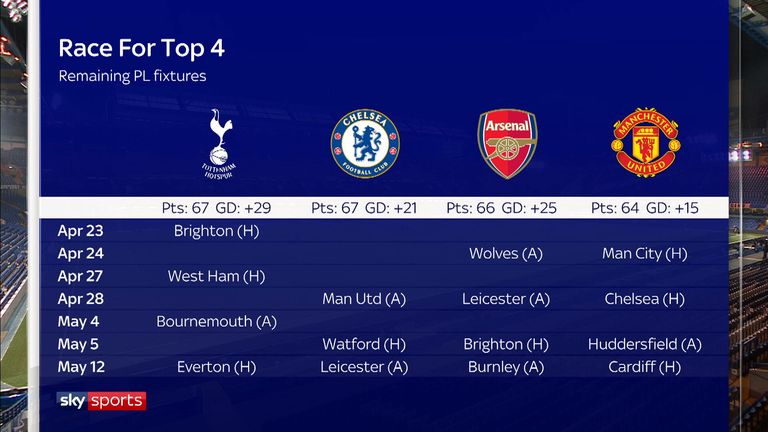 There was some debate over whether Spurs moving to their new stadium at such a late stage of the season would prove disruptive, but that doesn't seem to be the case so far.
They have won their opening three games at Tottenham Hotspur Stadium, scoring seven and conceding none. Mauricio Pochettino wants more of the same.
The closest top-four race?
In terms of points difference, this is the closest it has been between third and sixth place at this stage of a Premier League season. The previous closest gap between third and sixth on April 23 was seven points.
"We hope we can keep going, getting the same result," he said.
"It is going to be fantastic and it is going to be helpful for us playing in the new stadium with our fans and we hope and wish to repeat the performances of the previous results."
The remaining fixtures might also hold less fear for Tottenham as they have already beaten all of their remaining four opponents this season.
They have won twice against West Ham (once in the league and once in the Carabao Cup) and thrashed Everton 6-2 and Bournemouth 5-0 in successive games in December. They also won 2-1 at Brighton in September.
Could Europe play a part?
Barring some surprise results, Tottenham should secure a top-four finish.
However, while their Premier League fixture list doesn't look too difficult, they do have two extra games to contend with as they face Ajax in the semi-finals of the Champions League.
Those two legs come either side of their trip to Bournemouth on May 4.
Could that tie - and the potential reward of securing a place in next season's Champions League by winning the competition this year - prove a distraction? Pochettino doesn't think so.
"We're not thinking about Ajax, like we showed [against Manchester City]," he said ahead of their clash against Brighton.
"We showed we were thinking of that competition, the Premier League. Now our energy is on Brighton. I think it is so clear we have two alternatives.
"One is to be in the top four at the end of the season and the other is to beat Ajax, but we have to go step by step. The players, they know it, I think the behaviour and the mentality is perfect. Very professional. You know very well if there is something wrong I see it and I am going to tell them but I think they were very professional at City, the performance was very good and very professional."
Arsenal and Chelsea are also involved in two-legged semi-finals as they face Valencia and Eintracht Frankfurt respectively in the Europa League.
Manchester United do not have any European games on their calendar but their next two fixtures could prove decisive as they face Manchester City and then Chelsea, with both games live on Sky Sports.
If United fail to take any points from those two games then their top-four hopes could be all-but over before they finish with games against Cardiff, who could be relegated, and Huddersfield, who are already relegated.
Jamie Carragher's verdict
"If Chelsea had won on Monday Night Football it would have been a big gap for Manchester United to make up. United have a game in hand but it's Manchester City at home, which is not easy.
"A lot is riding on Manchester United vs Chelsea on Sunday. I think United have to beat Chelsea. That's the vital game for Chelsea because Leicester away and Watford at home you'd expect them to get a minimum of four points from those games.
"Arsenal losing to Crystal Palace on Sunday was a massive surprise with their home record. Unai Emery made changes, which I can understand as they play Thursday and Sunday, and went with a central midfield partnership of Mohamed Elneny and Matteo Guendouzi.
"He hasn't used that midfield since Everton away, and they were poor that day, and I think that's where their mistakes come from. But in terms of the firepower in the team you'd still expect them to come out on top. I think it's a massive blow for their top-four chances.
"I change my mind every week though!"
Who are the favourites to get top four?
Watch Tottenham vs Brighton on Tuesday at 7pm on Sky Sports Main Event and Sky Sports Premier League. See The Run In on Sky Sports with two football channels for the price of one.