Mauricio Pochettino says 'emotion is amazing' after Spurs' Champions League semi-final triumph
Lucas Moura hat-trick sends Spurs to Champions League final after dramatic comeback at Ajax
By Lyall Thomas in Amsterdam
Last Updated: 09/05/19 12:04pm
A tearful Mauricio Pochettino hailed his players as "superheroes" after they fired Tottenham into the Champions League final against all the odds.
The Spurs manager insists all the congratulations must go to them because "they own the football", following Lucas Moura's dramatic second-half hat-trick that knocked out Ajax and booked a showdown in Madrid against Liverpool one June 1.
After Pochettino spent more than 20 minutes on the field with his squad celebrating with the travelling Spurs fans, he told the media: "This is one of the most important nights of my life - it is difficult to describe my feelings.
"I said before my players were heroes - now they are superheroes. The most important thing I want to say is congratulations to them - they own the football. They delivered the job.
"To go to the final is close to a miracle. Nobody believed in us in the beginning of the season. But we fully deserve to win tonight and be there."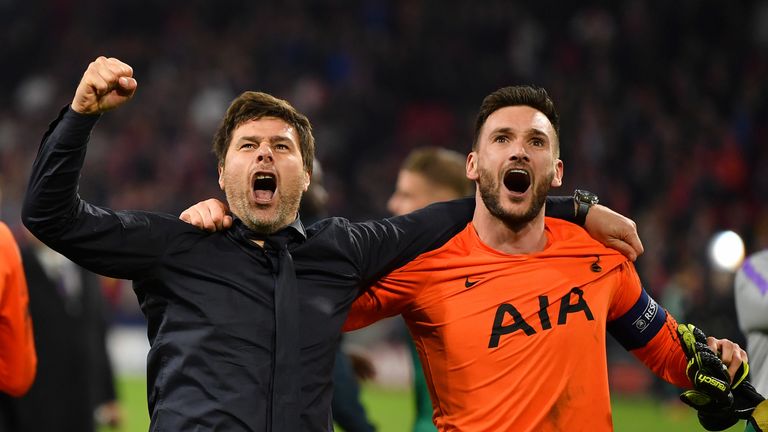 Spurs looked down and out at half-time in Amsterdam after goals from Matthijs de Ligt and Hakim Ziyech made it 3-0 to Ajax on aggregate, but Lucas and his team-mates refused to cave in and produced a comeback to rival Liverpool's miracle at Anfield against Barcelona.
"Everything in the second half was amazing," Pochettino said. "The first half was so cruel, how we went down. We did not deserve this because we made many chances.
"But at half-time we made some changes and started to play and always believed, and never gave up.
"We have been so tough on the players in our five years here, to deliver their best. And tonight I learned so much from them. They are the best teachers. I am so grateful to them.
"All the effort we have made in the last five years, it is today when you have the satisfaction and realise it was all worth it.
"Its been an amazing season in our new home and now to close this chapter with the final and the chance to win it can be amazing too."
Speaking to BT Sport after the game, Pochettino could not keep back his tears, as he had on the pitch after full-time, and thanked football for giving him this moment.
"It's still difficult to talk, the emotion is amazing," he said. "Thank you football, thank you these guys, these players are my heroes. I told you in the last year, I told everyone that we have a group of players who are heroes. They showed today. The second half was amazing.
"Thank you. Thank you football. Thank you to our fans. Thank you to the people who believed and helped us achieve this amazing moment. It's difficult to describe.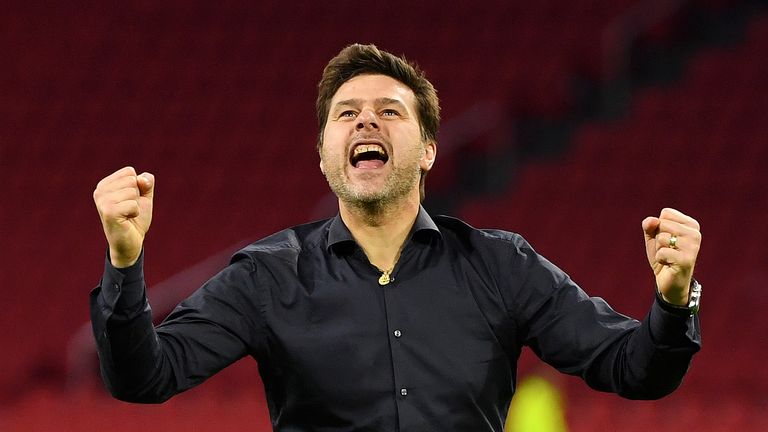 "The game against Man City [quarter-final] and today, it's amazing. I am so grateful to be a coach. To have a chance to play in this final is amazing. For my family. It's amazing to award them."
"Thank you, football. Those were the words of Mauricio Pochettino afterwards and everyone understood. After Liverpool turned around a three-goal deficit in 90 minutes to win their semi-final against Barcelona on Tuesday, Tottenham pulled off the feat in 45 manic minutes to leave Ajax heartbroken in Amsterdam. Spurs are in the Champions League final."
Tottenham's outrageous comeback in Amsterdam was a fitting reward for Mauricio Pochettino's five-year project, writes Adam Bate.
We rate the performances of the players in Amsterdam as Tottenham stunned Ajax in a thrilling game to reach the Champions League final.
For the third night in a row, the footballing world were marvelling on social media at what they had witnessed.
There was a mix of shock and joy across social media, and we rounded up the best of it...
Yesterday, it was a Barcelona vs Ajax final. 🤷🏼‍♂️

That's why football is the best sport on the planet, bar none...

— Joey Barton (@Joey7Barton) May 8, 2019
A day after Liverpool's stunning turnaround against Barcelona, Spurs pulled off an incredible comeback of their own. Where do they rank?
It's fair to say Pochettino enjoyed Wednesday night... the best photographs from Tottenham's incredible comeback against Ajax at the Johan Cruyff Arena.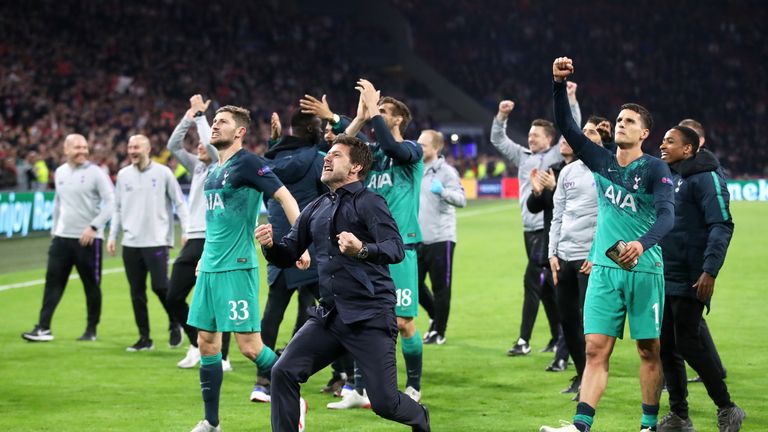 When is the Champions League final?
The Champions League final, the 27th in its current format and 64th of Europe's elite-club competition, will take place on June 1, 2019. Kick-off is at 8pm (BST), 9pm (CEST).