As one of the Premier League's most exciting and likeable players, it is easy to forget that Heung-Min Son has a drive and determination many of us would crave.
Let's not forget his journey to England began as a 16-year-old, making the bold decision to move halfway across the world to Germany to join Hamburger SV's youth set-up.
It was a world away from his home in South Korea. He had to adapt to an entirely different language, culture and continent, as Son chased his dream of reaching the Premier League.
Looking back now as a 29-year-old, would Son do it all again?
In an exclusive interview with Sky Sports, he said: "It was a tough time, but if I went back to when I was 16, I would have doubts, but I would do the same thing. I'm so proud of this choice and making this decision.
"It was hard and scary obviously. 16 years old, moving away from your parents to a different country, a different langue, a different culture. But in my head, there was only one thing and that was to train in Europe and work towards my dream.
Live Renault Super Sunday


"My dream was to play in the Premier League so when I moved to Germany, I felt like it was going to be tough, but I had to get through it because my dream was getting close. This is what I was thinking when I was 16.
"Even through the tough times, there were also good times. I learnt German and English and I am so happy with these things. There were so many things, different culture and different people, but it was a great experience."
Living in Europe, football fans are indulged with the best players and club teams in the world, including the fervour that surrounds them. But that passion is just as keenly felt half a world away, with Son the figurehead for Asian representation in football.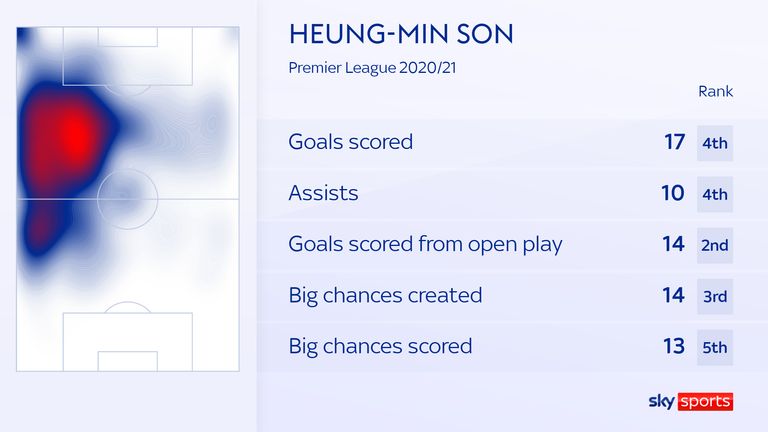 The Tottenham forward was the first Asian player in history to score more than 50 goals in the Premier League, and was nominated for the Ballon d'Or in 2019, finishing 22nd among the 30 nominees - the highest finish achieved by an Asian player. At the time of his £22m move to Spurs in 2015, he was also the most expensive Asian player in history.
Many of Tottenham's games also have Asian fans, specifically there to watch Son play, while millions watch back at home. It's quite the weight of expectation, but Son thinks he has unlocked the mystery of his enduring popularity.
"I don't feel the pressure, but I do feel responsibility," he said.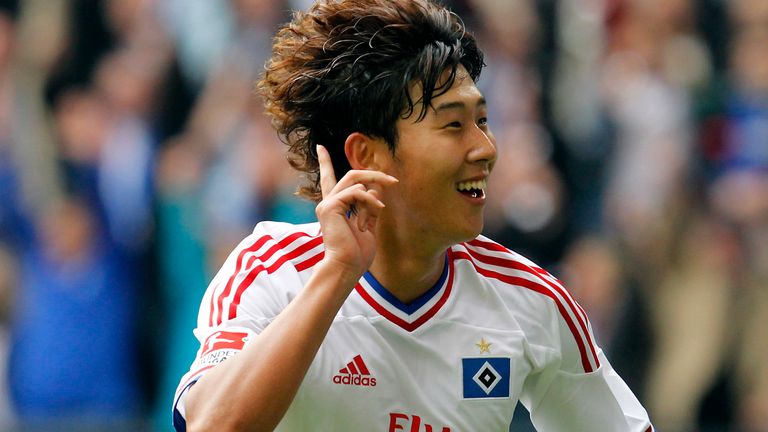 "I just want to show good things to the people back home and in Asia because a lot of people are watching me, watching Premier League players, but why should I have pressure with this? I do what I love, I should enjoy every moment.
"That's why they like me because I enjoy playing football, I'm happy. I have a big responsibility with this, but I don't feel the pressure. I do what I love and I want to show that."
Life under Nuno and signing a new Spurs deal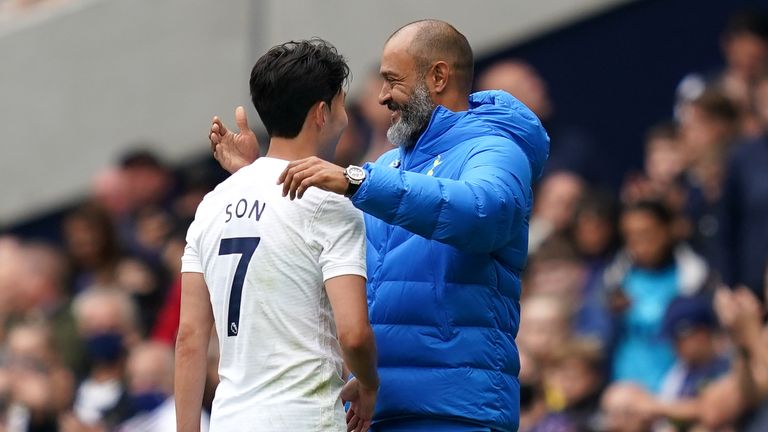 It has been a turbulent few months at Tottenham. Jose Mourinho was dismissed in April, with former Spurs midfielder Ryan Mason taking up the reigns as the club finished seventh in the Premier League.
The recruitment for Mourinho's successor flitted between managers across the continent, with a few near misses, before settling on ex-Wolves boss Nuno Espirito Santo. Nuno has overseen an unbeaten pre-season - including Sunday's north London derby in the Mind Series, with Son scoring the winning goal - as well as some solid transfer business.
"I've really enjoyed it," Son said of his new manager, Nuno. "It's only been a couple of weeks with the manager, but there has been really good, positive training. I'm looking forward to working with him this season so I hope we can help the manager and he can help us, so it can come from both sides.
"We're looking positive, he looks positive so I think if you have a positive mentality in the changing room and on the pitch, that's so important. I think we have this positivity at the moment so it's good to see.
"The focus for us has been pre-season. Everyone knows what they need to do and we're working hard to try and improve. Pre-season is the time to work and that's why everyone is doing really good, working hard, playing games. The guys are looking really positive and happy so that's the most important thing.
"Everyone should be ready for every game. There is a chance in every game, we know how important that is. If you're not focused and ready for every game, you're going to struggle so that's why in pre-season we're working really hard to try and make it as easy as possible for the coming season. We want to focus on game-by-game to try to win and at the end of the season, we'll see where we finish."
Son's positive outlook has surely been boosted by the signing of a new four-year Tottenham contract. If he sees out the deal until 2025, it will mark a decade at Spurs and it's clear Son has found a happy home in north London.
He added: "I didn't expect to sort out the contract so early because I had a couple of years left. They showed how much they love me, I have already played six years here, but they give me so much and I wanted to give something back.
"I'm so grateful to be here, it's an honour to play for this club. Another four years, I think we can achieve great things.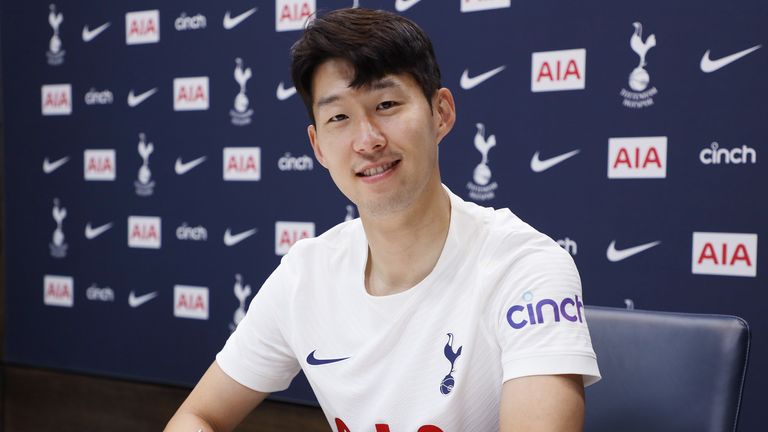 "Yes [would like to spend a decade at Spurs], if I can stay for another four years and football is never promised, so let's see. That's why I signed because I don't want to move again somewhere else.
"I could be here for ten years or more than ten years, you never know what's going to happen in the future, but I try to be focused every day, I try to improve every day and every single season. I think that the mindset is more important than the testimonial after 10 years."
The 2020/21 season, for all its eccentricities, was Son's best for goals scored, and second for assists - one behind his tally from the previous campaign. He also set a new record with Harry Kane, with the pair recording the most goal combinations in a single Premier League season (14).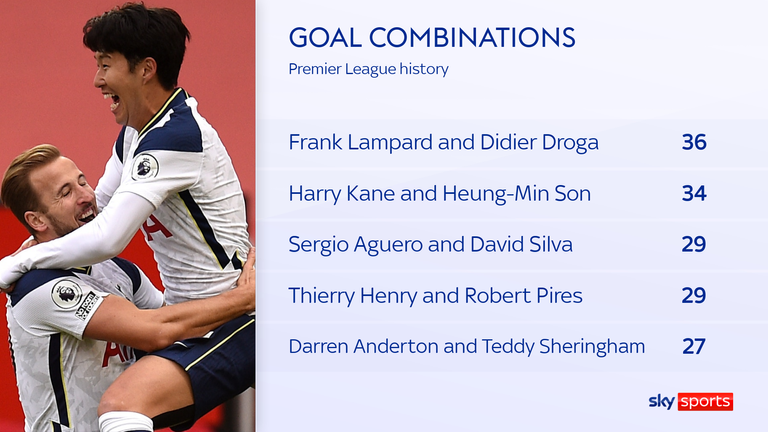 But despite the numbers, the 29-year-old is constantly looking to improve.
"I don't think it was my best season, next season is coming soon and I will keep going," he said. "I try to improve on everything because I still want to learn and improve myself because I just want to win.
"I hate losing. That's why I'm trying to improve everything, and I think it is important to improve my mindset every day. I have the chance to improve every day so I try to be open, honest and to be a good example on the pitch and off the pitch."
Starting the season with Man City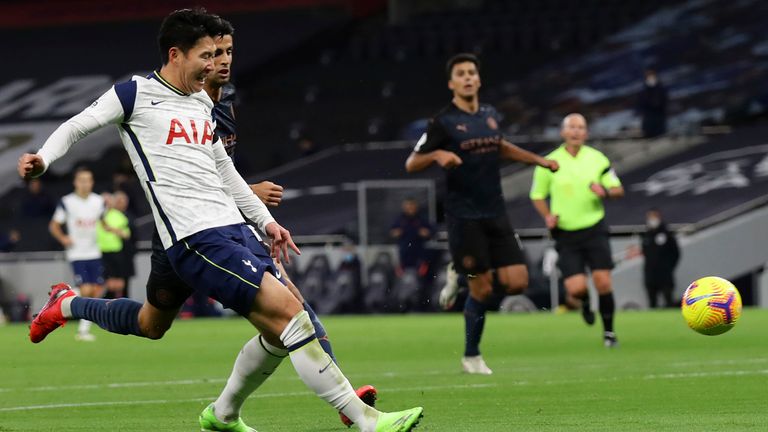 Premier League openers do not come much bigger than facing reigning champions Manchester City at the Tottenham Hotspur Stadium. The pair have had some rich recent history too, last meeting in the Carabao Cup final in April.
It should be a game that piques Son's interest, having scored in the last three home games against Man City in all competitions. But as ever for the winger, he wants to enjoy the occasion as much as possible.
"I always look forward to playing Man City," he said. "They're a big team, and I would say one of the best teams in the world.
"I can't wait, it's just having fun. They are a good team, with good players and it's going to be fun. I can't promise we're going to win, but I can only promise I will do my best to win the game."
For a player who made huge sacrifices to live his Premier League dream, it's no surprise Son often has his trademark smile, and you would be hard pushed to remove it any time soon.
The Premier League is back! New signings, new teams, old rivalries resumed and fresh hope, all to the sweet sound of full stadiums. Kate Burlaga is joined by Nick Wright and Gerard Brand to preview another nine months of drama in the top flight.
PART 1: Are City still the side to beat? And who will challenge them? Man Utd, Chelsea, Liverpool assessed
PART 2: Will the north London gloom lift? Leicester in focus and surprise package: Leeds, Aston Villa and Everton tipped
PART 3: How will promoted trio Brentford, Watford and Norwich fare? Plus: New managers assessed, and can West Ham deal with European distraction?