When you watch the 6ft 3in Keinan Davis leading the line for Aston Villa, it's hard to imagine there was a time not too long ago when he was released by a club for being too small.
But that's the situation he found himself in for Stevenage a few years ago, and it was tough for him to deal with.
"The first thing they said was I didn't reach any of the achievements they expected, and the other thing was that I was too small and not physically ready to play for their team," Davis told Sky Sports ahead of Villa's Sky Bet Championship clash at Leeds on Friday night, live on Sky Sports Football. "I was playing on the left wing and it wasn't really my position, but I've changed a lot!"
He's not wrong. Having made a few appearances off the bench last season at Villa, Davis has taken advantage of their injury problems up front to become a first-team fixture.
A professional career wasn't always guaranteed, however, following his departure from Stevenage in 2015. But support from his family and advice from an inspirational youth-team coach at non-league Biggleswade Town helped keep him going.
"I was just a bit lost really," he continued. "All my life I was playing football and my mind wasn't anywhere else. Through that summer [after being released] I wasn't really doing anything other than hanging out with my friends.
"I spoke to my parents and they said I just needed to get a job, so I worked at my cousin's barber shop and did a course in college. I thought [football] wasn't going to go anywhere, and I was just playing for Biggleswade for a bit of fun because I still loved football."
Dave Northfield was the man at Biggleswade who kept Davis' head up. The youngster never actually played for the senior side there, but regular games for the youth team against various academies in the area helped to get him noticed again.
"He (Northfield) was massive for me," said Davis. "There were times when I was thinking I didn't really want to play anymore and he told me I was good enough to get into an academy, and as long as I kept playing there I'd get the chance, because we used to have friendlies with different academies to see if we could get scouted. It kept me going.
"[Villa] came to watch quite a lot. Sometimes I didn't even know until the later stages when people started talking about it. Then I played quite well in one FA Youth Cup game and they said they'd take me on a week's trial."
Even then Davis could have taken on a very different path. At one stage a route to the USA seemed a real possibility.
"I'd been speaking to Dave Northfield and thinking what I should do because I was getting older," Davis continued. "They were organising clips to send over to American universities to see if any of them were interested.
"I had colleges asking and all I had to do was pick one and that would have been it. It was a matter of weeks but then [Villa came in] and the schedule just changed."
Since then it's been an incredible rise for the youngster, one that's been so rapid it's even caught him by surprise. This season he's made 16 Championship appearances, scored twice, and started their last five games in a row.
"This season I was just trying to see if I could get around the first team and be involved, but to start 14 games is crazy," he said. "My family kept telling me that if you get into the team just try and keep consistent to stay in it. And if you're not starting stay around the squad."
Villa had picked up just a point from their first three games when Davis was thrown into the line-up for their game against Norwich in August. He was excellent in that game as Steve Bruce's side registered a first victory of the season.
"I didn't even know I'd be involved," he said. "I was just told to come and when I got there the team-sheet was on the projector and I just saw my name on it. I had butterflies at the start but then I just had to get on with it and get into focus.
"In the first minute I had a one-on-one chance and the goalkeeper saved it, but that gave me a boost because I realised it wasn't going to be as bad as I thought. I just needed to play how I can play and it would be alright."


Three more starts, and three draws, followed as Villa stuttered in the early stages of the season. But then came the highlight of his career so far. A 3-0 win at Barnsley, a first goal, and a man-of-the-match winning performance.
It was the moment where he felt he'd finally arrived. And he's kicked on since then, scoring another goal in a 4-0 win at Burton and adapting well to the challenge of the Championship.
"I've watched the [first] goal loads of times!" he admitted. "It was good [to score at the Villa end] because they all came running down and that was the moment I just felt properly part of the team.
"It's a huge jump [to the Championship] and you've just got to be switched on all the time. When I was coming off the bench at the start of the season it would sometimes be too fast for me and I wasn't expecting it.
"It's a massive learning curve because I used to struggle mentally [against the experienced defenders] and I couldn't handle it. But as time goes on you get used to it and you can give back as much as they give you."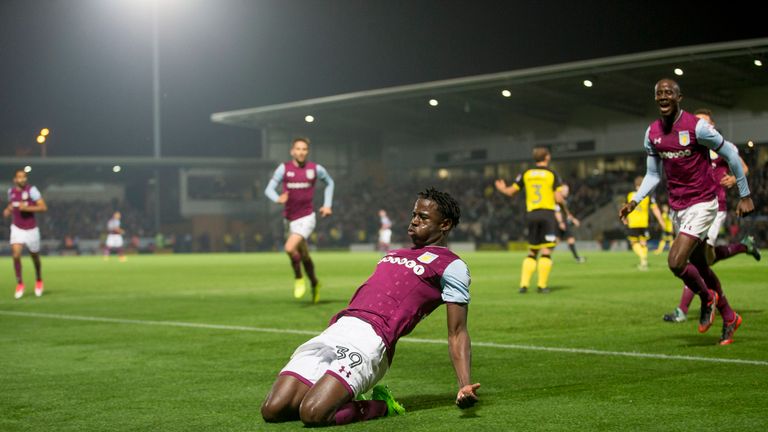 Davis may have initially got into the team under Bruce because of injuries to senior players, but he's taken his chance and has full backing from the manager.
"[Bruce] has helped me because I feel like I bring energy to the team and ever since the Norwich game he's told me just to keep bringing that and keep energising the team," said Davis.
"I still need to score more goals. If I can add that to my game I'll be heading towards being the finished article, so I'll work hard to do that. The manager says I have good attributes and I think that as well. Hopefully I can continue in an upwards direction."
Don't miss the Sky Bet Championship clash between Leeds and Aston Villa on Friday, live on Sky Sports Football and Sky Sports Main Event from 7pm.