Matt Ritchie's Newcastle goal wrongly disallowed by referee Keith Stroud
Last Updated: 06/04/17 7:20am
Matt Ritchie converted a penalty for Newcastle in Wednesday night's Sky Bet Championship clash against Burton, only to see the goal ruled out by the referee and a free-kick awarded to the visitors.
Dwight Gayle was felled in the box at St James' Park, giving Newcastle the opportunity to break the deadlock with just half an hour on the clock.
Ritchie stepped up, converted, wheeled away to celebrate, but was denied by referee Keith Stroud's whistle, as he ruled the goal out, and awarded the visitors an indirect free-kick.
The home side were baffled by the decision. A statement from the Professional Game Match Officials Limited (PGMOL) directly after the match said: "As Matt Ritchie took the kick, Dwight Gayle encroached in the penalty area. An indirect free-kick was awarded to Burton, but the Laws of the Game state that that the penalty kick should have been retaken.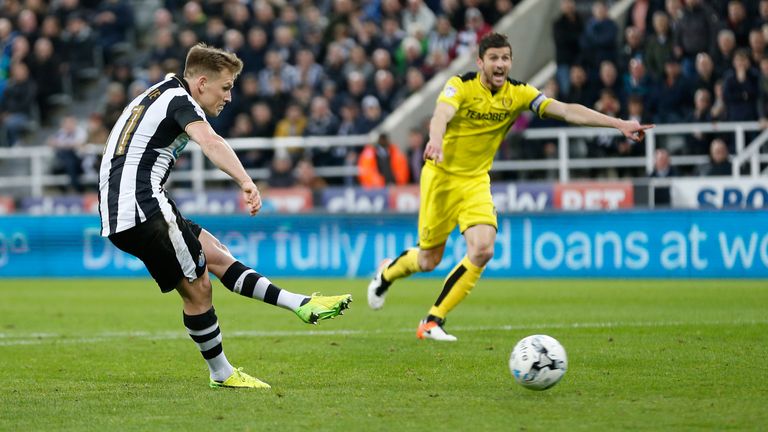 "Unfortunately, the referee has misapplied the Law. Keith and his team are understandably upset at the lapse in concentration and apologise for the mistake."
Newcastle went on to win the match 1-0, with Ritchie the goalscorer, moving them back to the top of the table.
Hit the video above to see the confusing incident!