Ref Keith Stroud says sorry for Newcastle penalty gaffe
By Stephen Turner
Last Updated: 06/04/17 1:15pm
Referee Keith Stroud has apologised after his mistake cost Newcastle the chance to retake a penalty against Burton in Wednesday's Championship game.
Stroud awarded Burton a free-kick after ruling Dwight Gayle had encroached beyond the 18-yard line before Matt Ritchie's successful spot-kick.
But an indirect free-kick is awarded for attacking encroachment only if the penalty is missed, and the spot-kick should instead have been retaken in accordance with football's Law 14.
A statement from the Professional Game Match Officials Limited later admitted Stroud and his assistants had made a mistake.
It read: "In this evening's EFL Championship game between Newcastle United and Burton Albion, referee Keith Stroud awarded Newcastle a penalty in the 29th minute.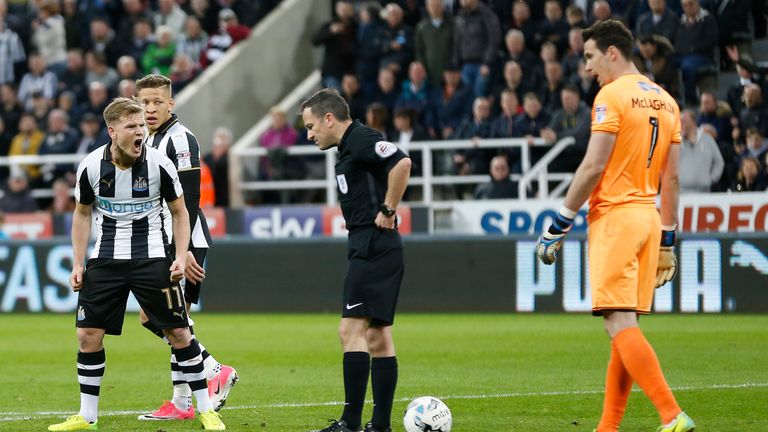 "As Matt Ritchie took the kick, Dwight Gayle encroached in the penalty area. An indirect free-kick was awarded to Burton, but the Laws of the Game state that that the penalty kick should have been retaken.
"Unfortunately the referee has misapplied the Law. Keith and his team are understandably upset at the lapse in concentration and apologise for the mistake."
Newcastle went on to win the game 1-0, Ritchie scoring a second-half goal.