Martin Hardy is the author of Rafa's Way: The Resurrection of Newcastle United, which is out now.
Here, the Sunday Times' north-east football writer, explains the size of the job done by Rafa Benitez at Newcastle in leading the club back to the Premier League, how he reconnected a city with its football club and the dire consequences if he leaves…
Can you give us an idea of the atmosphere around the club before Benitez arrived?
The mood around the club was dreadful. There was a deep malaise in the dressing room. Players had been sold the idea of Newcastle being a stepping stone in order to get them to sign. There were players in there who were stuck, like forgotten suitcases on an airport baggage carousel. It meant there was a mood of decay.
There was no unity either. I interviewed Jamaal Lascelles and Ciaran Clark towards the end of Rafa's Way and they both spoke of how strong the team spirit was under Rafa. Players were socialising together and going for meals regularly. Lascelles used the word segregation for what had been there before, when he first arrived. That really highlighted the divisions inside the core of the most important part of a football club.
On top of that you had a chronic lack of confidence in the players and you had a general malaise in the stands. Newcastle United is at the centre of so much of Tyneside life and there had been a relentless drip, drip of energy and hope during the preceding seasons. The club didn't have direction, or leaders, or any connection with its support and the community. The distance between players and fans was frightening. It felt very much like a club in serious trouble. The then head coach Steve McClaren was annoyed the club hadn't signed a centre forward of note in the January transfer window. Money under Graham Carr, the then chief scout, had been spent unwisely, the team was losing, the support was fed up and there had been a lack of direction from the very top, under Mike Ashley. It felt like another relegation under his ownership was inevitable when Rafa arrived.

How quickly did you realise that Benitez was going to make such a big impact?
I still think that Newcastle fans are surprised Rafa Benitez is manager, 16 months after his arrival. It was a seismic switch in everything the club had previously been doing.
Until Rafa it was never happy! Or at least that's how it seemed. The club would not even appoint a manager anymore. Steve McClaren had been a head coach and he had been sneaked into the ground and sneaked out of the ground on his first day in office! No one was allowed to speak to him from the press. Only one supporter turned up. McClaren had no say in transfers. He privately called the training ground a squash club. Money was spent but it was spent unwisely and the campaign was fizzling away towards relegation.
It turned the moment Benitez came out of St James' Park having signed a three-year deal. Fans were waiting for him and there was a spark sent around the city. He headed to the training ground and players who were on a day off were told to get there and some who were injured went onto the field rather than say they were not fit, such was the desire to impress him.
The change was immediate. I was at the training ground that Friday night and there was electricity. He went into the barn where juniors were training in front of their parents. He had his coaches pour over videos with Ian Cathro. He called a meeting with the non-playing staff and implored them to tell him anything they thought could help the team. He called the players in that night as well and spoke of change. It all altered from that first day. He even changed the sign on his door (to manager) and asked for a louder whistle.
There was disbelief amongst the supporters. There were immediate parallels with the arrival of Kevin Keegan, as player and as manager. It didn't make a great deal of sense. The club felt galvanised. There was energy. It was like a switch had been turned on.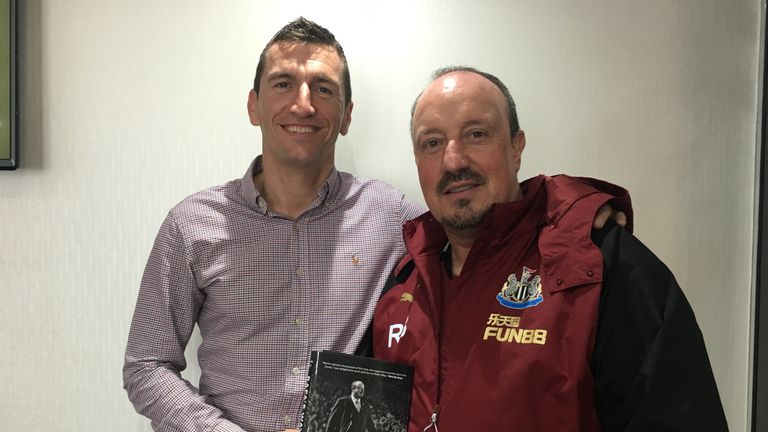 You talk about him understanding the club. What does that mean to you? Any examples?
I was lucky enough to spend a lot of time with Rafa, in private and in public. Privately he always talked about uniting the club, about bringing the players, the staff and the support together. It was the message for the season, 'Together we are stronger.'
When he was out meeting supporters, nothing was too much trouble. I had seen Keegan spend hours with the fans, when he was a player at Newcastle and then when he was manager. They were exactly the same; signing autographs, cracking jokes, smiling for pictures, asking questions, caring. They got what it meant. They knew they were valued and cared for and they repaid it in absolute full. They were both humble with the supporters.
I was there on a Friday night in the west end of the city at a Football Kicks initiative and Rafa and Jamaal turned up as a surprise and the place went wild, genuinely crazy. They were both mobbed. Rafa stood for pictures and chatted away with the players, the coaches and youngsters who wanted selfies. He even met someone from his home village. He said afterwards, it is never a chore to meet supporters and talk about football.
Do you think it is easy to underestimate the task that he had in turning things around?
Yes, and I think that happened nationally. There was a feeling of, 'It's Newcastle and they spent money and therefore they should win easily blah blah blah.' That missed so much. It was an incredibly lazy narrative.
Newcastle had fought relegation in the previous two seasons before they went down. There was such long-held mistrust for the failed Mike Ashley regime. The support was fragmented. Buying the right players was way beyond Graham Carr, organising a club was beyond Ashley. Organising the dressing room was beyond the club and Benitez sorted all that out.
He took control of a big, often chaotic football club, steadied the ship and pointed it in the right direction. Newcastle made £30m in transfer dealings last summer. They were excellent in the transfer market for the first time in years. Benitez brought in good characters after endless research. The training ground was overhauled. New 4G pitches were put down. He went into the community and he took his players with him and that meant the club felt united for the first time in years.
Of the previous 15 teams relegated from the Premier League, only one had gained automatic promotion. It was never going to be a walk in the park, and it never was. He kept calm after losing the first two games, he kept calm on a club-record equalling winning run, and he kept calm when there were three games of the season left and Newcastle were 40-1 to win the title. Writing the final chapter of the book, when Newcastle played Barnsley, went into the small hours of that Sunday night and the following Monday morning, to try and capture the sheer magic of what happened that afternoon. No one there will ever forget it. I hope more than anything that Rafa's Way captures it.
What was it like putting the book together and getting to know Benitez as a person?
I had got to know Rafa well during the close of his first season in charge. I had written two books about Newcastle United, Touching Distance and Tunnel of Love, and Rafa had instructed his backroom staff to read the first one, which chronicled the dramatic and thrilling time Kevin Keegan was in charge.
The crowd's performance on the final day of the 2015/16 season had been hugely influential in Rafa staying. It felt Keeganesque and that something dramatic was starting so I asked him if he would like to do a kind of diary of the campaign (though it became much more than that, a story of a club finding its soul) and after a bit of thought he said, 'Yes, we'll do it, but only if we get promoted!'
That put a little bit of pressure on every result!
I had thought he was thorough and loved football, and he is and he does, but the level is staggering. Conversations about the game last for hours and hours. The detail and the knowledge is frightening. He is obsessed with football. I was allowed to watch training, and again, the thoroughness and precision were hugely impressive. Nothing was left to chance. The drills were short and the message was sharp. Every player listened and got what they were supposed to be doing.
The other side surprised me. Rafa was a far warmer man than he had previously been portrayed as. He got what Newcastle United meant to its people straight away. He was a man of the people. He was warm and caring and that tapped into the Geordie mentality straight away. They want honesty and he gave it to them. He spends hours with the supporters, he took care of tiny details, like creating the Newcastle United Foundation 1892 Cup, where local schools compete at the club's academy on the eve of each new season. He presented the medals and the children were in awe of him. He stood in the pouring rain each time, smiling, and talking more football. Kevin Keegan did something similar in 1982 when he had Blue Star Soccer Days. These things leave a legacy in the heart of young supporters. They never lose the photographs and forever treasure the memory.
There has been a lot of speculation about his future. What are the issues there?
He was unhappy in January when the goalposts moved. He was unhappy at the start of the current transfer window, when the goalposts moved and he's unhappy now. His hands have been tied in the transfer market. This is not how it was in the brochure, and that did for Keegan ultimately, in 2008, when he was outmanoeuvred by Ashley and his inner team and the club descended into acrimony and its first relegation for 20 years.
Benitez wanted two new players in January and was told no. He wanted four at the start of the current window, and got none. That's half a team. He believed Newcastle had the potential to be a top-five side, but that momentum has gone.
He thought he had more to spend and more control over transfers. It has not happened. This is not what he thought was happening when he left his meeting with Ashley at Shirebrook a matter of days after leading Newcastle United to the Championship title.
How important is it for Newcastle's revival that Benitez stays on as manager?
When Benitez goes, Newcastle will crumble. Ashley has seen off Keegan and Alan Shearer. Benitez could very well be next. He gave the club and the city pride and a team that had desire and belief. He united the supporters.
In Rafa's Way, he stayed calm and resolute in his belief that his methods would work and he was vindicated in such dramatic style, with the campaign going so close to the wire. He never panicked, he always moved the club and the city to where it needed to be. Newcastle have one of the top managers in the world, and the outpouring at the final game of Newcastle's last game in the Premier League, ironically also at home to Spurs, as will be their next game, was a real call to arms from the supporters. They knew better than anyone the significance and importance of Benitez staying and they know all too well what will happen if he goes.
Benitez is being asked to work a miracle with a young reinforced Championship team. It does not feel like a team that has been significantly added to. There are players still there who failed in the Premier League the last time the club was there.
Newcastle United is a football club that marches with a more assured step when it has a real leader at the helm (Keegan, Robson and now Benitez).
Without him it is difficult to see anything other than more chaos.
Rafa's Way, the resurrection of Newcastle United, by Martin Hardy, is published by deCoubertin Books, and is out now, priced £19.99. Order at touchingdistance.com, decoubertin.co.uk or from leading book stores.
Follow Martin on Twitter: @mhardysport