Rafa Benitez interview: Newcastle boss still excited by club's potential
Newcastle United host Wolves on Super Sunday
Last Updated: 09/12/18 4:17pm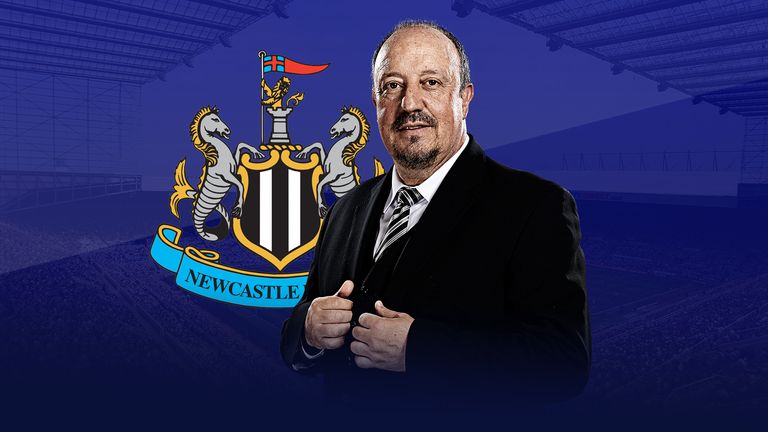 In an exclusive interview with Sky Sports, Rafa Benitez explains why Newcastle's potential still excites him, how his love of stats goes on, and why Manchester City can be stopped.
Newcastle is abuzz with takeover talk once more and the hope that comes with the prospect of Mike Ashley's unhappy tenure coming to an end. But for Rafa Benitez, the coach who has come to represent a beacon for that hope, the message remains that it is business as usual.
Without discussing a potential takeover directly, however, his feelings are clear. "I think that this team could be in the top six," he tells Sky Sports, leaning forward in his chair. "It could be in the top eight easily. When I say easily I mean just with one or two things.
"When I decided to come here, it was because I saw the potential of the club, the city, everything.
"Still, I can see the same."
Catching up with him in a dressing room just down from the press conference room, in the annex behind the indoor facilities at the club's training ground, a busy day of media duties is coming to an end. But he is patient and soon passionate when the subject turns to football.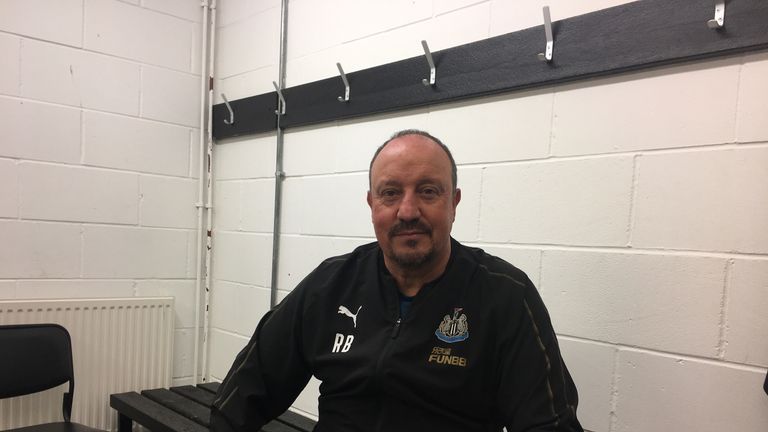 As ever, it is the details that interest him.
When discussing his Valencia title winners of 2004, he remembers the exact number of goals his side scored that season. "Seventy-one," he shoots back. "One goal behind Real Madrid." At Liverpool, he was criticised for using zonal marking from corners. "In the third year we were the best team at defending set-pieces and nobody talked about that," he says.
There is a twinkle in the eye as he reels off the stats. While Benitez is keen to stress that he is a family man too, he is well aware that he is seen as an obsessive. A man who was using multi-screens to watch football before the concept had really been invented. The stories about his dedication to the detail are legendary and every few minutes there is a reminder.
"When I was 13 I was using stats, following managers and players," he says. "Then, when I was in university, I was in groups that were analysing teams, looking at patterns of play, shots, and goals from corners. My formative years were spent analysing data."
Benitez must be like a kid in a sweet shop these days. Certainly, he has been quick to embrace the superior software that is now available to him. The preparation for Newcastle's game against Wolves on Super Sunday began some time ago. "We have a really good group of people working behind the scenes, an analysis department and the coaches," he adds.
"Normally, my head of analysis will condense the last four or five games down to an hour and a half and then he will present me with 30 to 40 minutes of clips. I have to reduce this. What the players will see is 12 to 15 minutes of clips as a whole group. Then there will be something very specific individually that they each need to concentrate on."
Given that Benitez was using in-depth analysis before many of his peers, it is tempting to wonder whether the proliferation of information has negated some of his edge. But the key now is experience. "Sometimes you can read the numbers but they are not telling you exactly what is going on. You need to understand what you are analysing," he explains.
He gives the example of running stats, regularly fed to managers immediately after games and then quoted in press conferences. "We were analysing the physical stats from the last game," he adds. "You compare the numbers to the game before and there is a massive difference so you could think that means that the team was not ready. That's not true.
"Every game is different so maybe the context of your analysis needs to be different. So if you are deep and well organised, maybe you don't need to run too much. If you are open then maybe you are running all the time. If you don't see that and just see the stats, you would think this team was fantastic and the other team was rubbish. It's not true."
The emphasis on analysis is just one of the ways in which the game has progressed since Benitez first arrived at Liverpool back in 2004, the same summer that Jose Mourinho first took over at Chelsea. In the three-year period either side of that, the two men won a major league title each, while both clinched the old UEFA Cup and the Champions League.
Benitez is arguably over-achieving at Newcastle given the constraints, but the fact that over a decade on, these two giants of management now find themselves in mid-table, while Pep Guardiola's high-flying Manchester City play a more expansive game, raises the question of whether or not football has moved on from the compact style that they had perfected.
Is it still possible for City's style of football to be neutralised? Can they be stopped?
"With the right tools, you can stop them," Benitez insists. "But we are talking about £500m with a great manager and great players. Everything is positive for them.
"Can Liverpool stop City? Yes. Can Arsenal and Tottenham and Chelsea stop City? Yes. But can they be more consistent over a season? That will be more difficult. I do think the top teams can compete with each other. But it is a big difference to the rest."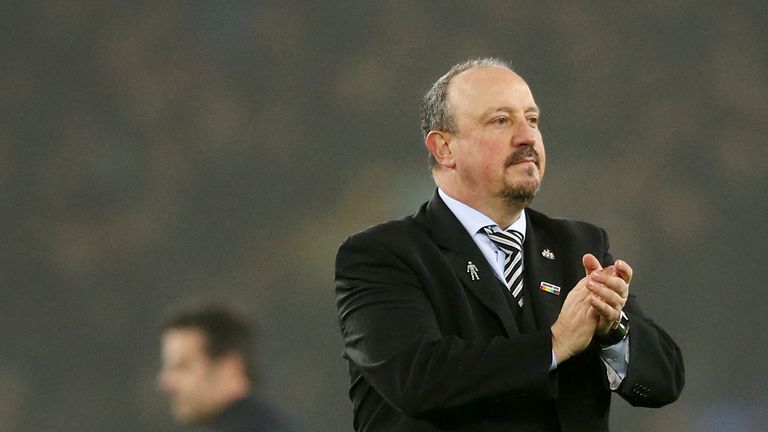 A lopsided fixture list that required Newcastle to face four of those top teams in the first six games contributed to the fact that the club made its worst start for 120 years. They began November with only goal difference keeping them off the bottom of the table.
But Benitez kept calm while others might have panicked and Newcastle have picked up 10 points from the last five games. They are now out of the bottom six. "That is where experience comes in," he says. "Do not get too high thinking you are a genius and do not get too low thinking you are the worst in the world. You just need to be consistent."
He welcomes the support at Newcastle - "You see it as an extra motivation to do well for them" - and has done since day one. But two-and-a-half years on from his decision to stay at St James' Park and help get the club back into the Premier League, it would be no surprise if he shares the fans' frustration that the chance for him to really compete has not yet come.
But the hope remains.