Rafa Benitez: No chance of Newcastle complacency after Burnley win
Fabian Schar and Sean Longstaff scored in 2-0 win against Burnley
Last Updated: 26/02/19 11:29pm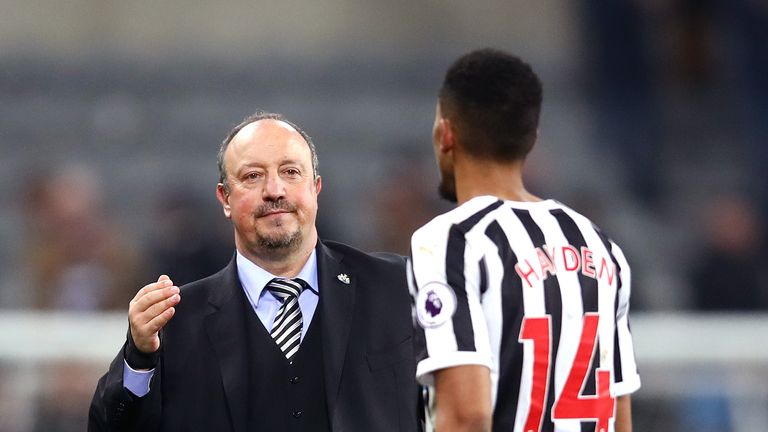 Rafa Benitez insisted there is "no chance" Newcastle think they are safe after they boosted their chances of survival with a 2-0 win over Burnley.
First-half goals from Fabian Schar and Sean Longstaff secured the win for the Magpies.
They have now won four in a row at home in the Premier League and are seven points above the relegation zone.
But Newcastle boss Benitez said: "Winning games you have more confidence but we have to take one game at a time. We are where we are now because we focused on that and we have to keep doing the same.
"We cannot think the job is done, no chance. We have confidence and we have to keep going. We can lose games but we have to approach every game with the same mentality and the players know it is like that."
Schar's stunning long-range strike put Newcastle ahead before academy graduate Longstaff scored his first Premier League goal.
The midfielder has impressed in recent weeks and there have been suggestions that he could soon play for England.
Benitez commented: "I said so many times when he was coming and training with us he was doing well and he was lucky enough to make his debut sooner rather than later because of injuries, but he deserved to be there and we decided to keep him in the team because he is working hard and playing well and his understanding with [Isaac] Hayden is quite good.
"There are a lot of positives when you have a young local lad playing and scoring goals."
Reflecting on Newcastle's strong run of recent form, Benitez added: "I know my staff and since a long time ago we have finished stronger at the end of the season. Sometimes you can lose games but we finish stronger.
"Last year we were safe with five games to play. It's something I was expecting and hopefully we can carry on winning games."