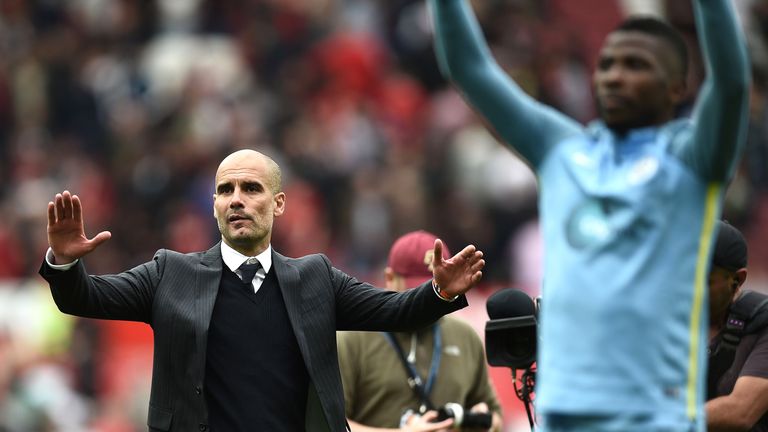 Pep Guardiola has warned Manchester City their current form will get them nowhere in this season's Champions League.
Saturday's derby win at Old Trafford gave Guardiola four wins from four in the Premier League, while Steaua Bucharest were on the wrong end of a 6-0 aggregate defeat in the Champions League qualifiers.
However, the City boss is demanding more attacking efficiency ahead of Tuesday's opening group game against Borussia Monchengladbach at the Etihad.
Guardiola said: "Until now in the Premier League it has been okay, but to compete against the best clubs in Europe, in this moment with the way we are playing, we are not able to.
"We have played, not all of the games, but part of most of the games at a high level, and of course we have to continue.
"If you ask me whether we are ready to compete in Europe, we are not ready. We create, but in front we need more. But it is just two months together, so we have time to get better."
City were 2-0 up inside 36 minutes against United, but Zlatan Ibrahimovic replied before half-time as the home side threatened a recovery.
And the main concern for Guardiola, who is also up against his former club Barcelona and Celtic in Group C, was his side's failure to make more of several second-half breakaways.
He said: "We have had a little bit of a problem in the last few games with the last pass - we make the movements, but the last pass...especially in the second half when Manchester United pushed a lot.
"There was the chance to make counter attacks, and we had many. But, except for one or two from Kevin De Bruyne, we didn't finish.
"It happened similarly against Stoke and West Ham - when the game is open, which is typical here in England, if you don't finish those actions you are going to suffer until the end. We were lucky - maybe one day we will not be lucky."