Sergio Aguero to Chelsea: Why would Manchester City sell?
Last Updated: 03/08/17 10:04pm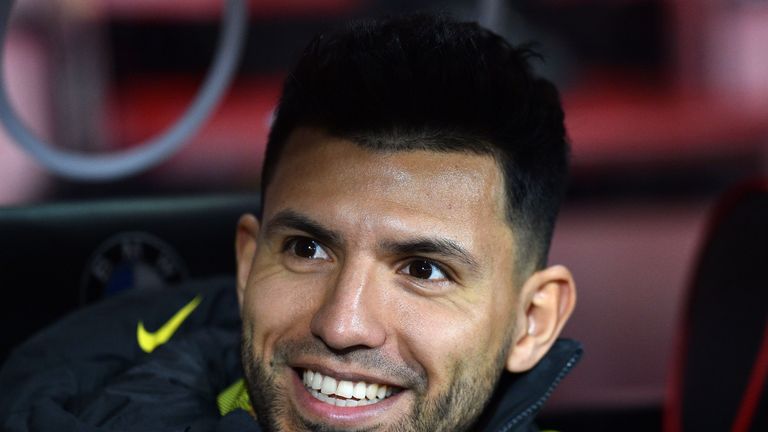 Sergio Aguero continues to be linked with a Manchester City exit but why would they sell? Adam Bate looks at a crazy transfer tale and why Aguero's future remains on the agenda.
The news that Chelsea have a "strong and serious interest" in signing Sergio Aguero should hardly come as a surprise. This is a 29-year-old striker with 122 Premier League goals to his name at a better strike rate than anyone else in the competition's so-called 100 club. If the champions could pair the Argentine with Eden Hazard, it would be a daunting prospect.
But while Chelsea's willingness to take Aguero to Stamford Bridge is no shock, the ongoing speculation regarding a possible Manchester City exit is the real curiosity here. The player is an icon at the Etihad Stadium, the scorer of the greatest goal in City's history and perhaps the club's greatest ever goalscorer too. Why on earth would they even consider a sale?
Supporters dismiss such talk as mischief and that view is understandable. After all, City owner Khaldoon Al Mubarak insisted reports of a summer exit were "ridiculous" and Pep Guardiola has repeatedly stressed that Aguero will stay. "He will be here next season," he said in May. "Happy? Good. Perfect. How many times have I answered that question?"
Not enough, it seems. Aguero's relationship with Guardiola has come under scrutiny since he was omitted from City's Champions League trip to Barcelona in October. In reality, there were question marks over Aguero's fitness levels following an international break but it became clear in January that the star striker's place was no longer guaranteed.
Gabriel Jesus's swift impact quickened the debate. Who is Guardiola's main man? Jesus's seven Premier League goals came at a rate of one every 93 minutes, even better than Aguero's record of a goal every 120 minutes last season. Could the Brazilian - labelled "the future of the club" by Guardiola - usurp the senior man?
The feeling persists that he is more naturally suited to the coach's demands. "He's got more movement than Aguero," said Sky Sports pundit Gary Neville in February. "Aguero is a sensational player but you can see already that Pep Guardiola is taking this more in the direction of the team he wants. Maybe Aguero isn't quite a fit for him."
Jesus's defensive work was apparent from the outset, harrying the West Ham defence in a 4-0 rout at the London Stadium in his first Premier League start. He scored in that win but that was almost incidental. "It's not just about the goals," said Guardiola. Jesus runs more than Aguero and there is a greater intensity to his closing down.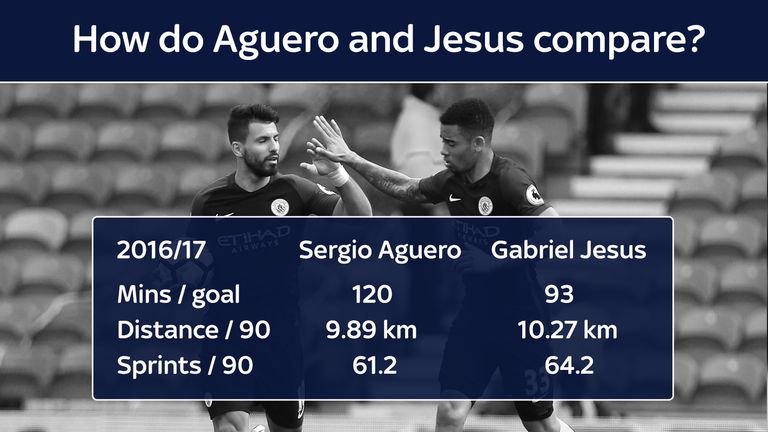 "You know that when their defenders have three or four seconds … then the ball will be good," explained the City boss. "When the strikers are the best defenders and the defenders are the best players in the build-up then you are a strong team." That is his vision for this Manchester City team and that is what Jesus can deliver.
Outwardly, Aguero has shown impressive willingness to adapt and to learn. He has been quick to point out that earlier in his career, he was utilised in a deeper role - opening up the possibility of him shifting to accommodate Jesus rather than the other way around. He has even upped his work rate with improved distance covered and sprinting stats. A tough task at 29.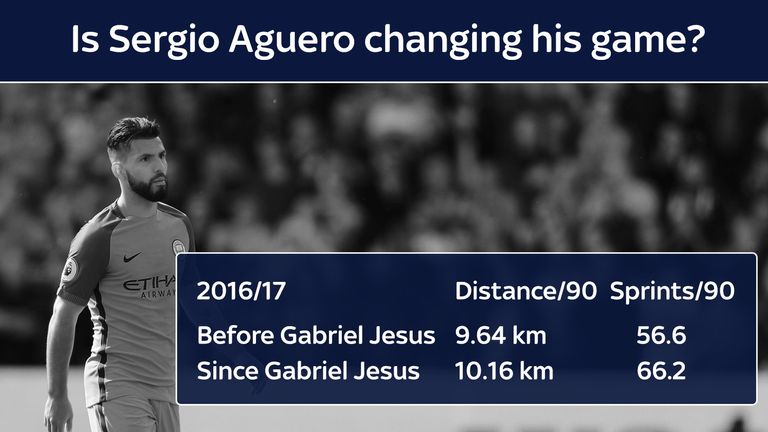 Even so, perhaps Guardiola feels there are better options if he is to implement his favoured game plan in such a crucial campaign. Much could hinge on the prospective signing of Alexis Sanchez from Arsenal. Guardiola is a huge admirer of the Chilean having worked with him at Barcelona but is on record as saying that his best role is as a centre-forward.
That could further impinge upon Aguero's position at City. It could even persuade Guardiola that the time is right for the club to cash in on a valuable asset. But to sell to Chelsea and solve the London club's striker problem in the process? It would be a bold gamble given that Antonio Conte's team could well be City's biggest rivals in the race for the Premier League title.
Ridiculous? Quite possibly. But in the crazy world of the Premier League, do not rule it out.