Recruitment expert Rob Mackenzie on the qualities that Manchester City identified in Ederson.
There have been many factors in Manchester City's strong start to the Premier League season. Sergio Aguero, Gabriel Jesus, Raheem Sterling and Leroy Sane are all among the top seven goalscorers, while Kevin De Bruyne and David Silva are joint-top of the assist charts.
But these players all starred last season too. One major change at Manchester City has been their defensive solidity. Pep Guardiola's men have improved their defensive record in the Premier League this season, with young goalkeeper Ederson particularly impressive.
The £35m summer signing from Benfica has already kept as many clean sheets as Claudio Bravo managed in total last season, earning praise for his positivity in coming off the line, his distribution skills and his shot-stopping abilities.
With City already having paid £17m to sign Bravo last summer, there was scrutiny on Ederson before he had even played a game for the club. So what made them so confident he would be a success and what were the qualities that they identified in him?
Rob Mackenzie was Leicester's head of technical scouting, helping to build the team that shocked the world by becoming Premier League champions, and has since worked as head of player identification at Tottenham. Here, he gives his assessment of the signing…
MACKENZIE'S VERDICT
One of the biggest challenges facing those who work in scouting and recruitment is trying to anticipate how a new player will settle at your club. Will they be able to cope with the different demands placed upon them compared to what they have experienced previously?
Given the financial implications of a high-profile failure, the pressure to get that right from a recruitment perspective is often exaggerated when working for an ambitious club such as Manchester City that is competing at the very top end of the game.
As a result, the challenge facing City in the summer in seeking a long-term solution to their goalkeeping problem was not an easy one. Not only is a keeper pivotal to a team, but after Claudio Bravo's problems it was clear that there would be extra scrutiny on any new signing.
This places huge pressure on the scouting and recruitment team within a club, but it also places added expectation on the shoulders of the new recruit. In that context, Ederson's assured form since his arrival from Benfica should not be underplayed, in my opinion.
So far, the young goalkeeper has demonstrated an unwavering ability to cope with the pressures of the role. This is a quality that scouts consider highly important, especially when considering goalkeepers for top clubs.
Ederson knew he was becoming the most expensive goalkeeper of all time. To put that into context, his other recent transfer had been for just £450,000. That is a lot of pressure to put on a player expected to replace a senior goalkeeper in a side competing for major titles.
So what has helped Ederson deal with the pressure of being Manchester City's new goalkeeper as well as he has? With recruitment there are no guarantees, but what might scouts have identified as the potential indicators that he would be capable of delivering?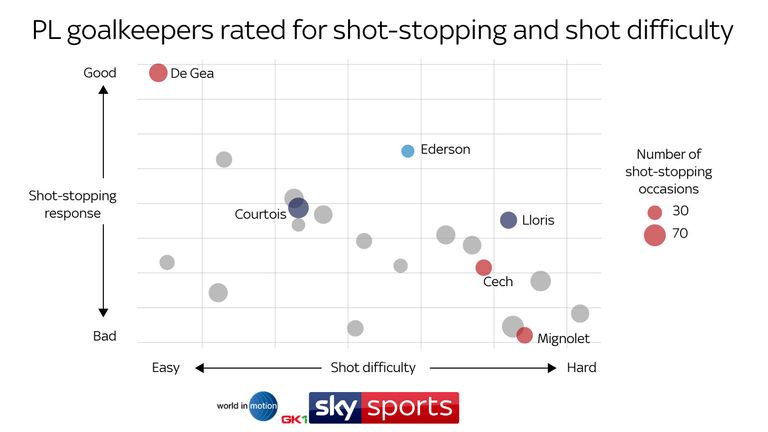 Firstly, while it might be argued that Ederson has not been involved that much due to City's dominant form, this actually attracts increased attention on the less frequent actions that he does carry out - a common scenario experienced by most goalkeepers in top teams.
It is often thought that the best keepers are ones who can manage their emotions during periods when they are not directly involved. Ederson's experiences at Benfica, a dominant side in their own league, will have prepared him for being expected to win every week.
His ability to perform to a high level despite the expectations placed upon players at a club like Benfica may have also indicated to City's decision-makers that he could deal with the pressure of playing for a big club despite being young, especially in goalkeeping terms.
Previous experience of playing in the Champions League is also advantageous and seen as a 'tick in the box' by top clubs, so his 10 appearances for Benfica in that competition will have been noted and provided more confidence that he would be able to cope.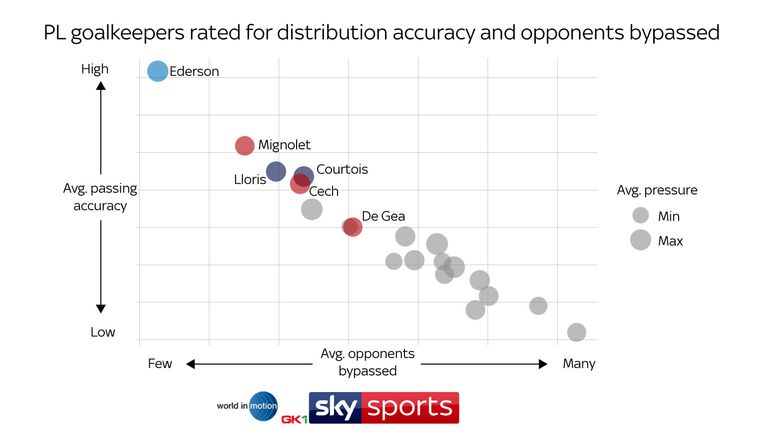 His playing style as a goalkeeper at Benfica was also well suited to life at Manchester City. That will have given the club confidence that he could make the transition, but perhaps even more importantly, boosted the confidence of the player that he could adapt quickly.
Even though the opposition goalkeepers have usually been busier in Manchester City's games this season, Ederson's vital save in keeping out Dries Mertens' penalty for Napoli in the Champions League should not be forgotten.
Nor should his save to deny Cesar Azpilicueta 25 minutes into the game against Premier League champions Chelsea at Stamford Bridge be ignored. It was goalless at the time and Ederson followed up that save by claiming the ensuing corner too.
He has made it look easy but it is important to remember that football players are human beings and so their character is just as significant as their technical ability. Ederson's lightning fast reactions are complemented by his bravery.
That bravery is not always associated with foreign goalkeepers in traditional scouting circles. But Ederson's willingness to put himself in positions where he can be hurt (as he was against Liverpool) and bounce back seemingly unscathed mentally, exudes fearlessness.
Not only does it send a message to those attempting to pass him, but it sends a message to scouts too. Bravery is a trait often associated with legendary goalkeepers and as such features high on a scout's checklist.
Ederson himself recently claimed that he has "no fear of anything" and suggested that he was fully aware of how physical the Premier League would be prior to his arrival at Manchester City. "I was already ready for that and I wasn't really surprised," he explained.


That fearlessness could have been identified on his Benfica debut when, having not featured in any of the first 24 league games of the season, he helped his side secure a 1-0 win away to title rivals Sporting Lisbon and in doing so was praised for his unflappable composure.
Although the Premier League season is only 10 games old, Ederson already looks to be an excellent acquisition and at just 24 years old he could prove to be Man City's number one goalkeeper for the next decade if things continue as they have started.
His reflexes and ability with the ball at his feet always made him look like a really good fit for Manchester City from a footballing perspective. But it is Ederson's psychological profile that appears to make him a great fit for being a goalkeeper at the top level.