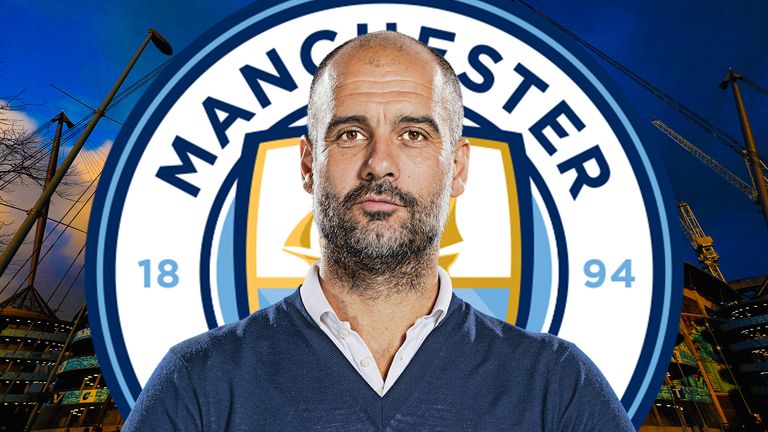 Pep Guardiola says he is using the same style he employed at Barcelona to achieve Premier League success with Manchester City. Here, we look at how his teams compare...
City dominated rivals Manchester United during a 2-1 win on Sunday, with Guardiola's side recording a record-breaking 14th successive league victory in a single campaign to move into an 11-point lead atop the Premier League.
After the game, Guardiola was as proud of the manner in which his team had performed as the result.
"People say the way we played in Barcelona, it is not possible in England." he said. "It is possible. Always it is possible to play football, to keep the ball and to have the courage to play."
Here, we examine the stats to compare the styles of Guardiola's Barcelona, Bayern Munich and Manchester City teams. And, after a season of adaptation to the English game, there seems to be a clear correlation between the way his current side are performing and his dominant Barca of the past...
RESULTS
City are undefeated in the league with a remarkable 93.8 per cent win rate, taking 2.88 points per game - having only dropped points during a 1-1 draw against Everton in August after Kyle Walker was sent off in the first half.
Of course, the season is not yet at its halfway point but Guardiola is not unfamiliar with staggering win rates. His first term at Bayern saw an 85.29 per cent win rate and 2.65 points per game.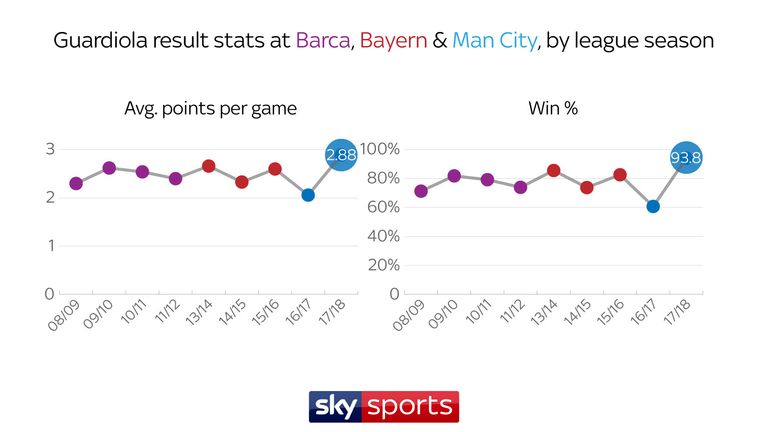 PASSING
One of the most interesting patterns during Guardiola's tenures has been the rising number of passes, season on season - a reflection of his teams' increasing dominance of the ball and their opponents.
Barca only averaged 546 passes per game during his first season at the Nou Camp, but reached a remarkable 747 during his third term in 2010/11.
At City, Guardiola averaged close to that career-low tally with 598 passes per game last season, but that figure has soared to 724 during this campaign.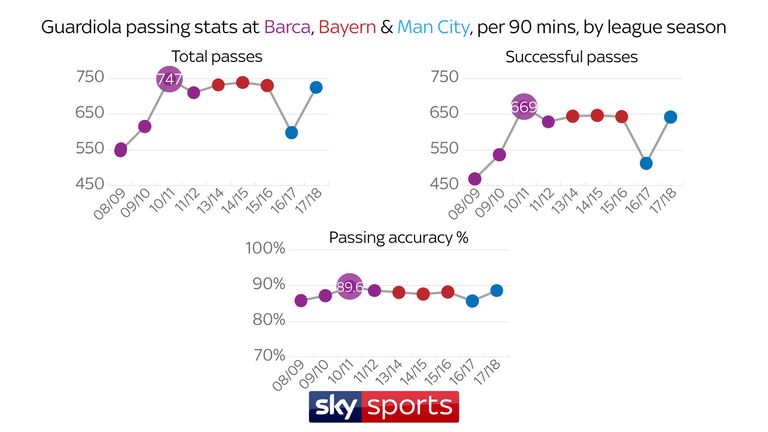 POSSESSION
City enjoyed a huge 64.6 per cent of the ball at Old Trafford on Sunday - the most any Premier League team has had against United. But that was fairly low by their own standards this season. City have averaged 71.6 per cent possession in 2017/18, similar to the 72.8 per cent Guardiola's Barcelona enjoyed in 2010/11.
Again, the speed of development has been staggering during his time in Manchester. City averaged 64.9 per cent possession last season, the lowest of Guardiola's managerial career.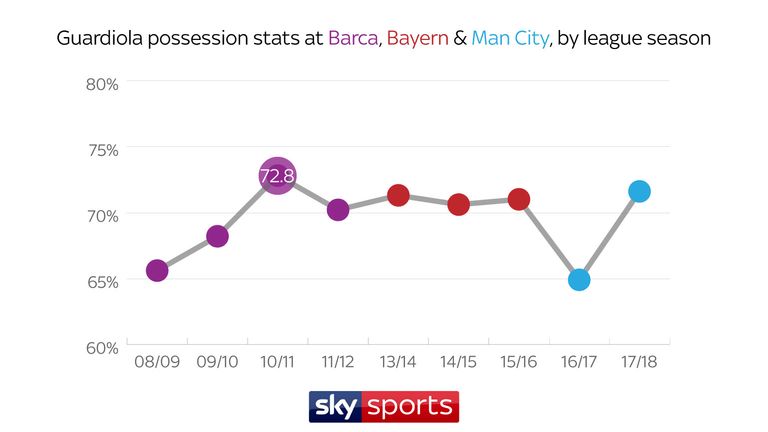 GOALS
City have scored 48 goals from 16 fixtures to date, equating to three goals per game - that is the same as Guardiola's 2011/12 Barcelona team managed.
In terms of shots, his teams have never averaged fewer than 15.6, or more than 18.7 per game - with a minimum of 5.7 on target during his first term at City and a maximum of 7.7 during his last term at Bayern.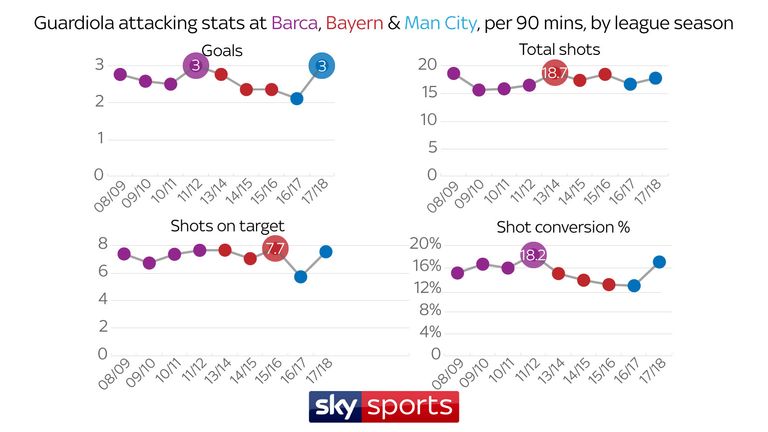 DEFENSIVE
With the increased dominance of possession, Guardiola's teams have required fewer tackles and interceptions over the last nine years. His team recorded in excess of 20 per game during his early years at Barca but City have needed to average just 15 tackles and 9.5 interceptions this term.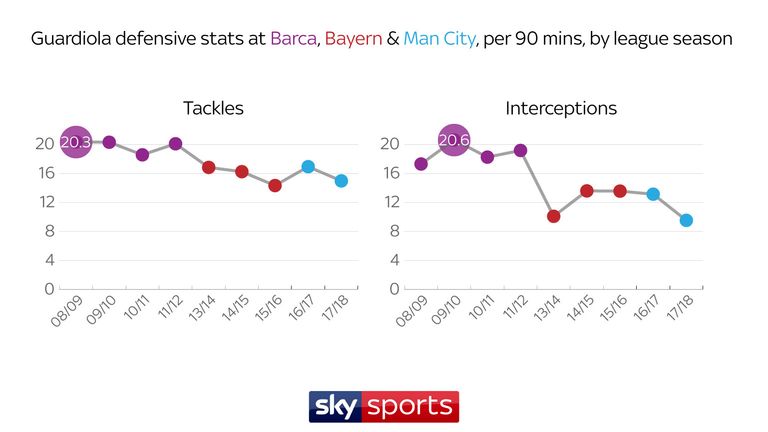 GOALS CONCEDED
For all the attacking flair Guardiola's teams have become associated with, he is also a manager whose teams concede very few goals. After a summer of investing heavily to sign full-backs Kyle Walker and Benjamin Mendy, as well as goalkeeper Ederson, City are now replicating the mean defences of his Barcelona and Bayern Munich sides.
City have conceded 0.7 goals per game this season - a significant improvement on their one-goal-per-game rate last season, which was a career high for Guardiola.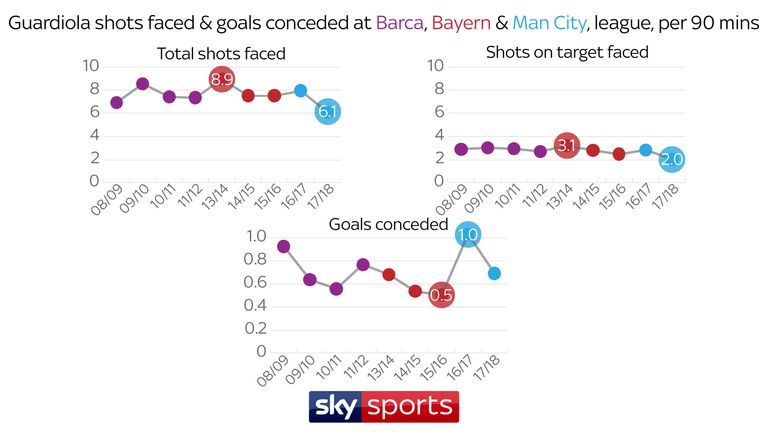 CONCLUSION
While the season still has a long way to go - and Guardiola is yet to lift any silverware at City - the stats suggest City are on course to hit some tremendous heights under the Spaniard's management, with a style comparable to some of his finest teams of the past.
However, they still have a little way to go to be considered right up there with his best. After the Manchester derby, Guardiola was asked whether he had every overseen a more dominant victory against United, to which he cited the Champions League final victory with that Barca team in 2011.
Guardiola v Man Utd 2011 & 2017
| Barcelona - CL final May, 2011 | Stat | Man City - PL Dec, 2017 |
| --- | --- | --- |
| 3 | Goals | 2 |
| 15 | Shots | 14 |
| 12 | Shots on target | 7 |
| 776 | Passes | 606 |
| 89.6% | Passing accuracy | 82.8% |
| 68.4% | Possession | 64.6% |
That victory was Guardiola's highest moment so far. But with his City team in this kind of form, it seems likely more glory days are on the way.