Vincent Kompany has warned that "wounded" Arsenal could represent Manchester City's toughest game of the season so far, despite the sides' Carabao Cup final mismatch at the weekend.
City face the Gunners in the Premier League on Thursday - a clash live on Sky Sports - just days after easing past them 3-0 at Wembley to claim the first trophy of Pep Guardiola's Etihad reign.
But after seeing Arsene Wenger's side receive heavy criticism - including from Sky Sports' Gary Neville - Kompany has warned his team-mates to be braced for a backlash similar to that he vividly recalls from 2016, when a League Cup final triumph over Liverpool was swiftly followed by a 3-0 defeat.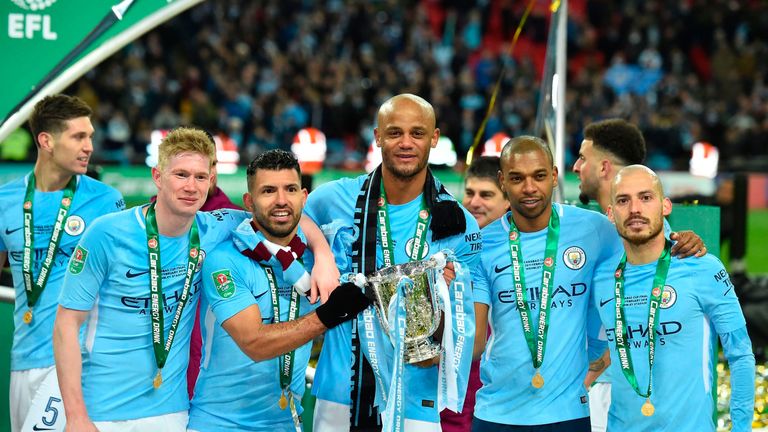 "I think the game against Arsenal will be hardest game of the season because of what's happened, so we have to be ready," Kompany, speaking to Sky Sports' Laura Woods, said ahead of the Emirates trip.
"You can't take away the fact that they're a team with a lot of quality and the players are probably wounded at this moment.
"We've all been there at some stage in our careers when everyone is jumping on the bandwagon. They could put a lot of things behind them by playing well so for us it's a dangerous one; if you switch off by 10, 15 per cent you don't know what could happen.
"I draw on my personal experience of beating Liverpool in the final then getting spanked when we went to Anfield four days later. We have to focus and be ready for a difficult game."
Kompany may already have turned his focus back to league duties but, after a string of injuries, the 31-year-old, who scored and delivered a man-of-the-match display at Wembley, admitted lifting silverware again was special.
"It was an incredible moment," the Belgium international said. "The first time we won it was special and it felt ever so special for me again.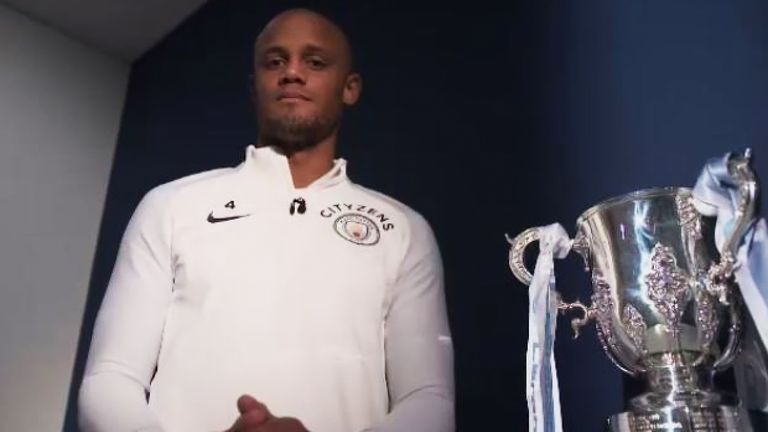 "It's something you dream of. You never know when the last one might come so you have to celebrate every single one. I'm happy to have those moments but I want more."
Victory at Arsenal would see City edge closer to further silverware this season; three points would move them 16 ahead of closest challengers and fierce rivals Manchester United.
Hopes, too, remain high in the Champions League but while Kompany insists the dressing room has not been distracted by treble talk, he believes there is "no limit" to a City side under the stewardship of a man he describes as an "educator" as well as a manager.
"Every moment since Pep has come in we've enjoying training, learning and playing our football," Kompany said. "He has a team to implement his ideas which is also crucial but it's really important to look at managers as educators. He's definitely improved every single player with the plan, the clarity of his vision.
"We never discuss (the treble) but what I do know from my team is that there's the desire to not just win games but dominate them; create chances, score goals. If we keep that up for every game, things are possible.
"I honestly can't say the limit at the moment because if this young team keeps improving with the hunger, passion and intensity of manager - and if some of us old guys can keep guiding the younger ones! - then there's no limit."
Watch the full interview with Vincent Kompany in the build-up to Arsenal v Man City, live on Sky Sports Premier League from 7pm on Thursday.