Pep Guardiola: Proving doubters wrong, Manchester City playing like Barcelona, and the next step
Last Updated: 22/04/18 4:20pm
Thierry Henry has caught up with his former manager Pep Guardiola to reflect on Manchester City's Premier League title-winning campaign.
In a wide-ranging interview, the City boss addressed a number of topics ranging from his moment of realisation of his squad's abilities, to the satisfaction of silencing his doubters.
Ahead of Manchester City's clash with Swansea on Nissan Super Sunday, read the full transcript from when Henry met Guardiola...
HENRY: Mr Guardiola. Congratulations. You deserve it. It's been a long, long battle. I want to ask you something. How important is the guy that is always alongside you, Manuel Estiarte? How important is when you have your doubts and your difficult moments?
PEP: All the staff are so important. The players and I are here with the media all of the time but behind us we have a lot of people helping us. Manuel is one of them, I've known him for a long time. Of course the manager feels completely alone in the bad moments, they are always alone and feel alone. So to have friends close to you that help give perspective on what is going on, what happened and what will happen helps you a lot. People only see three points, wins and losses when behind that are feelings and people who love. To be with them is so important.
HENRY: What was the moment this season when you realised the players understood what you wanted from them?
PEP: In pre-season against Tottenham, that was so important. We could not beat Spurs last season but in LA the way we played made me say 'wow'. I know pre-season games are friendlies but they showed we could play in different ways. There was a moment at half-time and after the game when we told the players not to forgot what they did that day, because that was the level we had to maintain. That level was so, so good in terms of the result and the way we were hungry and aggressive with and without the ball.
After that there were two or three moments. After drawing against Everton, winning at Bournemouth in the 97th minute was so important. It was an international break after that game so doubts could have crept in had we gone into that with two draws. Winning against Liverpool when we came back was important too, that got us on our way to 18 wins in a row. When you win 18 games in a row that gives you a big chance to be champions. Also during those 18 games at the beginning to going and winning at Stamford Bridge.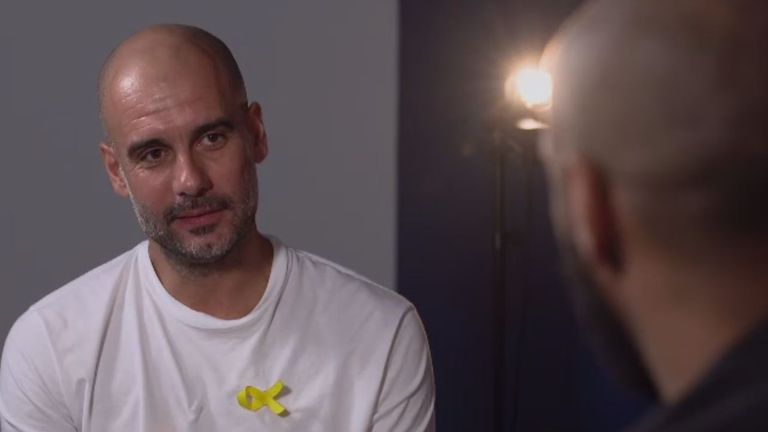 Those are the key three points at the beginning of the season which were so important in making us believe that we can do it and that we can compete everywhere because we won against the last champions at Stamford Bridge. The way we played made people start to believe and then we won again and again and again and the record was 13, 14 and 15. That was so, so important because we knew we could lose one game. In the last period, winning in London at Arsenal and then Chelsea at home made the big difference to be champions.
HENRY: When Kyle Walker came to Manchester City, I think everyone thought he was going to play high and wide, making runs into the box and crossing the ball. But you had a different view as to what his job would be. I think he has been so helpful for the team but no one saw him playing on the inside. How did you think about that?
PEP: We bought Kyle for his qualities. The energy he provided us in training sessions was magnificent and he's loved in the dressing room. He has quality going forward, up and down the flanks, up and down. But Kyle doesn't play alone, he plays with his mates and for the quality you have Kevin De Bruyne and David Silva with just one holding midfielder, not two. So we needed to be stable in that position and sometimes, depending on the circumstances, he plays wide and sometimes in the middle.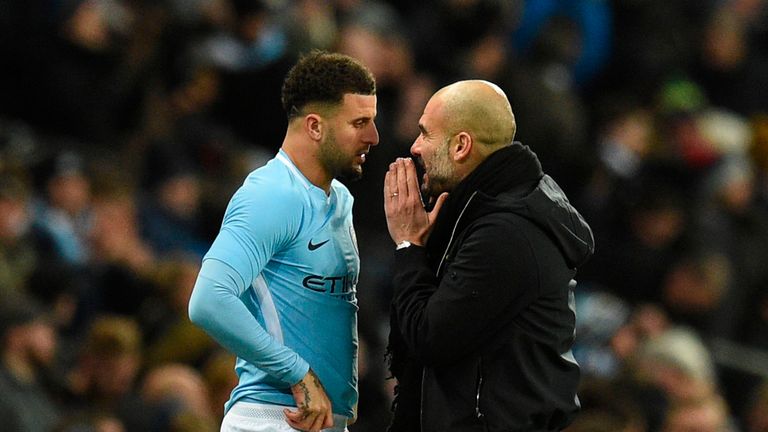 But he has to improve playing inside, he doesn't have the quality of Philipp Lahm in that position, or Dani Alves. But I think we can help him and playing wide and inside is good because we can control more and be more unpredictable to the opponents. We were lucky because it worked with Fabian Delph and Oleksandr Zinchenko in that position while Benjamin Mendy was missing. Maybe next season, with Mendy and Kyle, we can attack in different ways because we have to value their qualities, physicality and going up and down.
HENRY: What do you value the most - improving players, the way your team plays or winning?
PEP: Winning feels good and winning helps to win more. I think all managers improve players, definitely, I cannot say Mauricio Pochettino, or Antonio or Arsene, do not improve players. It's impossible. All the managers improve because for the players themselves it is nothing. Playing on the pitch is nothing, it's how he connects with his mates and our idea to play.
Playing football for yourself is simply down to physical condition, and conditioning for itself is nothing. Real conditioning is in your head, it's knowing when to run and exactly what you have to do. That is conditioning. What I like the most is training with the players on the pitch, practising that and seeing it work during the game. That result is why I am a manager. Of course, I try to have the best relationship as possible with the players but the reason why I am a manager is showing my team how to approach a game and it works.
A lot of people said we won in Barcelona because of Messi, they are right, and people say we won at Bayern Munich because they always win, they are right too. At City people had doubts that I would be able to win that way, even myself. But we did it. That is why I'm so happy.
Pep Guardiola
HENRY: The way your Manchester City team plays reminds me of Barcelona team you used to play. Does this team remind you of that?
PEP: Quite, yes. Some principles of that are always in our teams, yes. For example, Leroy Sane's movements are quite similar to Hristo Stoichkov, he runs in behind on diagonals from outside to inside. Normally we played with a striker, with Michael Laudrup dropping off a little bit. We used that many, many times at Barcelona with Lionel Messi. We have Sergio Aguero and Gabriel Jesus who we can use in there now but sometimes we use different ways to attack which weren't used in Barcelona, like bringing the full-backs inside. I never used that but I know the qualities of the players.
When I didn't have a full-back left I asked Fabian to make those kind of situations but he could not because he's a midfield player, so I had to adapt his quality. With Mendy we could put him inside because he didn't have the quality to do that, he's a guy with energy who goes forward, that's why you have to attack in different ways. But yes, I will agree with you, the teams are quite similar.
HENRY: How important was it for you to show yourself that you can win this league playing your way?
PEP: A lot. I was comfortable in Barcelona, privileged to have an exceptional team at my club, with the best players in the world, Neymar is coming. But that was not the end, life is about challenges and the challenge to go to another country, to Germany and now here. I know a lot of people said we won in Barcelona because of Messi, they are right, and people say we won at Bayern Munich because they always win, they are right too. But at City people had doubts that I would be able to win that way, even myself. But we did it. That is why I'm so happy.
Now how we react and handle our success will determine whether we can make it back to back. Only United and Chelsea were able to win back-to-back titles, that's how difficult it is. I don't know how my players will react to the success, I don't know how I'm going to react to my success here either. That is the challenge for the next season. We came here where there is more physicality and had high per cent of possession, a lot of goals, concede a few chances every game and we were able to win. People said that was because we invested a lot, that is true, without good players you cannot do that. I completely agree with them. But overall, we did it.
HENRY: When people ask me to describe you in one word, I say intense. If you could describe yourself with one word, what would it be?
PEP: I don't know, that is very difficult Thierry. I'd say normal, I am normal. I think I work a lot, I love this game and my job. I am in a huge organisation, people think this club is just money. Yes they have money but it's much more than that. There are organisations in New York, in Melbourne, in Uruguay and all around the world. The club has a human team that is really good, youth academies that are so good and support which is so good. I work a lot, I think if you have a good thing in management I'll spend a lot of time in my mind thinking about what I can do for the team.
HENRY: You are always up and asking your team to play in the right way, whatever the score is. Why is that?
PEP: Always when you win 1-0, 2-0 or 3-0 I am afraid to concede one goal and that's why I keep the tension on the players. Sometimes you do it for yourself because the players don't listen to you too much. I ask the players not to lose the simple balls or play extras passes to make sure they stay involved and not to let them know they are not alone, we - my staff and I - are there. Sometimes you have to shout because you see their body language slouched, I don't like to see that and have to let them know I am there.
Watch Man City v Swansea on Nissan Super Sunday from 4pm on Sky Sports Premier League