Pep Guardiola seeking resolution to Raheem Sterling contract talks at Manchester City
"We'll do our effort to make him feel we count on him," says City boss
By James Dale
Last Updated: 12/08/18 11:45pm
Pep Guardiola insists Raheem Sterling's representatives are well aware how much Manchester City want the player to sign a new deal with the club.
Sterling celebrated his, and Manchester City's, opening goal of the 2018-19 Premier League season with a gesture aimed at silencing his critics following his goalless World Cup campaign for England this summer.
The 23-year-old picked up where he left off from City's title win last season in which he scored 18 goals, helping Guardiola's side to a 2-0 win over Arsenal in the Gunners' first top-flight game under the Unai Emery era.
But City failed to agree a new long-term contract with Sterling earlier this summer, with the parties unable to find common ground over the player's wages.
"For the record, I'm not a sports director, not even a manager. I'm a trainer," Guardiola said after the win over Arsenal.
"I try to make a good team spirit in the locker room and win games. But we are delighted with him and would like Raheem to stay. We'll do our effort to make him feel we count on him. And we do count on him."
Guardiola maintains he has been an advocate of Sterling's importance to City since his own arrival at the Etihad off the back of England's disappointing Euro 201 exit.
"We arrived after a difficult season and I told him I wanted to help him and would like him to be happy," Guardiola added.
"In the end the agents may not have agreements and that may not happen. But he knows and his agent knows we like him and want him a lot."
Following his extended World Cup with England, Sterling had been in training with City for less than a week prior to his first-half goal at the Emirates on Sunday.
While the likes of Kevin De Bruyne and David Silva were left out, Sterling came straight into City's side.
"He trained just one week but we needed him today, and he did so well except when he was very tired at the end," said Guardiola.
"His mum and dad gave him a special body shape: he's small, tiny, so these kind of guys in one week are ready."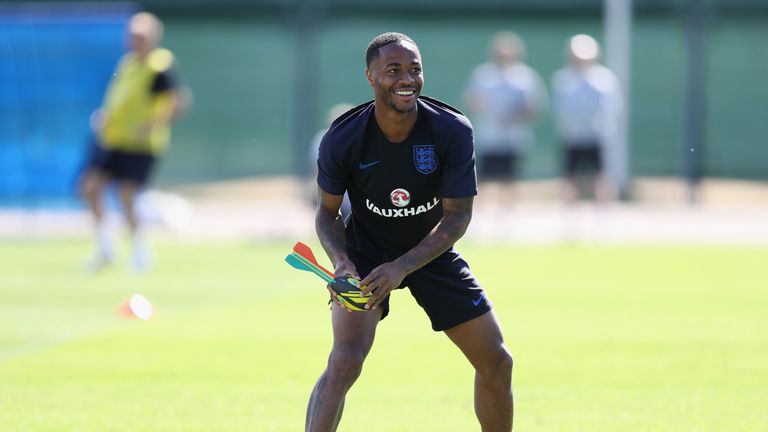 Raheem has this special relation with English football, he's so loved in the locker room.
Pep Guardiola
Guardiola added: "People only judge players on the goals they score at the World Cup, but Raheem has this special relation with English football, he's so loved in the locker room.
"He did some very good things in the World Cup, moving well and creating space for others. He'd liked to have scored a goal and he tried to, but I'm sure in the European qualifiers he will score goals for his country."