Manchester City legend Andy Morrison tells the story of their epic 1998/99 season
See full interview on Soccer Saturday from noon on Sky Sports News
Last Updated: 10/11/18 6:33pm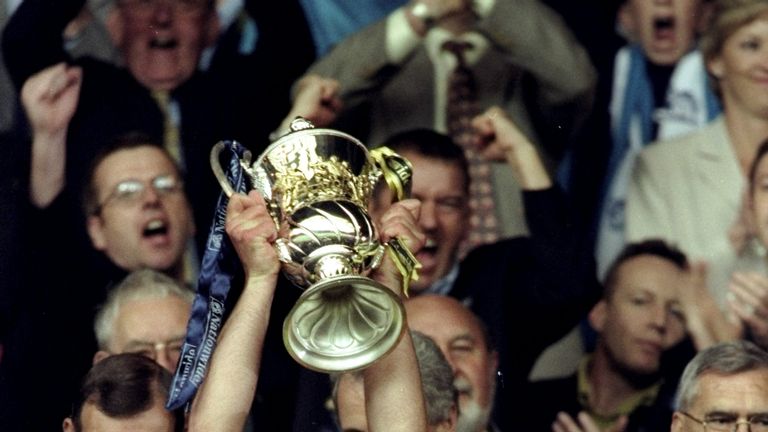 Twenty years ago, Manchester City slipped to their lowest ebb as they lost to Mansfield Town in front of their smallest ever Maine Road crowd.
Former captain Andy Morrison tells Soccer Saturday's Johnny Phillips the story of that season's astonishing turnaround, which sparked their incredible climb to the summit of English football...
Andy Morrison is sitting at his desk in a small office to the side of the main function room in the single storey building at the back of Deeside College, that serves as the base for the Connah's Quay Nomads squad. It has been a good week for the club, situated just across the border in North Wales. The Nomads top the Welsh Premier League table after a 6-0 win against Llanelli.
It has been a recurring scoreline for the manager this week. On Wednesday night he watched his former club, Manchester City, demolish Shakhtar Donetsk in the Champions League. This City side, in its third season under the management of Pep Guardiola, is arguably their greatest ever. But ask any supporter to name their all-time greatest City XI and the name of Andy Morrison is sure to feature.
It is unimaginable now, but 20 years ago the gap between City and their bitter neighbours Manchester United was huge. On December 8 1998, City were knocked out of the Auto Windscreens Shield by Mansfield Town in front of 3,007 spectators, their lowest ever attendance at Maine Road.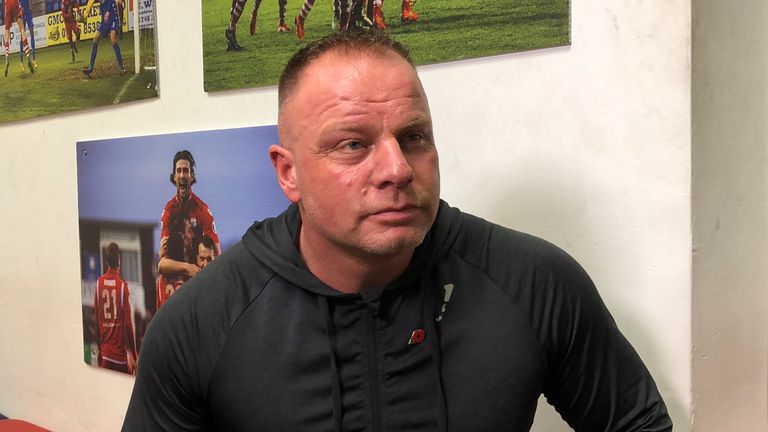 City could have been stuck down there for a generation but they didn't and we are where we are now.
Andy Morrison
The following evening, United took on Bayern Munich in the Champions League. Their season would end with that historic treble, secured in Barcelona against the same opponents. A home defeat to York City in the league, also in December, left City 12th in Division Two, then the third tier of English football.
Morrison had arrived in November, fresh from captaining First Division Huddersfield Town, to answer manager Joe Royle's cry for help. The manager needed a no-nonsense centre-half who would stand up to anyone.
"My first training session, I turned up and walked in with my boots and Kevin Horlock looked up," Morrison reveals. "He said, 'Jeez, is it that desperate? We have to bring a minder in now to look after us'. And everyone started laughing. It cracked the ice.
"They were great characters and a really good bunch. There were people there who had a real affiliation with the place. Richard Edghill had been there as a boy and was a Man City fan. He cared as a fan.
"I was going into a league that suited me down to the ground. You had a huge club like City, we had more fans going into every game at that level than the opposition. Every game was a cup final for the opposition, it was going into a battle, and it was right up my street. The nature of that league at that time lent itself to an old-fashioned centre-half who was up for a battle."
Morrison missed several games early on, either injured or suspended, but his return to the side in the New Year coincided with an upturn in fortunes that took City within a whisker of automatic promotion. They had to settle for third place and the play-offs.
After overcoming Wigan Athletic in the semi-final, Tony Pulis' Gillingham awaited at Wembley. Caught Between The Landslide, a new book chronicling City in the 1990s, covers that play-off final in great detail. It is a game that is recalled, among City fans who attended, as fondly as any title win.
"The history that goes with that game is never forgotten," Morrison adds. "It was a reasonably comfy afternoon, a stalemate against a well-organised Tony Pulis team. I was waiting to have a knee operation that summer. I had my knee drained at half-time and after about 70 minutes Joe Royle took me off.
"We quickly went two goals down and I thought my chance had gone. As a kid you dream about going up the steps at Wembley to lift a trophy - it wasn't the FA Cup, it was the Second Division play-off trophy - but I thought it had gone. Especially in front of that passionate following we had on that day.
"I was sat on the bench and when we went 2-0 down there were a couple of lads who I'd played with who were on the Gillingham bench and they were laughing and smiling, giving me a wave."
The Gillingham celebrations proved premature. Horlock pulled one back in the 90th minute before Paul Dickov grabbed the winner in the fifth minute of stoppage time.
"Then, when we got the second goal I looked across at them and their heads were in their hands," Morrison continues. "The momentum had turned then, there was no way back. They had taken their strikers off by then, they had a load of defenders on the pitch, so it was always going to go to penalties."
City won the shoot-out and escaped the division at the first time of asking.
"You look at Leeds, it's 15 years since they've been in the Premier League. Nottingham Forest, Sheffield Wednesday, these are huge football clubs. If we hadn't gone up that year I'm sure the best players would have been moved on. City could have been stuck down there for a generation but they didn't and we are where we are now."
Under Royle, City won a second successive promotion and found themselves back in the Premier League once more. It is a different club these days, with a different culture in place. Morrison is thankful that he has a role at the Etihad Stadium on matchdays when he is available, speaking to supporters. He has also met the manager.
"I did my pro license last year and had a couple of days at Man City. We were very fortunate to be able to speak to some of the coaches and sports scientists," he says. "We had a Q&A with Pep and it was just fantastic. What I took away most of all was his passion and his drive, it was remarkable. He wants perfection. You're starting to see it with the results, 6-0, 6-1, where is it going to go if they reach perfection? That's what he is striving for."
Morrison was a player of his era and he remains thankful to Royle for turning his life around. In January 1999 he woke up in a police cell in Inverness after a long and damaging drinking session, one of many he had been on throughout his playing days. He was hauled into a meeting at Maine Road with the manager, expecting to be read the riot act.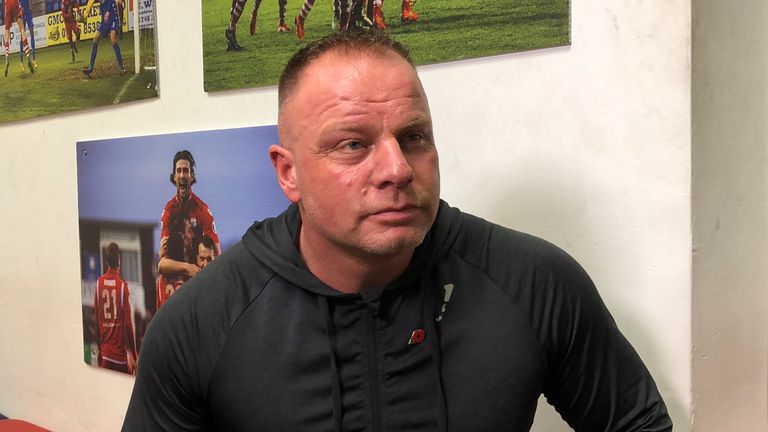 "Without wanting to get all tearful, it was just his man-management of the situation at the time," Morrison recalls. "I'd reached a crossroads in my career and Joe turned it back into a human element. 'What about you? What about what you can achieve in your life? What do you deserve?'
"He changed it around from me being a player who owes the club this and that. It changed a lot of things for me at that time because it was the first time I'd ever had somebody who cared about me as a human being and not just a footballer. And that left a massive impression on me."
Morrison has not touched a drop of alcohol since. His return to the side coincided with City winning 10 and drawing five of their last 17 league games. Morrison was the talisman who dragged City up into the play-offs. It was, in so many ways, an amazing season.
"The coming together of everyone. David Bernstein [Chairman], the management, the players and the fans," reflects Morrison. "Everyone came together like they were saying, 'It can't get any worse. We need to start pulling in the right direction. Let's see where we go.'
"To go from mid-table in that league to the Premier League in two seasons, there has to be something right. That period of time will always be remembered by the fans. Things around the place change, of course they do. Managers, new players, different people working within the club. But a club is always its fans and the City fan base is second to none. They deserve everything they get."
You can see the story of City's 1998/99 season on Soccer Saturday this weekend